Trendnet TU-P1W Wireless Presenter Quick Installation Guide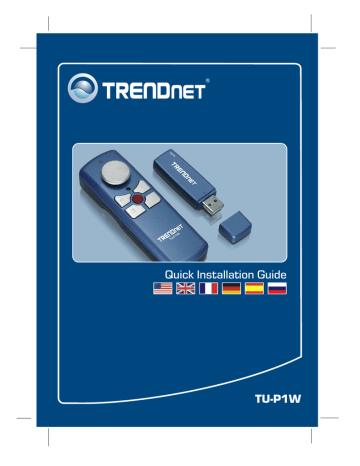 Quick Installation Guide
TU-P1W
Table ofofContents
Table
Contents
Français ....................................................................................................
1. Avant de commencer ........................................................................
2. Procéder à l'installation .....................................................................
3. Fonctionnalités du produit .................................................................
1
1
2
3
Troubleshooting ........................................................................................ 4
Version 07.24.2006
1. Avant de commencer
Contenu de l'emballage
Présentateur TU-P1W
Récepteur USB TU-P1W
2 piles AAA 1.5V
Guide d'installation rapide
Configuration du système
USB 1.0, 1.1 ou supérieur
Microprocesseur : Pentium 300 MHz ou supérieur
Mémoire : 256 MB de RAM ou davantage
Windows 2003 Server/XP/2000/ME/98SE
Windows Media Player ou PowerPoint
Application
Receiver
2.4GHz Wireless
Presenter
(TU-P1W)
Notebook
Projector
AVERTISSEMENT : NE DIRIGEZ PAS LE POINTEUR LASER DIRECTEMENT VERS
UNE PERSONNE.
1
Français
2. Procéder à l'installation
1. Branchez le récepteur USB à un
port USB disponible de votre
ordinateur.
2. Pour Windows 2003 Server/
XP/2000/ME, les pilotes
s'installeront automatiquement
Remarque: Pour Windows 98SE, veuillez consulter la partie dépannage.
3. Introduisez les piles dans le
présentateur.
L'installation est maintenant complète.
Si vous désirez des informations détaillées sur la configuration et les
paramètres avancés du TU-P1W, veuillez consulter notre site Internet Trendnet
sur http://www.trendnet.com.
2
Français
3. Fonctionnalités du produit
AVERTISSEMENT : NE DIRIGEZ PAS LE POINTEUR LASER DIRECTEMENT VERS
UNE PERSONNE.
Touche
Mode
PowerPoint
Mode
Windows Media Player
Mouvement de la souris
+
Active / désactive le pointeur laser
Maintenir enfoncé pendant 3 secondes.
Lumière laser
Page haut, page bas
Volume +, Volume -
Play/ESC lors du diaporama Play/Pause en Media Player
Appuyer deux fois.
Appuyer deux fois.
Activation/désactivation
écran noir
Maintenir enfoncé pendant
1 seconde
Activation/désactivation
du son
Maintenir enfoncé pendant
1 seconde
Bouton gauche de la souris, bouton droit de la souris
Mode commutation (Mode PowerPoint/ Windows Media
Player)
Maintenir enfoncé jusqu'à ce que le voyant soit vert.
+
Réinitialisation de l'appareil
Enfoncez simultanément ce boutons jusqu'à ce ce que le
voyant vert clignote. Insérez ensuite un trombone dans le
trou du récepteur USB et retirez-le ensuite.
Mode veille
Le présentateur se referme et le pointeur laser est
automatiquement désactivé. Appuyez sur n'importe quel
bouton pour quitter le mode veille
3
Français
Troubleshooting
Q1: Windows is unable to recognize the USB receiver. What should I do?
A1: First, make sure your computer meets the minimum requirements as specified in Section
1 of this quick installation guide. Second, connect the USB receiver to a different USB port
on the computer.
Q2: I am unable to control Windows Media Player or PowerPoint. What should I do?
A2: You are in the incorrect mode. Press on Switch Mode key until the LED lights green.
Q3: All functions on the device stopped working. What should I do?
A3: First, you must be within 15 meters of the computer. Second, the device goes into sleep
mode after 10 minutes. The Presenter shuts down and the laser pointer automatically
deactivates. Press any button to wake the device. Use the Laser Pointer hotkey to activate
the laser pointer (see section 3). Third, the batteries may be running low. Try replacing the
batteries.
Q4: How do I install this device on Windows 98SE?
A4: After you plug the USB receiver into an available USB port, follow the
directions below:
1) When Windows detects the USB Human Interface Device, click Next.
2) Select Search for the best driver for your device (Recommended, then click Next.
3) Select only Specify a location, type in C:\WINDOWS and then click Next.
4) When Windows find the driver, click Next.
5) If prompted for it, put in your Windows 98SE CD, and then click OK.
6) Click Finish.
7) Windows will detect another USB Human Interface device. Repeat the steps
above to complete the installation.
If you still encounter problems or have any questions regarding the TU-P1W, please contact
TRENDnet's Technical Support Department
Certifications
This equipment has been tested and found to comply with FCC and CE Rules.
Operation is subject to the following two conditions:
(1) This device may not cause harmful interference.
(2) This device must accept any interference received. Including interference that may cause
undesired operation.
Waste electrical and electronic products must not
be disposed of with household waste. Please
recycle where facilities exist. Check with you Local
Authority or Retailer for recycling advice.
NOTE: THE MANUFACTURER IS NOT RESPONSIBLE FOR ANY RADIO OR TV INTERFERENCE
CAUSED BY UNAUTHORIZED MODIFICATIONS TO THIS EQUIPMENT. SUCH MODIFICATIONS
COULD VOID THE USER'S AUTHORITY TO OPERATE THE EQUIPMENT.
4
Limited Warranty
TRENDnet warrants its products against defects in material and workmanship, under
normal use and service, for the following lengths of time from the date of purchase.
TU-P1W - 2-Year Warranty
If a product does not operate as warranted above during the applicable warranty period,
TRENDnet shall, at its option and expense, repair the defective product or deliver to
customer an equivalent product to replace the defective item. All products that are
replaced will become the property of TRENDnet. Replacement products may be new or
reconditioned.
TRENDnet shall not be responsible for any software, firmware, information, or memory
data of customer contained in, stored on, or integrated with any products returned to
TRENDnet pursuant to any warranty.
There are no user serviceable parts inside the product. Do not remove or attempt to
service the product through any unauthorized service center. This warranty is voided if
(i) the product has been modified or repaired by any unauthorized service center, (ii) the
product was subject to accident, abuse, or improper use (iii) the product was subject to
conditions more severe than those specified in the manual.
Warranty service may be obtained by contacting TRENDnet office within the applicable
warranty period for a Return Material Authorization (RMA) number, accompanied by a
copy of the dated proof of the purchase. Products returned to TRENDnet must be preauthorized by TRENDnet with RMA number marked on the outside of the package, and
sent prepaid, insured and packaged appropriately for safe shipment.
5
WARRANTIES EXCLUSIVE: IF THE TRENDNET PRODUCT DOES NOT OPERATE
AS WARRANTED ABOVE, THE CUSTOMER'S SOLE REMEDY SHALL BE, AT
TRENDNET'S OPTION, REPAIR OR REPLACEMENT. THE FOREGOING
WARRANTIES AND REMEDIES ARE EXCLUSIVE AND ARE IN LIEU OF ALL OTHER
WARRANTIES, EXPRESSED OR IMPLIED, EITHER IN FACT OR BY OPERATION OF
LAW, STATUTORY OR OTHERWISE, INCLUDING WARRANTIES OF
MERCHANTABILITY AND FITNESS FOR A PARTICULAR PURPOSE. TRENDNET
NEITHER ASSUMES NOR AUTHORIZES ANY OTHER PERSON TO ASSUME FOR IT
ANY OTHER LIABILITY IN CONNECTION WITH THE SALE, INSTALLATION,
MAINTENANCE OR USE OF TRENDNET'S PRODUCTS.
TRENDNET SHALL NOT BE LIABLE UNDER THIS WARRANTY IF ITS TESTING AND
EXAMINATION DISCLOSE THAT THE ALLEGED DEFECT IN THE PRODUCT DOES
NOT EXIST OR WAS CAUSED BY CUSTOMER'S OR ANY THIRD PERSON'S
MISUSE, NEGLECT, IMPROPER INSTALLATION OR TESTING, UNAUTHORIZED
ATTEMPTS TO REPAIR OR MODIFY, OR ANY OTHER CAUSE BEYOND THE
RANGE OF THE INTENDED USE, OR BY ACCIDENT, FIRE, LIGHTNING, OR OTHER
HAZARD.
LIMITATION OF LIABILITY: TO THE FULL EXTENT ALLOWED BY LAW TRENDNET
ALSO EXCLUDES FOR ITSELF AND ITS SUPPLIERS ANY LIABILITY, WHETHER
BASED IN CONTRACT OR TORT (INCLUDING NEGLIGENCE), FOR INCIDENTAL,
CONSEQUENTIAL, INDIRECT, SPECIAL, OR PUNITIVE DAMAGES OF ANY KIND,
OR FOR LOSS OF REVENUE OR PROFITS, LOSS OF BUSINESS, LOSS OF
INFORMATION OR DATE, OR OTHER FINANCIAL LOSS ARISING OUT OF OR IN
CONNECTION WITH THE SALE, INSTALLATION, MAINTENANCE, USE,
PERFORMANCE, FAILURE, OR INTERRUPTION OF THE POSSIBILITY OF SUCH
DAMAGES, AND LIMITS ITS LIABILITY TO REPAIR, REPLACEMENT, OR REFUND
OF THE PURCHASE PRICE PAID, AT TRENDNET'S OPTION. THIS DISCLAIMER OF
LIABILITY FOR DAMAGES WILL NOT BE AFFECTED IF ANY REMEDY PROVIDED
HEREIN SHALL FAIL OF ITS ESSENTIAL PURPOSE.
Governing Law: This Limited Warranty shall be governed by the laws of the state of
California.
Note: AC/DC Power Adapter, Cooling Fan, and Power Supply carry 1-Year Warranty
6
TRENDnet Technical Support
US . Canada
Toll Free Telephone: 1(866) 845-3673
24/7 Tech Support
Europe (Germany . France . Italy . Spain . Switzerland . UK)
Toll Free Telephone: +00800 60 76 76 67
English/Espanol - 24/7
Francais/Deutsch - 11am-8pm, Monday - Friday MET
Worldwide
Telephone: +(31) (0) 20 504 05 35
English/Espanol - 24/7
Francais/Deutsch - 11am-8pm, Monday - Friday MET
Product Warranty Registration
Please take a moment to register your product online.
Go to TRENDnet's website at http://www.trendnet.com
3135 Kashiwa Street
Torrance, CA 90505
USA
Copyright ©2006. All Rights Reserved. TRENDnet.

* Your assessment is very important for improving the workof artificial intelligence, which forms the content of this project