TRENDnet TK-C06 6ft PS/2/VGA KVM Cable Datasheet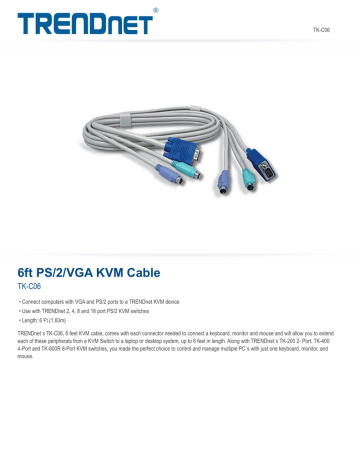 TK-C06
6ft PS/2/VGA KVM Cable
TK-C06
• Connect computers with VGA and PS/2 ports to a TRENDnet KVM device
• Use with TRENDnet 2, 4, 8 and 16 port PS/2 KVM switches
• Length: 6 Ft.(1.83m)
TRENDnet´s TK-C06, 6 feet KVM cable, comes with each connector needed to connect a keyboard, monitor and mouse and will allow you to extend
each of these peripherals from a KVM Switch to a laptop or desktop system, up to 6 feet in length. Along with TRENDnet´s TK-200 2- Port, TK-400
4-Port and TK-800R 8-Port KVM switches, you made the perfect choice to control and manage multiple PC´s with just one keyboard, monitor, and
mouse.
TK-C06
• Length: 6 ft. (1.83 meters)
• High-grade KVM cable (UL2919 for VGA monitor).
• Keyboard & Mouse: PS/2 type 6-pin mini Din. Monitor: 15-pin HDDB type
• 2-year limited warranty
20675 Manhattan Place
•
Torrance
•
CA 90501
•
USA
•
T: 1-888-326-6061
•
F: 1-310-961-5511
•
[email protected]
•
www.TRENDnet.com
TRENDnet is a registered trademark. Other Brands and product names are trademarks of their respective holders. Information provided in this document pertain to TRENDnet products and is subject to change at any time, without notice. For the most
Updated: 12/8/2015
recent product information please visit http://www.trendnet.com. Copyright © TRENDnet. All Rights Reserved.

* Your assessment is very important for improving the workof artificial intelligence, which forms the content of this project