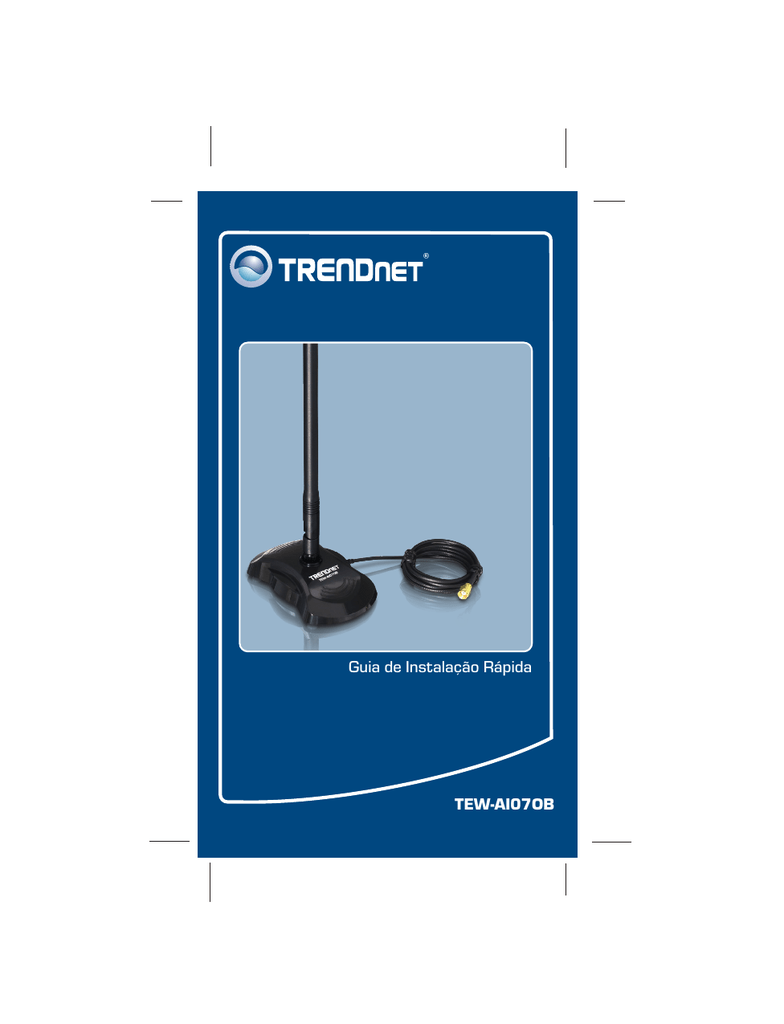 Guia de Instalação Rápida
TEW-AI07OB
Table of Contents
Português ................................................................................. 1
1. Antes de Iniciar ................................................................ 1
2. Instalação de Hardware .................................................. 2
Troubleshooting ........................................................................ 3
Version:10.09.2007
Version: 11.28.05
1. Antes de Iniciar
Conteúdo da Embalagem
?
TEW-AI07OB
?
Suporte de Montagem da Antena
?
Guia do Usuário
Requisitos do Sistema
Roteador Wireless, Ponto de Acesso ou Adaptador Wireless com
antena destacável e conector de antena SMA reverso macho.
Aplicação
7dBi Indoor Omni
Directional Antenna
(TEW-AI07OB)
Wireless G
Broadband Router
(TEW-432BRP)
Internet
Cable/DSL
Modem
Workstations with 54Mbps
Wireless PCI Adapter
(TEW-423PI)
1
Português
Version: 11.28.05
2. Instalação de Hardware
1. Desatarraxe a antena do seu
Ponto de Acesso ou
Adaptador Wireless.
2. Atarraxe a antena à base de
montagem da antena.
3. Conecte a ponta encapada
azul (SMA Reverso) do cabo
da antena ao seu Ponto de
Acesso, roteador ou
adaptador Wireless.
4. Acople a base da antena a
uma superfície de metal.
Então posicione a antena
para que fique perpendicular
ao chão.
Registre Seu Produto
Para garantir o alto nível do service e suporte ao consumidor,
por favor tire um minuto para
registra seu produto Online em: www.trendnet.com/register
Agradecemos por ter escolhido TRENDnet
2
Português
Version: 11.28.05
Troubleshooting
P1. Não fui capaz de conectar minha antena ao meu roteador ou ponto
de acesso wireless. O que devo fazer?
R1. O tipo de conector em seu roteador ou ponto de acesso wireless
tem de ser SMA reverso macho. Entre em contato com o fabricante
de seu roteador ou ponto de acesso wireless referente ao tipo de
conexão de sua antena.
P2. Por que alguns PCs wireless recebem sinais wireless fortes,
enquanto outros PCs recebem sinais mais fracos?
R2. A TEW-AI07OB é uma Antena Omni Direcional e só pode enviar
e receber sinais dentro de um raio específico.
Você pode ajustar a posição do roteador ou ponto de acesso
wireless, posicionar sua TEW-AI07OB em uma localização ideal ou
mover aqueles PCs wireless para mais próximos ao ponto de
acesso ou roteador wireless.
P3. Meu ponto de acesso indica que está recebendo energia e meu
laptop está dentro da cobertura da TEW-AI07OB. Contudo, meu
laptop não recebe nenhum sinal do meu ponto de acesso.
R3. Certifique-se de que você tenha conectado adequadamente a
antena ao Ponto de Acesso. (Veja 2. Instalação de hardware)
P4. O TEW-AI07OB funciona com meu roteador, ponto de acesso ou
adaptador wireless IEEE 802.11a?
R4. Não. A TEW-AI07OB é compatível somente com dispositivos
wireless IEEE 802.11b/g.
Se você tiver qualquer dúvida referente ao TEW-AI07OB, favor entrar em
contato com o Departamento de Suporte Técnico da TRENDnet.
3
Version: 11.28.05
Limited Warranty
TRENDnet warrants its products against defects in material and
workmanship, under normal use and service, for the following lengths of
time from the date of purchase.
TEW-AI07OB - 3 Years Warranty
If a product does not operate as warranted above during the applicable
warranty period, TRENDnet shall, at its option and expense, repair the
defective product or part, deliver to customer an equivalent product or
part to replace the defective item, or refund to customer the purchase
price paid for the defective product. All products that are replaced will
become the property of TRENDnet. Replacement products may be new
or reconditioned.
TRENDnet shall not be responsible for any software, firmware,
information, or memory data of customer contained in, stored on, or
integrated with any products returned to TRENDnet pursuant to any
warranty.
There are no user serviceable parts inside the product. Do not remove
or attempt to service the product by any unauthorized service center.
This warranty is voided if (i) the product has been modified or repaired
by any unauthorized service center, (ii) the product was subject to
accident, abuse, or improper use (iii) the product was subject to
conditions more severe than those specified in the manual.
Warranty service may be obtained by contacting TRENDnet office within
the applicable warranty period for a Return Material Authorization (RMA)
number, accompanied by a copy of the dated proof of the purchase.
Products returned to TRENDnet must be pre-authorized by TRENDnet
with RMA number marked on the outside of the package, and sent
prepaid, insured and packaged appropriately for safe shipment.
4
WARRANTIES EXCLUSIVE: IF THE TRENDnet PRODUCT DOES NOT
OPERATE AS WARRANTED ABOVE, THE CUSTOMER'S SOLE
REMEDY SHALL BE, AT TRENDnet'S OPTION, REPAIR OR
REPLACEMENT. THE FOREGOING WARRANTIES AND REMEDIES
ARE EXCLUSIVE AND ARE IN LIEU OF ALL OTHER WARRANTIES,
EXPRESSED OR IMPLIED, EITHER IN FACT OR BY OPERATION OF
LAW, STATUTORY OR OTHERWISE, INCLUDING WARRANTIES OF
MERCHANTABILITY AND FITNESS FOR A PARTICULAR PURPOSE.
TRENDnet NEITHER ASSUMES NOR AUTHORIZES ANY OTHER
PERSON TO ASSUME FOR IT ANY OTHER LIABILITY IN
CONNECTION WITH THE SALE, INSTALLATION MAINTENANCE OR
USE OF TRENDnet'S PRODUCTS.
TRENDnet SHALL NOT BE LIABLE UNDER THIS WARRANTY IF ITS
TESTING AND EXAMINATION DISCLOSE THAT THE ALLEGED
DEFECT IN THE PRODUCT DOES NOT EXIST OR WAS CAUSED BY
CUSTOMER'S OR ANY THIRD PERSON'S MISUSE, NEGLECT,
IMPROPER INSTALLATION OR TESTING, UNAUTHORIZED
ATTEMPTS TO REPAIR OR MODIFY, OR ANY OTHER CAUSE
BEYOND THE RANGE OF THE INTENDED USE, OR BY ACCIDENT,
FIRE, LIGHTNING, OR OTHER HAZARD.
LIMITATION OF LIABILITY: TO THE FULL EXTENT ALLOWED BY LAW
TRENDnet ALSO EXCLUDES FOR ITSELF AND ITS SUPPLIERS ANY
LIABILITY, WHETHER BASED IN CONTRACT OR TORT (INCLUDING
NEGLIGENCE), FOR INCIDENTAL, CONSEQUENTIAL, INDIRECT,
SPECIAL, OR PUNITIVE DAMAGES OF ANY KIND, OR FOR LOSS
OF REVENUE OR PROFITS, LOSS OF BUSINESS, LOSS OF
INFORMATION OR DATE, OR OTHER FINANCIAL LOSS ARISING
OUT OF OR IN CONNECTION WITH THE SALE, INSTALLATION,
MAINTENANCE, USE, PERFORMANCE, FAILURE, OR
INTERRUPTION OF THE POSSIBILITY OF SUCH DAMAGES, AND
LIMITS ITS LIABILITY TO REPAIR, REPLACEMENT, OR REFUND OF
THE PURCHASE PRICE PAID, AT TRENDnet'S OPTION. THIS
DISCLAIMER OF LIABILITY FOR DAMAGES WILL NOT BE
AFFECTED IF ANY REMEDY PROVIDED HEREIN SHALL FAIL OF ITS
ESSENTIAL PURPOSE.
Governing Law: This Limited Warranty shall be governed by the laws of
the state of California.
AC/DC Power Adapter, Cooling Fan, Cables and Power Supply carry a
1 Year Warranty
5
Certificados
Este equipamento foi submetido a testes e provou ser aderente às Regras FCC e CE.
Sua operação está sujeitas às seguintes condições:
(1) Este dispositivo não pode causar interferência prejudicial.
(2) Este dispositivo deve aceitar qualquer interferência recebida. Isso inclui
interferências que podem causar operação indesejada.
Lixo de produtos elétricos e eletrônicos não deve
ser depositado em lixeiras caseiras. Favor reciclar
onde há disponibilidade. Verifique com sua
Autoridade Local ou Revendedor para obter
informações sobre reciclagem.
NOTA: O FABRICANTE NÃO É RESPONSÁVEL POR QUALQUER
INTERFERÊNCIA DE RÁDIO OU TV CAUSADA POR MODIFICAÇÕES NÃO
AUTORIZADAS NESTE EQUIPAMENTO. TAIS MODIFICAÇÕES PODEM
VIOLAR A AUTORIDADE DO USUÁRIO DE OPERAR O EQUIPAMENTO.
ADVERTENCIA
En todos nuestros equipos se mencionan claramente las caracteristicas del
adaptador de alimentacón necesario para su funcionamiento. El uso de un
adaptador distinto al mencionado puede producir daños fisicos y/o daños al
equipo conectado. El adaptador de alimentación debe operar con voltaje y
frecuencia de la energia electrica domiciliaria existente en el pais o zona de
instalación.
TRENDnet Technical Support
Toll Free Telephone: 1(866) 845-3673
US . Canada
24/7 Tech Support
Europe (Germany . France . Italy . Spain . Switzerland . UK)
Toll Free Telephone: +00800 60 76 76 67
English/Espanol - 24/7
Francais/Deutsch - 11am-8pm, Monday - Friday MET
Worldwide
Telephone: +(31) (0) 20 504 05 35
English/Espanol - 24/7
Francais/Deutsch - 11am-8pm, Monday - Friday MET
Product Warranty Registration
Please take a moment to register your product online.
Go to TRENDnet's website at http://www.trendnet.com/register
20675 Manhattan Place
Torrance, CA 90501
USA
Copyright ©2007. All Rights Reserved. TRENDnet.