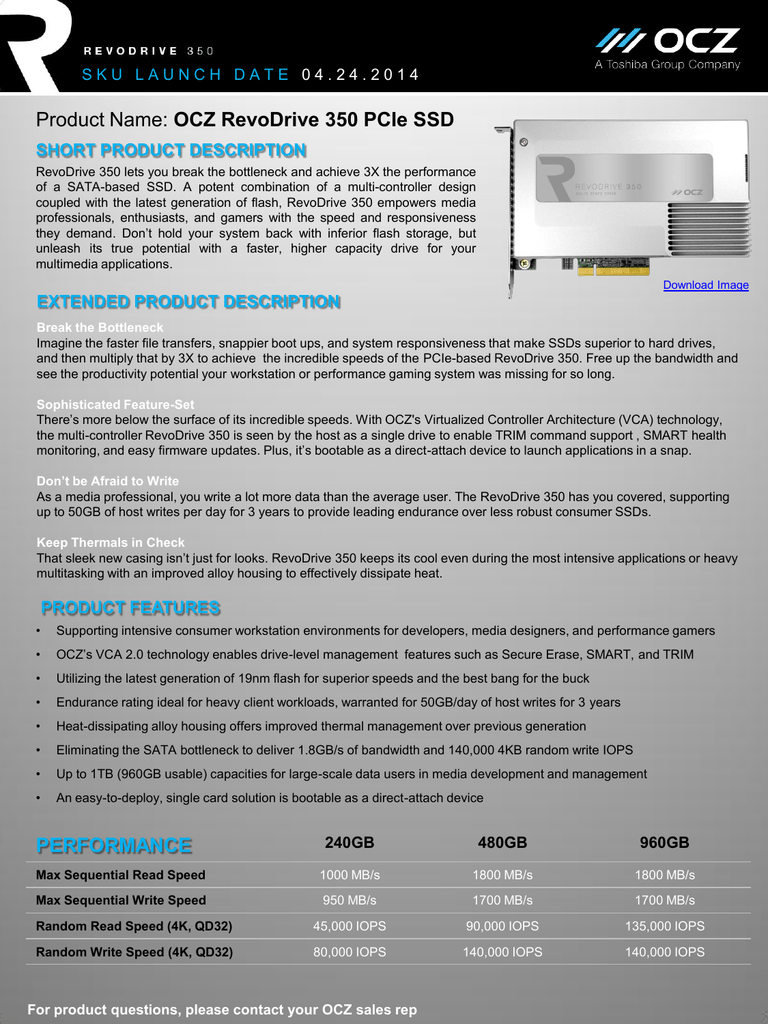 SKU LAUNCH DATE 04.24.2014
Product Name: OCZ RevoDrive 350 PCIe SSD
SHORT PRODUCT DESCRIPTION
RevoDrive 350 lets you break the bottleneck and achieve 3X the performance
of a SATA-based SSD. A potent combination of a multi-controller design
coupled with the latest generation of flash, RevoDrive 350 empowers media
professionals, enthusiasts, and gamers with the speed and responsiveness
they demand. Don't hold your system back with inferior flash storage, but
unleash its true potential with a faster, higher capacity drive for your
multimedia applications.
Download Image
EXTENDED PRODUCT DESCRIPTION
Break the Bottleneck
Imagine the faster file transfers, snappier boot ups, and system responsiveness that make SSDs superior to hard drives,
and then multiply that by 3X to achieve the incredible speeds of the PCIe-based RevoDrive 350. Free up the bandwidth and
see the productivity potential your workstation or performance gaming system was missing for so long.
Sophisticated Feature-Set
There's more below the surface of its incredible speeds. With OCZ's Virtualized Controller Architecture (VCA) technology,
the multi-controller RevoDrive 350 is seen by the host as a single drive to enable TRIM command support , SMART health
monitoring, and easy firmware updates. Plus, it's bootable as a direct-attach device to launch applications in a snap.
Don't be Afraid to Write
As a media professional, you write a lot more data than the average user. The RevoDrive 350 has you covered, supporting
up to 50GB of host writes per day for 3 years to provide leading endurance over less robust consumer SSDs.
Keep Thermals in Check
That sleek new casing isn't just for looks. RevoDrive 350 keeps its cool even during the most intensive applications or heavy
multitasking with an improved alloy housing to effectively dissipate heat.
PRODUCT FEATURES
•
Supporting intensive consumer workstation environments for developers, media designers, and performance gamers
•
OCZ's VCA 2.0 technology enables drive-level management features such as Secure Erase, SMART, and TRIM
•
Utilizing the latest generation of 19nm flash for superior speeds and the best bang for the buck
•
Endurance rating ideal for heavy client workloads, warranted for 50GB/day of host writes for 3 years
•
Heat-dissipating alloy housing offers improved thermal management over previous generation
•
Eliminating the SATA bottleneck to deliver 1.8GB/s of bandwidth and 140,000 4KB random write IOPS
•
Up to 1TB (960GB usable) capacities for large-scale data users in media development and management
•
An easy-to-deploy, single card solution is bootable as a direct-attach device
240GB
480GB
960GB
Max Sequential Read Speed
1000 MB/s
1800 MB/s
1800 MB/s
Max Sequential Write Speed
950 MB/s
1700 MB/s
1700 MB/s
Random Read Speed (4K, QD32)
45,000 IOPS
90,000 IOPS
135,000 IOPS
Random Write Speed (4K, QD32)
80,000 IOPS
140,000 IOPS
140,000 IOPS
PERFORMANCE
For product questions, please contact your OCZ sales rep
SKU LAUNCH DATE 04.24.2014
PHYSICAL SPECIFICATIONS
ENVIRONMENTAL SPECIFICATIONS
Power Consumption
240GB 8.0W Idle, 10.5W Active
480GB 9.5W Idle, 14.0W Active
960GB 10.0W Idle, 14.5W Active
PCI Express Gen. 2 x8
Temperature
Operating: 0°C ~ 55°C
Storage: -45°C ~ 85°C
Controller
LSI® SandForce® SF-2282*
Shock Resistance
500G/0.5ms
Storage Controller
VCA 2.0 (Virtualized Controller Architecture™)
Vibration (Operational)
2.17Grms (7-800Hz)
Form Factor
Full-Height/Half-Length (FH/HL)
Vibration (Non-Operational)
3.13Grms (8-800Hz)
Dimensions
180.9 (L) x 126.3 (W) x 21.6mm (H)
Airflow
300LFM @ 55°C
Drive Weight
310g (may vary by capacity)
Certifications
UL C/US, FCC, CE, C-Tick,
KCC, BSMI, VCCI, WEEE
Usable Capacities
240GB, 480GB, 960GB
NAND Components
19nm Multi-Level Cell (MLC) Flash
Interface
* 2 x controllers on 240GB, 4 x controllers on 480GB & 960GB
RELIABILITY / COMPATIBILITY SPECIFICATIONS
PCI Express
PCI Express x8 or x16 slot; Fully compliant with the PCI Express Electromechanical Specification
Rev. 2.0, and PCI Express Base Specification Rev. 2.0
Product Health Monitoring
Self-Monitoring, Analysis and Reporting Technology (SMART) Support
Endurance
Rated for 50GB/day of host writes for 3 years under typical client workloads
Encryption
AES-128 compliant
Power Requirements
PCIe 12V & 3.3V
MTBF
2 million hours
Operating Systems
Microsoft Windows 7, 8, 8.1 32 & 64-bit
Linux Support Planned
Targeted Applications
Client workstations and performance gaming systems
ADDITIONAL
Performance
Optimizations
TRIM (requires OS support)
Garbage Collection
Warranty
3-Year Warranty, Toll-Free Tech
Support, 24 Hour Forum Support
MODEL
PART NUMBER
UPC
240GB
RVD350-FHPX28-240G
842024036371
480GB
RVD350-FHPX28-480G
842024036388
960GB
RVD350-FHPX28-960G
842024036401
Shipping Weight
643g
License Exemption
NLR, ERN R101799
Harmonized Tariff Code
8471.70
Schedule B
8471.70.9000
ECCN
5A992.c
Country of Origin
Taiwan
Download Image
© 2014 OCZ Storage Solutions. All rights reserved. OCZ may make changes to specifications and product descriptions at any time, without notice.