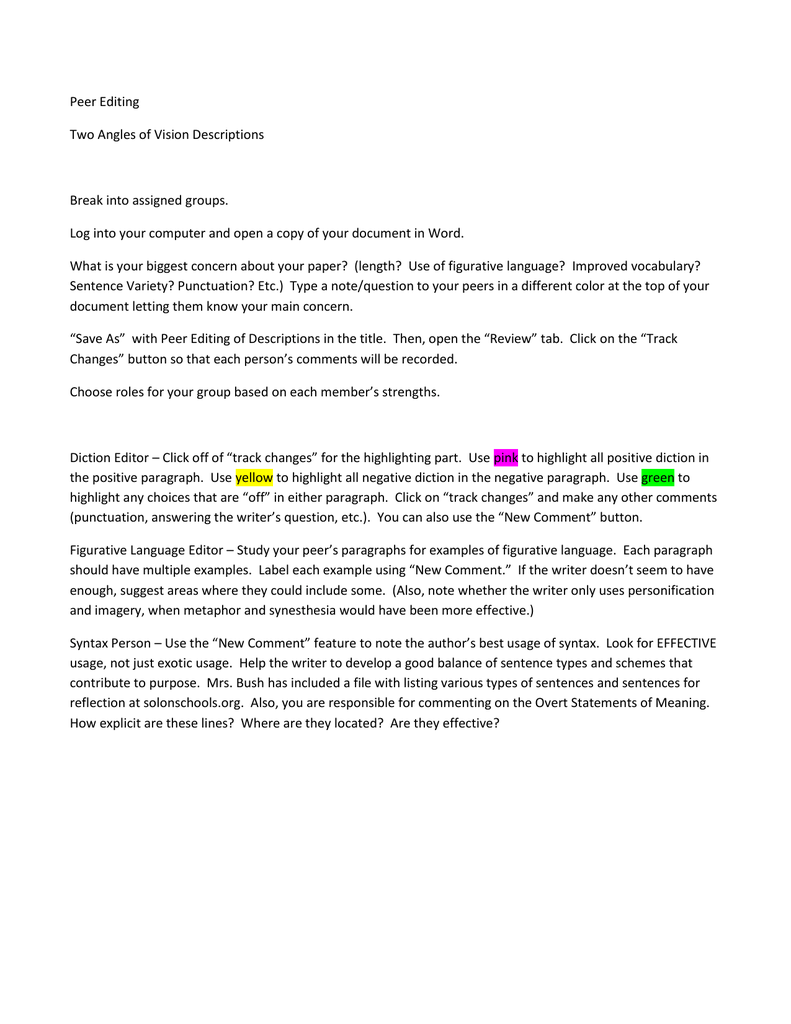 Peer Editing
Two Angles of Vision Descriptions
Break into assigned groups.
Log into your computer and open a copy of your document in Word.
What is your biggest concern about your paper? (length? Use of figurative language? Improved vocabulary?
Sentence Variety? Punctuation? Etc.) Type a note/question to your peers in a different color at the top of your
document letting them know your main concern.
"Save As" with Peer Editing of Descriptions in the title. Then, open the "Review" tab. Click on the "Track
Changes" button so that each person's comments will be recorded.
Choose roles for your group based on each member's strengths.
Diction Editor – Click off of "track changes" for the highlighting part. Use pink to highlight all positive diction in
the positive paragraph. Use yellow to highlight all negative diction in the negative paragraph. Use green to
highlight any choices that are "off" in either paragraph. Click on "track changes" and make any other comments
(punctuation, answering the writer's question, etc.). You can also use the "New Comment" button.
Figurative Language Editor – Study your peer's paragraphs for examples of figurative language. Each paragraph
should have multiple examples. Label each example using "New Comment." If the writer doesn't seem to have
enough, suggest areas where they could include some. (Also, note whether the writer only uses personification
and imagery, when metaphor and synesthesia would have been more effective.)
Syntax Person – Use the "New Comment" feature to note the author's best usage of syntax. Look for EFFECTIVE
usage, not just exotic usage. Help the writer to develop a good balance of sentence types and schemes that
contribute to purpose. Mrs. Bush has included a file with listing various types of sentences and sentences for
reflection at solonschools.org. Also, you are responsible for commenting on the Overt Statements of Meaning.
How explicit are these lines? Where are they located? Are they effective?

* Your assessment is very important for improving the work of artificial intelligence, which forms the content of this project