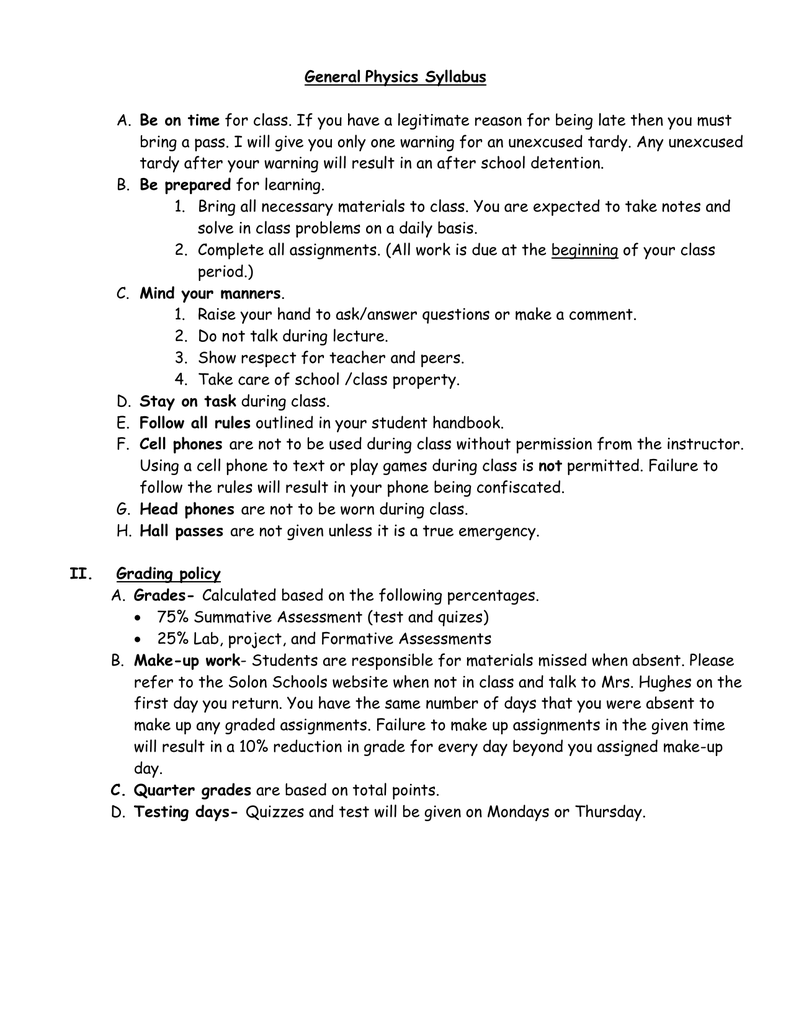 General Physics Syllabus
A. Be on time for class. If you have a legitimate reason for being late then you must
bring a pass. I will give you only one warning for an unexcused tardy. Any unexcused
tardy after your warning will result in an after school detention.
B. Be prepared for learning.
1. Bring all necessary materials to class. You are expected to take notes and
solve in class problems on a daily basis.
2. Complete all assignments. (All work is due at the beginning of your class
period.)
C. Mind your manners.
1. Raise your hand to ask/answer questions or make a comment.
2. Do not talk during lecture.
3. Show respect for teacher and peers.
4. Take care of school /class property.
D. Stay on task during class.
E. Follow all rules outlined in your student handbook.
F. Cell phones are not to be used during class without permission from the instructor.
Using a cell phone to text or play games during class is not permitted. Failure to
follow the rules will result in your phone being confiscated.
G. Head phones are not to be worn during class.
H. Hall passes are not given unless it is a true emergency.
II.
Grading policy
A. Grades- Calculated based on the following percentages.
 75% Summative Assessment (test and quizes)
 25% Lab, project, and Formative Assessments
B. Make-up work- Students are responsible for materials missed when absent. Please
refer to the Solon Schools website when not in class and talk to Mrs. Hughes on the
first day you return. You have the same number of days that you were absent to
make up any graded assignments. Failure to make up assignments in the given time
will result in a 10% reduction in grade for every day beyond you assigned make-up
day.
C. Quarter grades are based on total points.
D. Testing days- Quizzes and test will be given on Mondays or Thursday.
III. Miscellaneous items
A. Extra help- I am always willing to provide extra help and answer questions outside
of class. But this help is only effective if you observe 2 rules. (1) Do not wait until
the last minute and (2) check with me before you intend to come so I can be
prepared to give you my full attention.
B. Contacting Mrs. Hughes- The best way/fastest way to communicate with me is
before/after class. I can also be reached by email or voicemail (please allow me at
least 24 hours to respond.)
1. E-mail: [email protected]
2. Voicemail:5430
3. Conference period: before 1st period;4A T,W;6th period MTWF and TH
in library help center, after school
C. One last comment - Please understand that it is my job to maintain a safe and
orderly environment where ALL students have the opportunity to learn. This is why
I must insist that you follow the class rules or suffer the consequences. I think
you will find that I am firm but fair disciplinarian but I am only human. If I
overreact or make a mistake, I ask for your forgiveness in advance. I hope you
have a fun and productive year.
IV.
First assignment: Bring the following items to class by the end of the first week and
earn a 5 point extra credit bonus.
 one box of facial tissues.
 one role of masking tape.

* Your assessment is very important for improving the work of artificial intelligence, which forms the content of this project