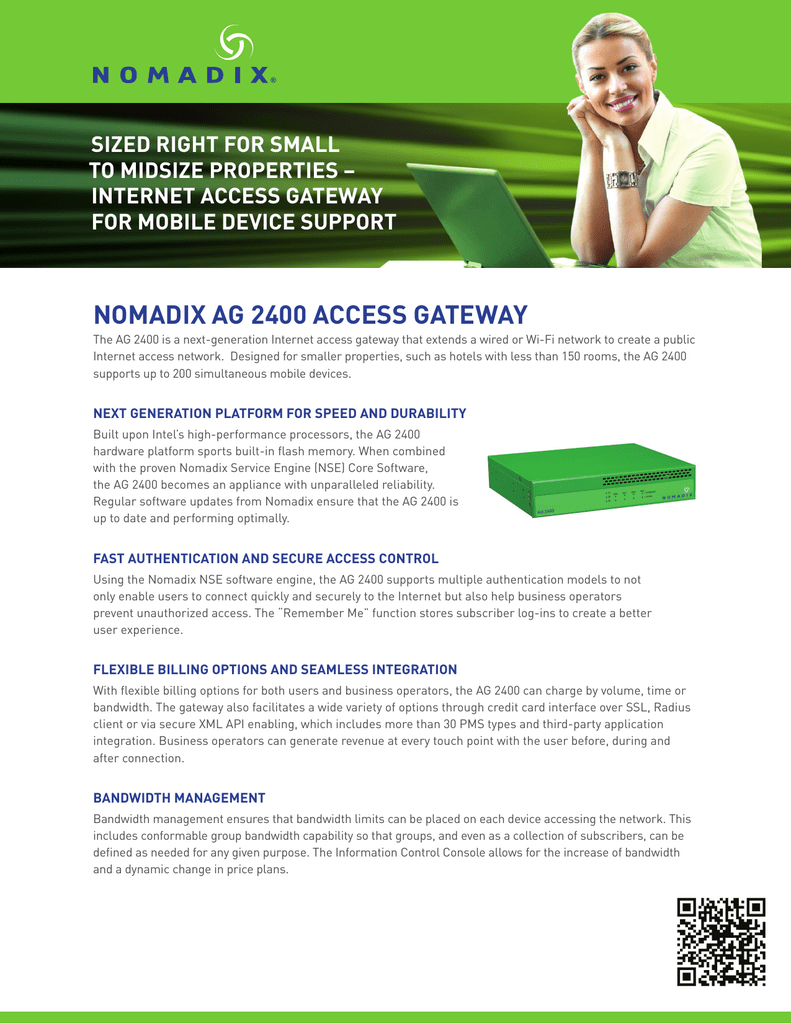 SIZED RIGHT FOR SMALL
TO MIDSIZE PROPERTIES –
INTERNET ACCESS GATEWAY
FOR MOBILE DEVICE SUPPORT
NOMADIX AG 2400 ACCESS GATEWAY
The AG 2400 is a next-generation Internet access gateway that extends a wired or Wi-Fi network to create a public
Internet access network. Designed for smaller properties, such as hotels with less than 150 rooms, the AG 2400
supports up to 200 simultaneous mobile devices.
NEXT GENERATION PLATFORM FOR SPEED AND DURABILITY
Built upon Intel's high-performance processors, the AG 2400
hardware platform sports built-in flash memory. When combined
with the proven Nomadix Service Engine (NSE) Core Software,
the AG 2400 becomes an appliance with unparalleled reliability.
Regular software updates from Nomadix ensure that the AG 2400 is
up to date and performing optimally.
FAST AUTHENTICATION AND SECURE ACCESS CONTROL
Using the Nomadix NSE software engine, the AG 2400 supports multiple authentication models to not
only enable users to connect quickly and securely to the Internet but also help business operators
prevent unauthorized access. The "Remember Me" function stores subscriber log-ins to create a better
user experience.
FLEXIBLE BILLING OPTIONS AND SEAMLESS INTEGRATION
With flexible billing options for both users and business operators, the AG 2400 can charge by volume, time or
bandwidth. The gateway also facilitates a wide variety of options through credit card interface over SSL, Radius
client or via secure XML API enabling, which includes more than 30 PMS types and third-party application
integration. Business operators can generate revenue at every touch point with the user before, during and
after connection.
BANDWIDTH MANAGEMENT
Bandwidth management ensures that bandwidth limits can be placed on each device accessing the network. This
includes conformable group bandwidth capability so that groups, and even as a collection of subscribers, can be
defined as needed for any given purpose. The Information Control Console allows for the increase of bandwidth
and a dynamic change in price plans.
COMPATIBILITY
CERTIFIED WIFI WIRELESS ADAPTERS
Platform
Intel based System
Interface
1-RJ 45 - WAN
3-RJ 45 - ETH
1-12VDC Power Connector
1-RJ 45 - Console
1-DB-9 Serial Connector
2-USB Connectors
1-Reset
1-Power Button
Power Requirements
Type/Watts: 12VDC 5A 60W Power Adapter
Input: AC 100-240V @ 50-60 HZ ~ .6A
Dimensions
215.5 W x 44 H x 190mmD 1U Rack Mountable
Weight
1.2 kg
Environmental Parameters
Temperature Ambient Operating / Storage: 0~40° / -20~70° C
Humidity (RH) Ambient Operating / Ambient Non-Operating: 5~90% non-condensing / 5~95% non-condensing
Regulatory
FCC Class A
UL, UL (US and Canada)
Concurrent Users
200 devices
Access Control and Authentication
Tri-Modal Authentication,
Authentication and Accounting (AAA)
Walled Garden
Group Accounts
Universal Access Method over SSL
IEEE 802.1x
Smart Client Support (Boingo, IPass)
MAC Authentication
Remember Me Log-in
Advanced Security
iNAT
IPSec Support
PPTP Support
Session Rate Limiting (SRL)
User Agent Filtering
Mac Address Filtering
URL Filtering
ICMP Blocking
Proxy ARP for device-to-device
communication
Billing Plan Enablement
Radius Client
Radius (AAA) Proxy
Port-Based Policies
Port Mapping
Local Databases
Credit Card Interface
PMS Advanced XML Interface
Bill Mirroring
Branding (establishment)
Parameter Passing enabling branding
Network Management
Web Management Interface (WMI)
Command Line Interface (CLI)
Integrated VPN Client for Management
Radius-Driven Configuration
Multi-Level Admin Support
Centralized Radius Authentication
SMTP Redirection
Access Control
Bridge Mode
SNMPv2c
Syslog/AAALog
Media Access Control
CSMA/CA
Ports
10/100/1000 Base-T Ethernet,
RJ-45 (UTP): WAN5-10/10/100/1000
Base-T Ethernet RJ-45 (UTP) LAN
IP Address Management
IEEE 802.3/3u/3eb
IEEE 802.1d
DHCP Server
Intelligent Roaming
Realm-Based Routing
Zone Migration
Service Provisioning
Home Page Redirect
HTTP-Redirect
HTTPS-Redirect
Portal Page Redirect
User True Plug and Play
Dynamic Address Translation
Performance
200 concurrent users or devices
Throughput up to 230 Mbps as defined by RFC 1242, Section 3.17
CE (Emissions)
CB Scheme (CE Safety)
RJ-45 port for Serial Access
Systems Console
DB9 Serial Port: Property Management Interface
DHCP Relay
Multiple Subnet Support
IP UPsell
DHCP Client
PPPoe Client
Session Termination Redirect
Information and Control console
Pop-up (explicit) logout button
International Language Support
External Web Server Mode
Internal Web Server Mode
Secure XML API over SSL
Login Page Failover
As defined by RFC1242, Section 3.17 - Nomadix Service Engine, Dynamic Address Translation and iNAT are trademarks or registered trademarks of Nomadix, Inc. Other names and brands may be claimed as the property of others.
30851 Agoura Road, Suite 102, Agoura Hills, CA 91301 USA / Main +1.818.597.1500 or Sales +1.818.575.2480 / info@nomadix.com / www.nomadix.com
©2013 Nomadix, Inc. All rights reserved.

* Your assessment is very important for improving the work of artificial intelligence, which forms the content of this project