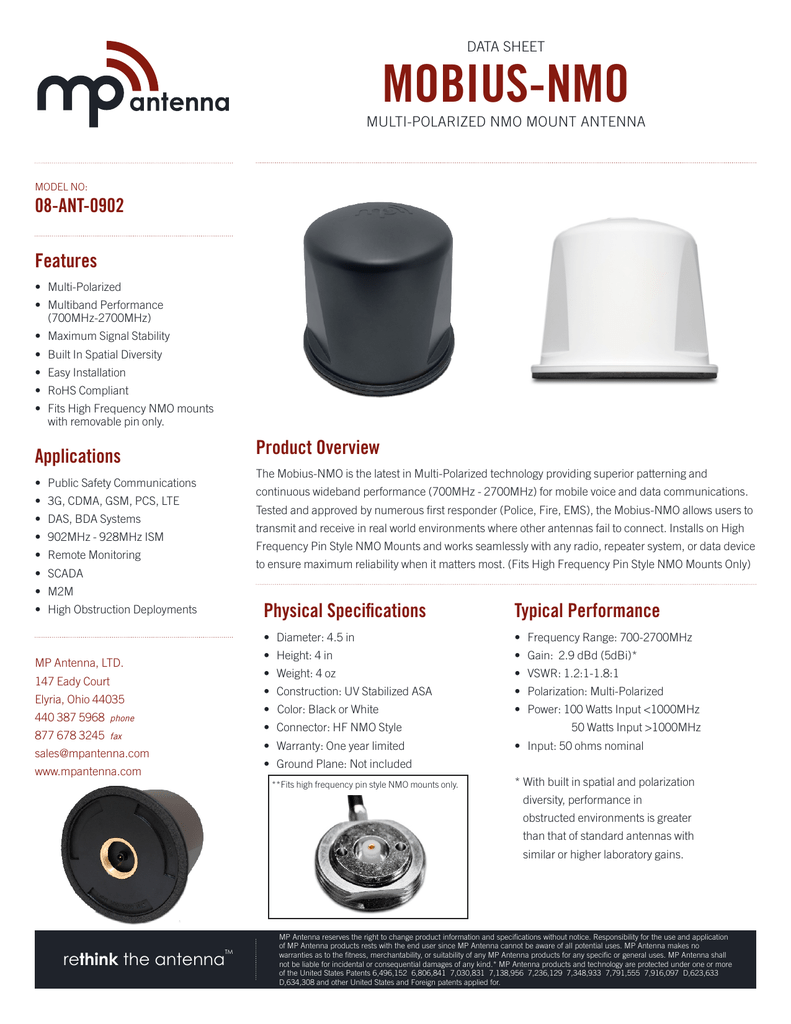 DATA SHEET
MOBIUS-NMO
MULTI-POLARIZED NMO MOUNT ANTENNA
MODEL NO:
08-ANT-0902
Features
• Multi-Polarized
• Multiband Performance
(700MHz-2700MHz)
• Maximum Signal Stability
• Built In Spatial Diversity
• Easy Installation
• RoHS Compliant
• Fits High Frequency NMO mounts
with removable pin only.
Product Overview
Applications
The Mobius-NMO is the latest in Multi-Polarized technology providing superior patterning and
• Public Safety Communications
continuous wideband performance (700MHz - 2700MHz) for mobile voice and data communications.
• 3G, CDMA, GSM, PCS, LTE
Tested and approved by numerous first responder (Police, Fire, EMS), the Mobius-NMO allows users to
• DAS, BDA Systems
transmit and receive in real world environments where other antennas fail to connect. Installs on High
•902MHz - 928MHz ISM
Frequency Pin Style NMO Mounts and works seamlessly with any radio, repeater system, or data device
•Remote Monitoring
to ensure maximum reliability when it matters most. (Fits High Frequency Pin Style NMO Mounts Only)
•SCADA
• M2M
•High Obstruction Deployments
MP Antenna, LTD.
147 Eady Court
Elyria, Ohio 44035
440 387 5968
phone
877 678 3245
fax
[email protected]
Physical Specifications
Typical Performance
• Diameter: 4.5 in
• Frequency Range: 700-2700MHz
• Height: 4 in
• Gain: 2.9 dBd (5dBi)*
• Weight: 4 oz
• VSWR: 1.2:1-1.8:1
• Construction: UV Stabilized ASA
• Polarization: Multi-Polarized
• Color: Black or White
• Power: 100 Watts Input <1000MHz
• Connector: HF NMO Style
• Warranty: One year limited
• Input: 50 ohms nominal
50 Watts Input >1000MHz
• Ground Plane: Not included
www.mpantenna.com
**Fits high frequency pin style NMO mounts only.
* With built in spatial and polarization
diversity, performance in
obstructed environments is greater
than that of standard antennas with
similar or higher laboratory gains.
TM
rethink the antenna
MP Antenna reserves the right to change product information and specifications without notice. Responsibility for the use and application
of MP Antenna products rests with the end user since MP Antenna cannot be aware of all potential uses. MP Antenna makes no
warranties as to the fitness, merchantability, or suitability of any MP Antenna products for any specific or general uses. MP Antenna shall
not be liable for incidental or consequential damages of any kind.* MP Antenna products and technology are protected under one or more
of the United States Patents 6,496,152 6,806,841 7,030,831 7,138,956 7,236,129 7,348,933 7,791,555 7,916,097 D,623,633
D,634,308 and other United States and Foreign patents applied for.

* Your assessment is very important for improving the work of artificial intelligence, which forms the content of this project