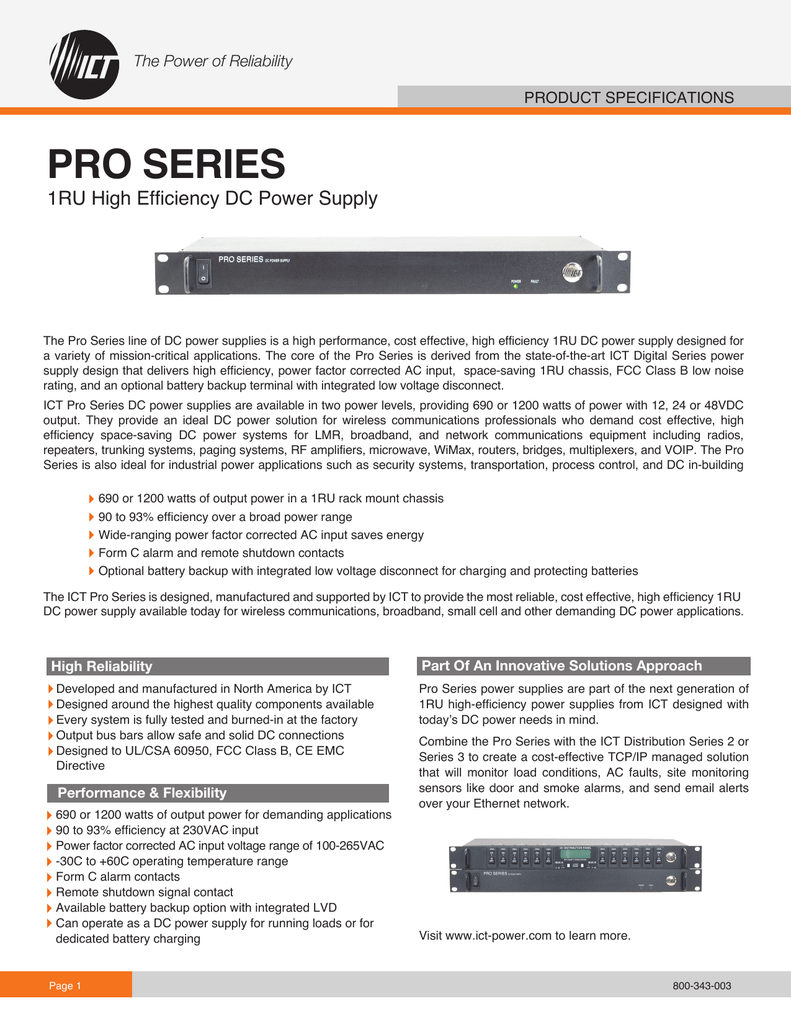 The Power of Reliability
PRODUCT SPECIFICATIONS
PRO SERIES
1RU High Efficiency DC Power Supply
The Pro Series line of DC power supplies is a high performance, cost effective, high efficiency 1RU DC power supply designed for
a variety of mission-critical applications. The core of the Pro Series is derived from the state-of-the-art ICT Digital Series power
supply design that delivers high efficiency, power factor corrected AC input, space-saving 1RU chassis, FCC Class B low noise
rating, and an optional battery backup terminal with integrated low voltage disconnect.
ICT Pro Series DC power supplies are available in two power levels, providing 690 or 1200 watts of power with 12, 24 or 48VDC
output. They provide an ideal DC power solution for wireless communications professionals who demand cost effective, high
efficiency space-saving DC power systems for LMR, broadband, and network communications equipment including radios,
repeaters, trunking systems, paging systems, RF amplifiers, microwave, WiMax, routers, bridges, multiplexers, and VOIP. The Pro
Series is also ideal for industrial power applications such as security systems, transportation, process control, and DC in-building
 690 or 1200 watts of output power in a 1RU rack mount chassis
 90 to 93% efficiency over a broad power range
 Wide-ranging power factor corrected AC input saves energy
 Form C alarm and remote shutdown contacts
 Optional battery backup with integrated low voltage disconnect for charging and protecting batteries
The ICT Pro Series is designed, manufactured and supported by ICT to provide the most reliable, cost effective, high efficiency 1RU
DC power supply available today for wireless communications, broadband, small cell and other demanding DC power applications.
High Reliability
 Developed and manufactured in North America by ICT
 Designed around the highest quality components available
 Every system is fully tested and burned-in at the factory
 Output bus bars allow safe and solid DC connections
 Designed to UL/CSA 60950, FCC Class B, CE EMC
Directive
Performance & Flexibility
 690 or 1200 watts of output power for demanding applications
 90 to 93% efficiency at 230VAC input
 Power factor corrected AC input voltage range of 100-265VAC
 -30C to +60C operating temperature range
 Form C alarm contacts
 Remote shutdown signal contact
 Available battery backup option with integrated LVD
 Can operate as a DC power supply for running loads or for
dedicated battery charging
Page 1
Part Of An Innovative Solutions Approach
Pro Series power supplies are part of the next generation of
1RU high-efficiency power supplies from ICT designed with
today's DC power needs in mind.
Combine the Pro Series with the ICT Distribution Series 2 or
Series 3 to create a cost-effective TCP/IP managed solution
that will monitor load conditions, AC faults, site monitoring
sensors like door and smoke alarms, and send email alerts
over your Ethernet network.
Visit www.ict-power.com to learn more.
800-343-003
TECHNICAL SPECIFICATIONS
Power Specifications
Mechanical
Continuous Output Current - 12V
87A, 50A
Form Factor
Continuous Output Current - 24V
44A, 25A
Dimensions (L x W x H)
Continuous Output Current - 48V
22A, 12.5A
6.4 x 19.0 x 1.72 inches
163 x 483 x 44 mm
Efficiency (typical) - 12V
90%
@ 240VAC
Weight
7.4 lbs / 3.36 kg
Efficiency (typical) - 24V
91%
@ 240VAC
Efficiency (typical) - 48V
93%
@ 240VAC
Output Voltage - 12V
13.8VDC
Output Voltage - 24V
27.6VDC
Standards
Output Voltage - 48V
55.2VDC
Designed to UL/CSA 60950, FCC Class B, CE EMC Directive
1RU - 19 inch Rack Mount
AC Input Connectors
IEC C14 Connector
DC Output Connectors
Busbars with 5/16" Nuts & Washers
Remote Alarm Connectors
Terminal Block (#22 to #26 AWG)
(Output voltage factory adjustable by specifying at time of order)
Protection Features
Input Voltage Range
100-265VAC
Frequency Range
50/60Hz
Over-Temperature, DC Over-Current, AC Input Voltage, DC Output
Voltage, System Fault
Power Factor (typical)
0.99
Warranty
Output Ripple - 12V
30mV RMS
Three Years
Output Ripple - 24V
30mV RMS
Output Ripple - 48V
40mV RMS
Remote Communications
Form C Alarm Contacts - Normally Open, Normally Closed, Common
Line Regulation
+/- 0.1%
Load Regulation
+/- 0.5%
Remote Shutdown - 2.5 to 16 Volt Signal
Output Grounding
Positive, negative or floating
Battery Backup
Environment
Operating Temperature Range
Options
-30oC to +60oC
(derate 2%/ o C >50 o C)
Factory-installed third terminal output for float charging
batteries. Provides automatic revert function. Includes
low voltage disconnect with factory-set disconnect and
reconnect voltage setpoints.
12V
Variable Speed Temperature Controlled Fans
LVD Disconnect Voltage
LVD Reconnect Voltage
11.5V
12.5V
24V
48V
23.0V
25.0V
46.0V
50.0V
Ordering Information - All models are Configured To Order (CTO) at the factory. Options must be selected at time of ordering.
DESCRIPTION
Pro Series Power Supply
Power supply with factory-installed battery backup terminal, automatic
revert and integrated low voltage disconnect.
Power
12VDC Output
24VDC Output
48VDC Output
690W
ICT690-12S
ICT690-24S
ICT690-48S
1200W
ICT1190-12S
ICT1190-24S
ICT1190-48S
690W
ICT690-12SB
ICT690-24SB
ICT690-48SB
1200W
ICT1190-12SB
ICT1190-24SB
ICT1190-48SB
To find out more about the Pro Series and other DC Site Power solutions from ICT including TCP/IP Ethernet remote managed solutions,
visit www.ict-power.com.
Page 2
Innovative Circuit Technology Ltd.
26921 Gloucester Way, Langley, BC, Canada V4W 3Y3
Tel: 604-856-6303 | Fax: 604-856-6365 | Email: sales@ictcorporate.com | www.ict-power.com
800-343-003
© Innovative Circuit Technology Ltd. The
information contained herein is subject to change
without notice. ICT shall not be liable for technical
or editorial errors or omissions contained herein.