No category
Introductions Mrs. Hall Mrs. Spikes Mrs. Edwards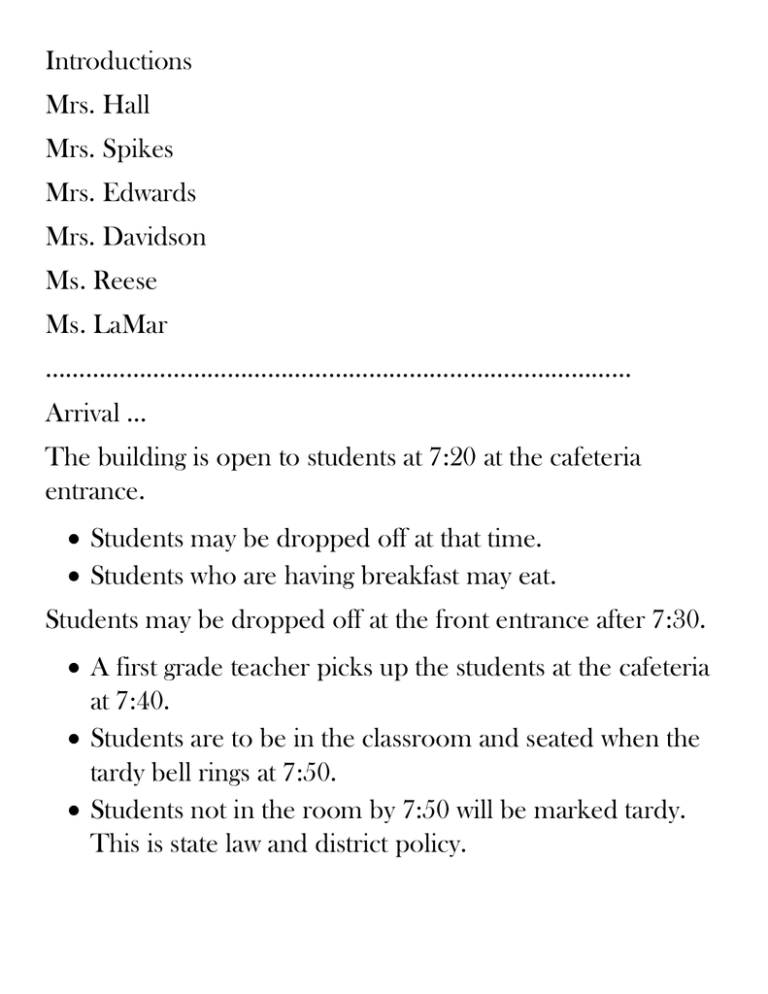 Introductions
Mrs. Hall
Mrs. Spikes
Mrs. Edwards
Mrs. Davidson
Ms. Reese
Ms. LaMar
……………………………………………………………………………
Arrival …
The building is open to students at 7:20 at the cafeteria
entrance.
 Students may be dropped off at that time.
 Students who are having breakfast may eat.
Students may be dropped off at the front entrance after 7:30.
 A first grade teacher picks up the students at the cafeteria
at 7:40.
 Students are to be in the classroom and seated when the
tardy bell rings at 7:50.
 Students not in the room by 7:50 will be marked tardy.
This is state law and district policy.
 Dismissal…
Teacher need to be provided with an up-to-date description
by parents of how each student is being dismissed.
 Bus, Daycare and walkers exit the building by the front
door. Staff is present to assist the student and a special
sign will be with the staff member helping.
 Please instruct your student about who they are allowed to
go with at dismissal time.
 It is advisable to have a code word so that only you and
your child know to protect them.
 Be sure to have an emergency list of people that your
student is allowed to go with.
Car Riders
 Walk to the cafeteria and get in line to wait to be called
to leave the building and to be assisted by an adult to
their vehicle. Students are to wait at the wall and not go
to the cars themselves.
 Even if your student does not usually go by car , it is a
good plan to have a car tag number for the unexpected
event days.
Change in dismissal
 Send a note with your child giving the date and the
different way your student will be leaving. Be sure that
your child knows to give the note to the teacher. The
teacher needs to be aware of the change for dismissal.
 The other way to notify is to email the teacher or send a
message on DoJo . A heading of Dismissal Change is
helpful when looking through many emails or DOJO
messages. If you do NOT get a reply from the teacher
verifying the teacher has received the information
change then please notify the office so they can call into
the room and notify the teacher and student. The
teacher will need to send the student the regular
dismissal way unless the teacher gets a note or a phone
call explaining the change.
Absences
 The office must receive a note about a student being
absent even if the school has been previously notified.
Teachers are not allowed to handle the notes sent.
They must be sent to the office.
 This is the only accepted way to excuse an absence.
 A doctor or dentist form may also be provided to
explain the reason for the absence.

* Your assessment is very important for improving the work of artificial intelligence, which forms the content of this project