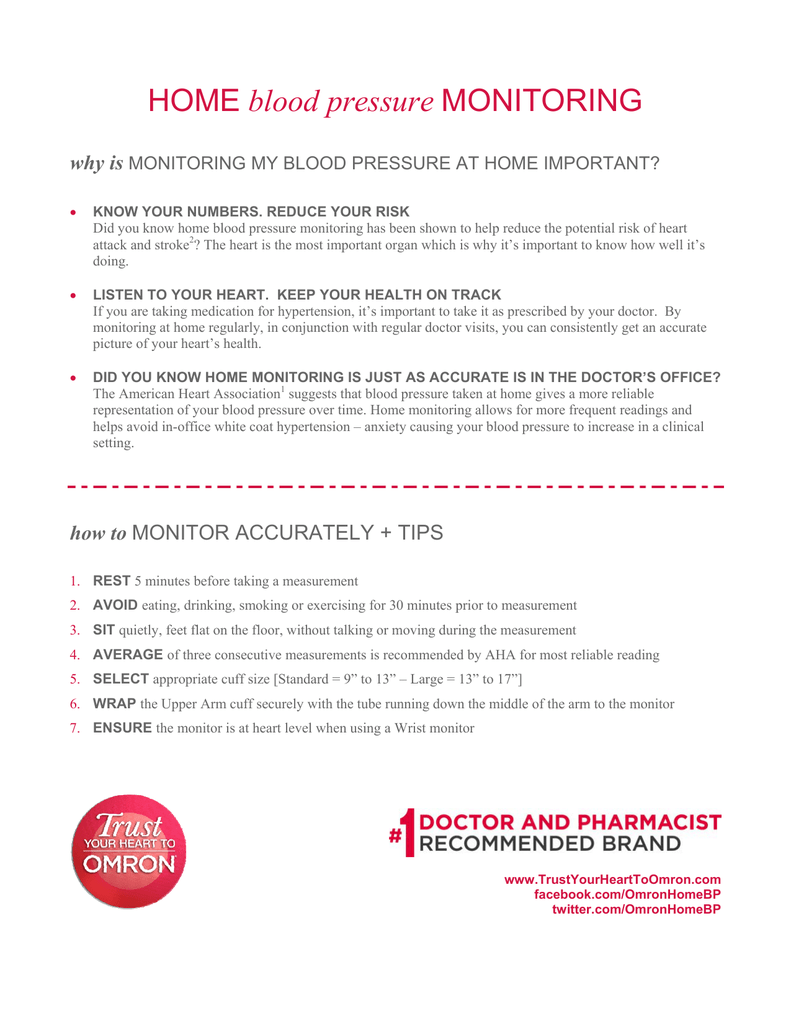 HOME blood pressure MONITORING
why is MONITORING MY BLOOD PRESSURE AT HOME IMPORTANT?

KNOW YOUR NUMBERS. REDUCE YOUR RISK
Did you know home blood pressure monitoring has been shown to help reduce the potential risk of heart
attack and stroke2? The heart is the most important organ which is why it's important to know how well it's
doing.

LISTEN TO YOUR HEART. KEEP YOUR HEALTH ON TRACK
If you are taking medication for hypertension, it's important to take it as prescribed by your doctor. By
monitoring at home regularly, in conjunction with regular doctor visits, you can consistently get an accurate
picture of your heart's health.

DID YOU KNOW HOME MONITORING IS JUST AS ACCURATE IS IN THE DOCTOR'S OFFICE?
The American Heart Association1 suggests that blood pressure taken at home gives a more reliable
representation of your blood pressure over time. Home monitoring allows for more frequent readings and
helps avoid in-office white coat hypertension – anxiety causing your blood pressure to increase in a clinical
setting.
how to MONITOR ACCURATELY + TIPS
1. REST 5 minutes before taking a measurement
2. AVOID eating, drinking, smoking or exercising for 30 minutes prior to measurement
3. SIT quietly, feet flat on the floor, without talking or moving during the measurement
4. AVERAGE of three consecutive measurements is recommended by AHA for most reliable reading
5. SELECT appropriate cuff size [Standard = 9" to 13" – Large = 13" to 17"]
6. WRAP the Upper Arm cuff securely with the tube running down the middle of the arm to the monitor
7. ENSURE the monitor is at heart level when using a Wrist monitor
www.TrustYourHeartToOmron.com
facebook.com/OmronHomeBP
twitter.com/OmronHomeBP
HOME blood pressure MONITORING
which OMRON MONITOR IS RIGHT FOR ME?

ACCURACY IS THE MOST IMPORTANT FEATURE
All Omron home blood pressure monitors are clinically proven accurate. In addition, research shows that four
distinct preferences emerge when considering a home blood pressure monitor. As below, select the monitor
that best describes your needs.
PRECISION
ADVANCED TECHNOLOGY
prefers a deluxe product, but only if features help
improve accuracy of reading
looking for the best technology to help manage
their hypertension
10 Series
7 Series
3 Series
10+ Series
SIMPLICITY
PORTABILITY
quick and easy setup and use
need convenience & discretion of a small,
portable monitor
5 Series
3 Series
7 Series Wrist
Omron is the #1 blood pressure monitor in America,
because it's the most trusted in America.

* Your assessment is very important for improving the work of artificial intelligence, which forms the content of this project