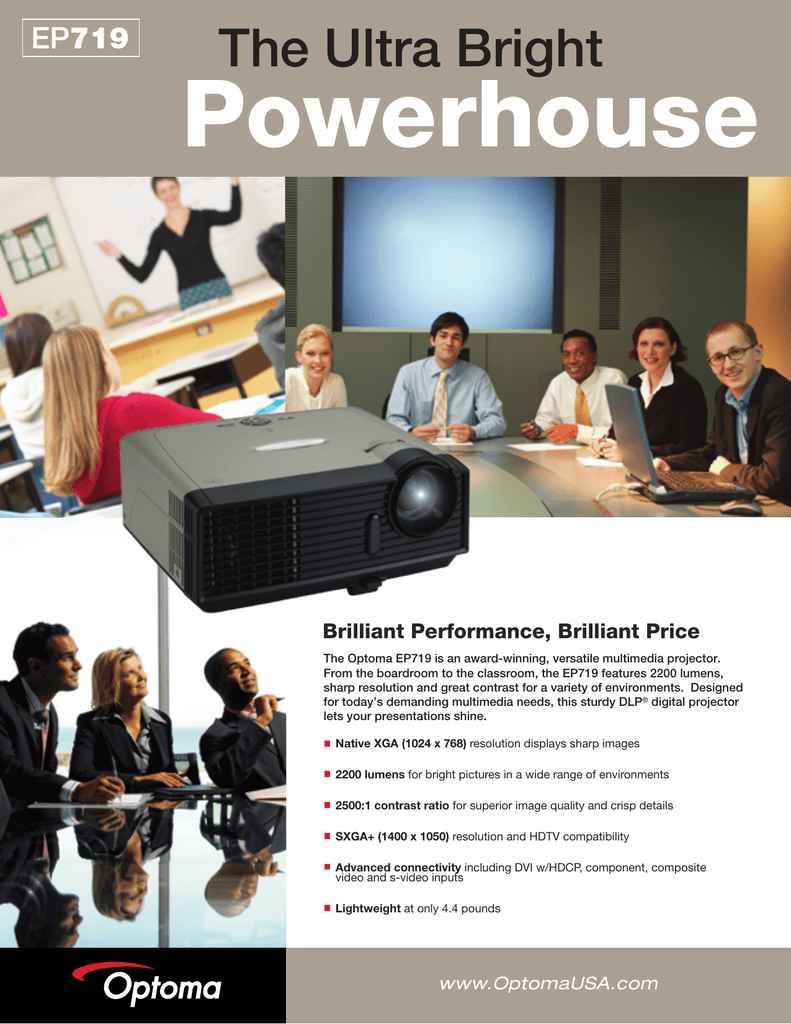 EP719
The Ultra Bright
Powerhouse
Brilliant Performance, Brilliant Price
The Optoma EP719 is an award-winning, versatile multimedia projector.
From the boardroom to the classroom, the EP719 features 2200 lumens,
sharp resolution and great contrast for a variety of environments. Designed
for today's demanding multimedia needs, this sturdy DLP® digital projector
lets your presentations shine.
Native XGA (1024 x 768) resolution displays sharp images
2200 lumens for bright pictures in a wide range of environments
2500:1 contrast ratio for superior image quality and crisp details
SXGA+ (1400 x 1050) resolution and HDTV compatibility
Advanced connectivity including DVI w/HDCP, component, composite
video and s-video inputs
Lightweight at only 4.4 pounds
www.OptomaUSA.com
EP719
Specifications
®
Single 0.55" DDR DLP Technology by Texas Instruments
Resolution:
XGA (1024 x 768)
Maximum Resolution:
PC: SXGA+ (1400 x 1050)
Brightness (Typical):
2200 Lumens
Contrast Ratio:
2500:1 (Full On/Full Off)
Lamp Life (STD/ECO):
2000/3000 Hours
Lamp Type:
200W UHP
Throw Ratio:
1.93 - 2.13:1 (Distance/Width)
Image Size (Diagonal):
24.6" to 300" (0.6 to 7.62 m)
Projection Distance:
3.9' to 32.8' (1.2 to 10 m)
Noise Level (STD/ECO):
32dB/28dB
Remote Control:
IR Remote
Monitor Loop Through:
D-Sub 15 VGA Output (Functional in Both Normal and Standby Modes)
Computer Compatibility:
VGA, XGA, SVGA, SXGA + Resized, VESA, PC and Macintosh Compatible
Video Compatibility:
NTSC, PAL, SECAM, SDTV (480i), EDTV (480p), HDTV (720p, 1080i)
Aspect Ratio:
4:3 Native, 16:9 Compatible
Projection Lens:
F=2.7-3.0, f=21.83-23.81 mm, 1.2:1 Manual Zoom and Focus
Audio:
One 2-Watt Speaker
Keystone Correction:
± 15° Vertical
Horizontal Scan Rate:
15 to 100 kHz
Vertical Refresh Rate:
56 to 85 Hz
Weight:
4.4 lbs (2.0 kg)
Dimensions (W x H x D):
9" x 3.7" x 8.26" (230 x 95 x 210 mm)
Power Supply:
AC Input 100 - 240 V, Auto-Switching Power Supply
Power Consumption:
265 Watts (Maximum), <15 Watts (Standby Power)
Operating Temperature:
41 - 95ºF (5 - 35ºC) (80% Humidity), Adjustable Fan Speed for High Altitude Application
Hide
Displayable Colors:
16.7 Million
Freeze
Projection Method:
Front, Rear, Ceiling Mount, Table Top
D-Zoom
Uniformity:
85%
Display Mode
User Controls:
Complete On Screen Menu Adjustments in 11 Languages
Security:
One Kensington® Lock Port
I/O Connectors:
DVI w/HDCP, VGA-In, VGA-Out, S-Video, Composite Video, Audio Mini-Jack, RS-232
Standard Accessories:
AC Power Cord, VGA to VGA Cable, Composite Video Cable, Remote Control, Batteries
for Remote, Lens Cap, Quick Start Guide, Warranty Card and User's Manual
Optional Accessories:
Ceiling Mount, VGA to Component Cable, S-Video Cable, Audio-Out Adapter, Gold
Service Warranty and GrayWolfII™ Series Screens
Warranty:
1 Year Limited Parts and Labor, 90 Days on Lamp
UPC:
796435 11 607 1
DLP Board
Screen
DMD
Light Source
Color Wheel
Enhanced Ventilation System
Remote Control
Power/Standby
Re-Sync
Volume Control
Keystone
Menu
Reset
Directional Arrows
DVI Mode
Composite
®
Display Technology:
Projection Lens
VGA Mode
S-Video
I/O Ports
Audio-Out
Composite Video
Data-719-005-062507
Advanced DLP Technology
DVI
RS-232
HDCP COMPLIANT
Available from:
DVI w/HDCP
VGA-In
S-Video
VGA-Out
IR Receiver
Kensington Lock
www.OptomaUSA.com
All Specifications are subject to change without notice.
© 2007 Optoma Technology, Inc. DLP® and the DLP logo are
registered trademarks of Texas Instruments. All other names
mentioned herein are property of their respective owners.