No category
HP Slim Travel Power Adapter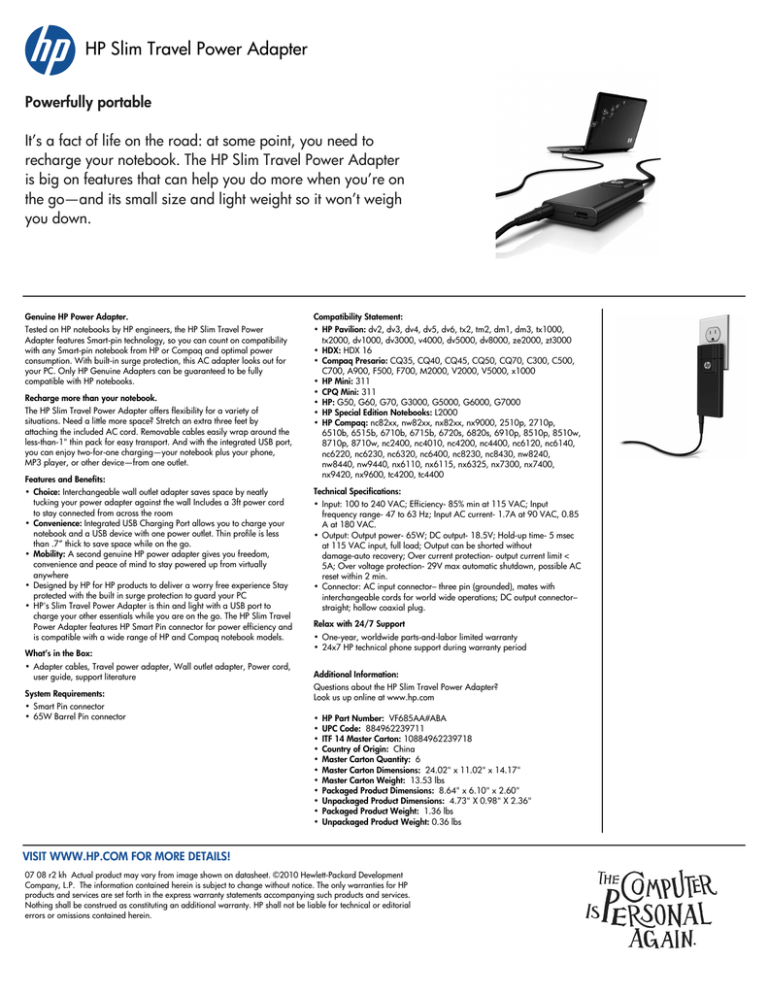 HP Slim Travel Power Adapter
Powerfully portable
It's a fact of life on the road: at some point, you need to
recharge your notebook. The HP Slim Travel Power Adapter
is big on features that can help you do more when you're on
the go—and its small size and light weight so it won't weigh
you down.
Genuine HP Power Adapter.
Compatibility Statement:
Tested on HP notebooks by HP engineers, the HP Slim Travel Power
Adapter features Smart-pin technology, so you can count on compatibility
with any Smart-pin notebook from HP or Compaq and optimal power
consumption. With built-in surge protection, this AC adapter looks out for
your PC. Only HP Genuine Adapters can be guaranteed to be fully
compatible with HP notebooks.
• HP Pavilion: dv2, dv3, dv4, dv5, dv6, tx2, tm2, dm1, dm3, tx1000,
tx2000, dv1000, dv3000, v4000, dv5000, dv8000, ze2000, zt3000
• HDX: HDX 16
• Compaq Presario: CQ35, CQ40, CQ45, CQ50, CQ70, C300, C500,
C700, A900, F500, F700, M2000, V2000, V5000, x1000
• HP Mini: 311
• CPQ Mini: 311
• HP: G50, G60, G70, G3000, G5000, G6000, G7000
• HP Special Edition Notebooks: L2000
• HP Compaq: nc82xx, nw82xx, nx82xx, nx9000, 2510p, 2710p,
6510b, 6515b, 6710b, 6715b, 6720s, 6820s, 6910p, 8510p, 8510w,
8710p, 8710w, nc2400, nc4010, nc4200, nc4400, nc6120, nc6140,
nc6220, nc6230, nc6320, nc6400, nc8230, nc8430, nw8240,
nw8440, nw9440, nx6110, nx6115, nx6325, nx7300, nx7400,
nx9420, nx9600, tc4200, tc4400
Recharge more than your notebook.
The HP Slim Travel Power Adapter offers flexibility for a variety of
situations. Need a little more space? Stretch an extra three feet by
attaching the included AC cord. Removable cables easily wrap around the
less-than-1" thin pack for easy transport. And with the integrated USB port,
you can enjoy two-for-one charging—your notebook plus your phone,
MP3 player, or other device—from one outlet.
Features and Benefits:
• Choice: Interchangeable wall outlet adapter saves space by neatly
tucking your power adapter against the wall Includes a 3ft power cord
to stay connected from across the room
• Convenience: Integrated USB Charging Port allows you to charge your
notebook and a USB device with one power outlet. Thin profile is less
than .7" thick to save space while on the go.
• Mobility: A second genuine HP power adapter gives you freedom,
convenience and peace of mind to stay powered up from virtually
anywhere
• Designed by HP for HP products to deliver a worry free experience Stay
protected with the built in surge protection to guard your PC
• HP's Slim Travel Power Adapter is thin and light with a USB port to
charge your other essentials while you are on the go. The HP Slim Travel
Power Adapter features HP Smart Pin connector for power efficiency and
is compatible with a wide range of HP and Compaq notebook models.
What's in the Box:
Technical Specifications:
• Input: 100 to 240 VAC; Efficiency- 85% min at 115 VAC; Input
frequency range- 47 to 63 Hz; Input AC current- 1.7A at 90 VAC, 0.85
A at 180 VAC.
• Output: Output power- 65W; DC output- 18.5V; Hold-up time- 5 msec
at 115 VAC input, full load; Output can be shorted without
damage-auto recovery; Over current protection- output current limit <
5A; Over voltage protection- 29V max automatic shutdown, possible AC
reset within 2 min.
• Connector: AC input connector– three pin (grounded), mates with
interchangeable cords for world wide operations; DC output connector–
straight; hollow coaxial plug.
Relax with 24/7 Support
• One-year, worldwide parts-and-labor limited warranty
• 24x7 HP technical phone support during warranty period
• Adapter cables, Travel power adapter, Wall outlet adapter, Power cord,
user guide, support literature
Additional Information:
System Requirements:
Questions about the HP Slim Travel Power Adapter?
Look us up online at www.hp.com
• Smart Pin connector
• 65W Barrel Pin connector
•
•
•
•
•
•
•
•
•
•
•
HP Part Number: VF685AA#ABA
UPC Code: 884962239711
ITF 14 Master Carton: 10884962239718
Country of Origin: China
Master Carton Quantity: 6
Master Carton Dimensions: 24.02" x 11.02" x 14.17"
Master Carton Weight: 13.53 lbs
Packaged Product Dimensions: 8.64" x 6.10" x 2.60"
Unpackaged Product Dimensions: 4.73" X 0.98" X 2.36"
Packaged Product Weight: 1.36 lbs
Unpackaged Product Weight: 0.36 lbs
VISIT WWW.HP.COM FOR MORE DETAILS!
07 08 r2 kh Actual product may vary from image shown on datasheet. ©2010 Hewlett-Packard Development
Company, L.P. The information contained herein is subject to change without notice. The only warranties for HP
products and services are set forth in the express warranty statements accompanying such products and services.
Nothing shall be construed as constituting an additional warranty. HP shall not be liable for technical or editorial
errors or omissions contained herein.

* Your assessment is very important for improving the work of artificial intelligence, which forms the content of this project