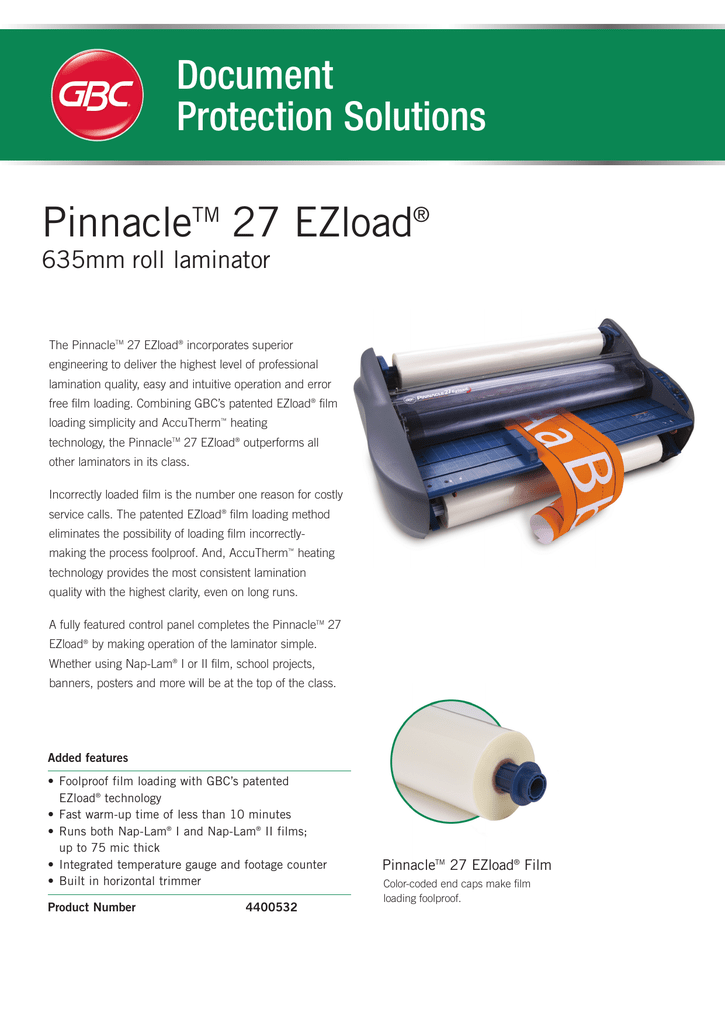 Document
Protection Solutions
PinnacleTM 27 EZload®
635mm roll laminator
The PinnacleTM 27 EZload® incorporates superior
engineering to deliver the highest level of professional
lamination quality, easy and intuitive operation and error
free film loading. Combining GBC's patented EZload® film
loading simplicity and AccuTherm™ heating
technology, the PinnacleTM 27 EZload® outperforms all
other laminators in its class.
Incorrectly loaded film is the number one reason for costly
service calls. The patented EZload® film loading method
eliminates the possibility of loading film incorrectlymaking the process foolproof. And, AccuTherm™ heating
technology provides the most consistent lamination
quality with the highest clarity, even on long runs.
A fully featured control panel completes the PinnacleTM 27
EZload® by making operation of the laminator simple.
Whether using Nap-Lam® I or II film, school projects,
banners, posters and more will be at the top of the class.
Added features
• Foolproof film loading with GBC's patented
EZload® technology
• Fast warm-up time of less than 10 minutes
• Runs both Nap-Lam® I and Nap-Lam® II films;
up to 75 mic thick
• Integrated temperature gauge and footage counter
• Built in horizontal trimmer
Product Number
4400532
PinnacleTM 27 EZload® Film
Color-coded end caps make film
loading foolproof.
PinnacleTM 27 EZload® Film
Specially designed film has color-coded end caps which
make film loading foolproof
Specifications
Photo quality:
Yes
Ready indicator:
Yes
Warm-up time:
6-9 min.
Rollers:
2 heated, 2 pull
Speed:
Up to 3.65m per minute
One touch key pad:
Yes
Temperature control:
Variable for Nap-Lam® I or II film
Reverse switch:
Yes
Cold lamination:
No
Auto shut-off:
Yes
Speed control:
Variable (10 settings)
Warranty:
1 year
Heating:
2 heat shoes, 2 heated rollers
Weight:
45.9kg
Throat width:
68.5cm
Dimensions (W x L x H):
536 x 900 x 350mm
Footage counter:
Yes
Power requirements:
220V - 240V/50Hz 7 amps
Film thickness:
Up to 75 mic
Safety:
CE/TUV
Specifications are subject to change without notification.
For best results use GBC high quality laminating film.
Laminating Film
Nap-Lam® I EZload® roll film – 32 - 75 mic
Nap-Lam® II EZload® roll film – 32 - 75 mic
Applications
> Posters
> Projects
> Banners
> Signs
> Charts
> Large photos
> Presentations
> Crafts
ACCO Brands Europe
Oxford House
Oxford Road, Aylesbury
Bucks. HP21 8SZ, England
1670195
5M0307
© 2008 ACCO Brands. All rights reserved. ACCO®, GBC® and
Nap-Lam® are registered trademarks of ACCO Brands.

* Your assessment is very important for improving the work of artificial intelligence, which forms the content of this project