NEST Intelligent Thermostat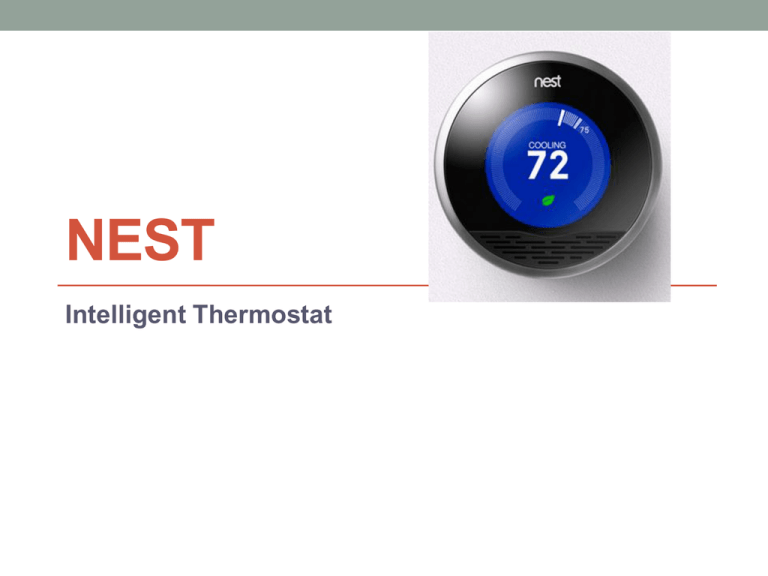 NEST
Intelligent Thermostat
Normal Thermostat
•
Temperature Sensor
•
Temperature Setting (manually entered)
•
Time (entered manually)
•
Heat/Cool/Off Switch (entered manually)
•
Fan Auto/On manual switch
•
Some thermostats allow for a schedule to be entered manually
LET US SEE WHAT A
NEST THERMOSTAT
CAN DO
Nest Senses and Learns
NEST is Always Connected
NEST Thermostat Looks Great
NEST Keeps Getting Better
Heat/Cool Range Schedule
When you set a Range
Schedule
• One can program both heating and cooling temperatures for any given set-point.
• Range Schedules can't be learned, only programed.
• When using a
Range Schedule,
Learning Mode will be paused
Nest Range Setting on My Thermostat
•
Heats when temperature is below 68 degrees
•
Cools when temperature is above 78 degrees
•
Currently house temperature is 69 degrees
NEST Auto Away
•
What is Auto-Away?
•
•
Nest uses its activity sensors to detect when a person's nearby or when you're using Nest.
If
Nest doesn't notice you for a while, it can start Auto-Away.
•
It'll turn down your system until your home reaches a minimum or maximum temperature.
•
You choose those temps when you set up your Nest.
•
So, if your minimum Auto-Away temp is 50° and it starts getting colder, Nest will maintain the house at 50° till you get home.
•
Nest will turn on Auto-Away a couple hours after you left.
•
On the other hand, if you generally spend the day working in your room, Nest will learn and give you more time before it turns on Auto-Away.
Pictures of Nest in Homes
NEST Phone App Screens
Control Your Thermostat from you Phone
Nest Corporation
•
Founder / CEO
•
Tony Fadell
•
Bio
•
Tony led the team that created the first 18 generations of the Apple iPod and the first three generations of the Apple iPhone.
•
Nest Location
•
900 Hansen Way, Palo
Alto, CA 94304
NEST Saves Energy
•
Auto Away
•
Turns heating or air conditioning off when you are away
•
Airwave
•
Airwave technology takes advantage of the fact that your air conditioner's compressor stays cold for 5-10 minutes after its been turned off
•
Nest Leaf
•
When adjusting the temperature shows energy saving settings
•
Learning
•
Learns to adjust temperature at night
Nest Internet Links
•
Home Page
• http://www.nest.com/
•
Installation Video
• http://youtu.be/P9fnfZnk6v4
•
Setting up Nest Video
• http://youtu.be/UXzTAZSBnrE
•
Learning Features
• http://youtu.be/6InjhtZ6NP8
My NEST Thermostat
My NEST Thermostat (cont.)
NEST Energy Report for May
NEST ENERGY
SAVINGS
Comparison of 1 month only
Comparison May 2011 to May 2012
Energy Similar Home Comparison
Temperature Comparison
Avg. Outdoor Temp.
May 2011 58°
May 2012 62°
4 degrees warmer
My Home Gas Energy Costs from
PG&E
May 2011 $60
May 2012 $28
Savings $32
Electricity Usage and Net Savings
•
May 2011
•
•
Total energy -248 kWh
Credit $55.68
•
May 2012
•
Total Energy
–212 kWh
•
Credit $47.87
•
(Note: Using solar panels so electricity is a credit in May)
•
Electricity Cost Increase $7.81
•
Gas Savings - $32.00
•
Electricity Cost $ 7.81
•
Net Savings $24.19
NEST Benefit Cost vs Savings
•
Nest price about $270-$300
•
Available on the Internet via Search or E-Bay
•
Now available at Lowes Hardware and Amazon.com
•
Energy Savings
•
Estimate average $10-15/month for 9 months = $90-$135/year
•
Payback after 2-3 years
* Your assessment is very important for improving the work of artificial intelligence, which forms the content of this project