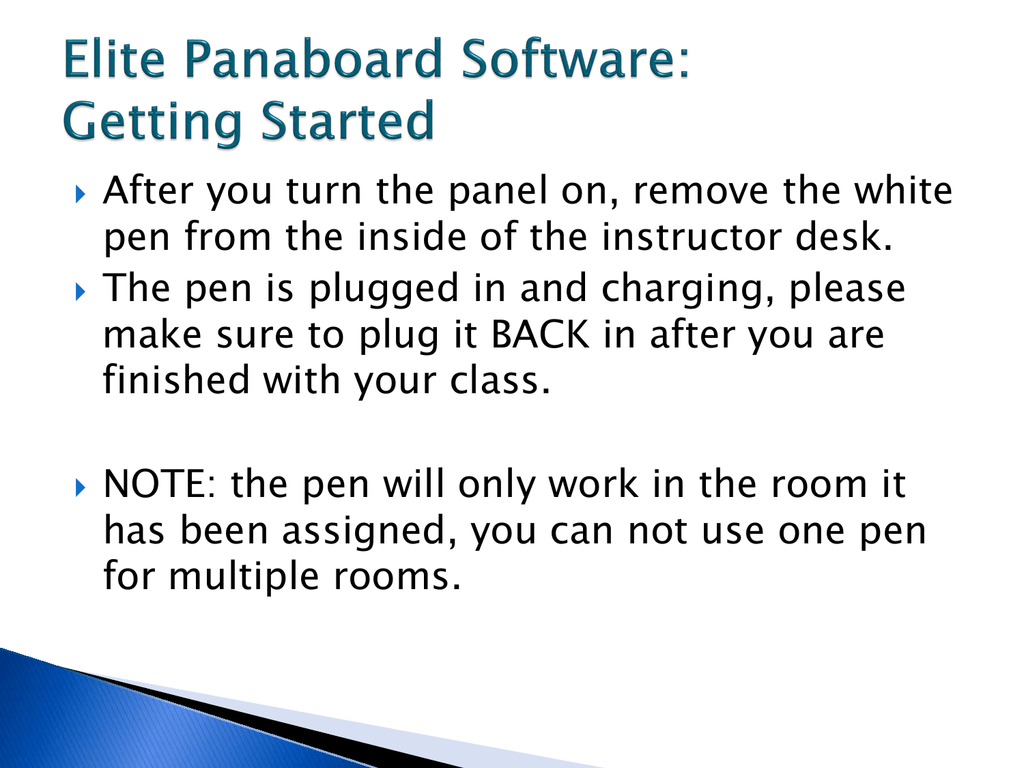 


After you turn the panel on, remove the white
pen from the inside of the instructor desk.
The pen is plugged in and charging, please
make sure to plug it BACK in after you are
finished with your class.
NOTE: the pen will only work in the room it
has been assigned, you can not use one pen
for multiple rooms.


To turn on the pen: Flip the Power Switch,
then press and hold the second gray button.
The LED Color Indication Button will then turn
white and the light under the Power Switch
will turn green.




Now your pen is ready to use with the
Panaboard software.
Double click the Panaboard icon on the
desktop, you will see the two tabs on both
sides of the screen appear, this is your menu.
The pen will start out in mouse mode, please
select another option from the menu to have
more functions.
You can also do the same controls using the
mouse on the computer!



To turn the program off: Close out what you
have been annotating on then click on the
bottom toolbar Panaboard icon, click exit.
On the pen, turn the Power Switch off and
plug it back under the desk.
For further questions, please refer to the help
folder on every classroom desktop. You can
also contact the Help Desk at 3303.

* Your assessment is very important for improving the work of artificial intelligence, which forms the content of this project