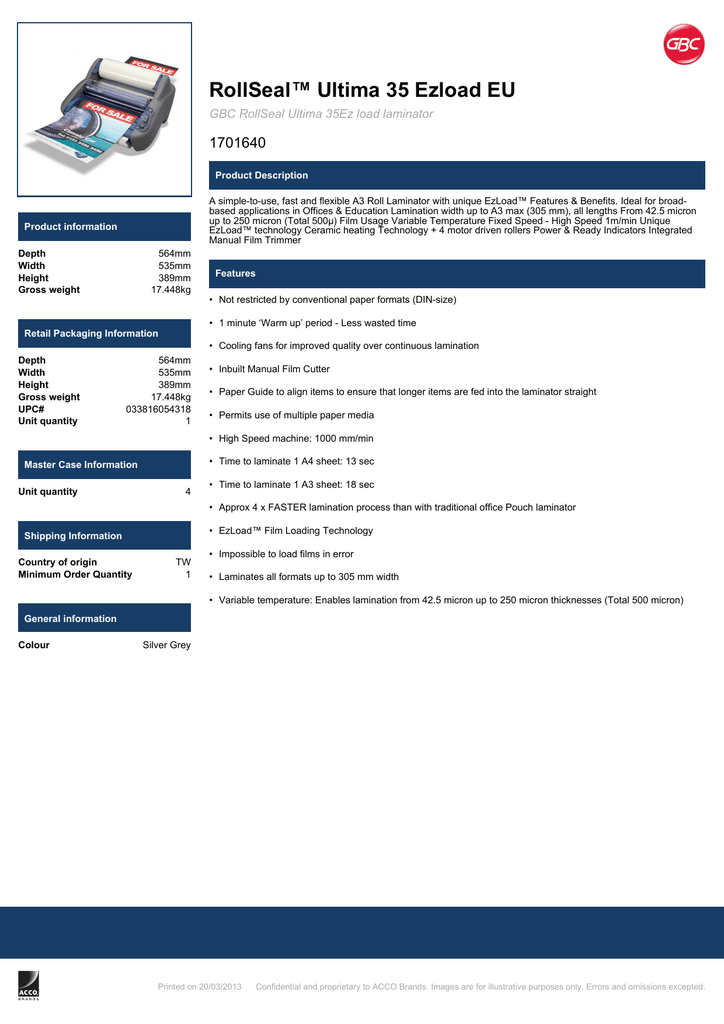 RollSeal™ Ultima 35 Ezload EU
GBC RollSeal Ultima 35Ez load laminator
1701640
Product Description
A simple-to-use, fast and flexible A3 Roll Laminator with unique EzLoad™ Features & Benefits. Ideal for broadbased applications in Offices & Education Lamination width up to A3 max (305 mm), all lengths From 42.5 micron
up to 250 micron (Total 500µ) Film Usage Variable Temperature Fixed Speed - High Speed 1m/min Unique
EzLoad™ technology Ceramic heating Technology + 4 motor driven rollers Power & Ready Indicators Integrated
Manual Film Trimmer
Product information
Depth
Width
Height
Gross weight
564mm
535mm
389mm
17.448kg
Features
• Not restricted by conventional paper formats (DIN-size)
• 1 minute 'Warm up' period - Less wasted time
Retail Packaging Information
• Cooling fans for improved quality over continuous lamination
Depth
Width
Height
Gross weight
UPC#
Unit quantity
564mm
535mm
389mm
17.448kg
033816054318
1
• Inbuilt Manual Film Cutter
• Paper Guide to align items to ensure that longer items are fed into the laminator straight
• Permits use of multiple paper media
• High Speed machine: 1000 mm/min
• Time to laminate 1 A4 sheet: 13 sec
Master Case Information
Unit quantity
4
• Time to laminate 1 A3 sheet: 18 sec
• Approx 4 x FASTER lamination process than with traditional office Pouch laminator
• EzLoad™ Film Loading Technology
Shipping Information
Country of origin
Minimum Order Quantity
TW
1
• Impossible to load films in error
• Laminates all formats up to 305 mm width
• Variable temperature: Enables lamination from 42.5 micron up to 250 micron thicknesses (Total 500 micron)
General information
Colour
Silver Grey
Printed on 20/03/2013
Confidential and proprietary to ACCO Brands. Images are for illustrative purposes only. Errors and omissions excepted.

* Your assessment is very important for improving the work of artificial intelligence, which forms the content of this project