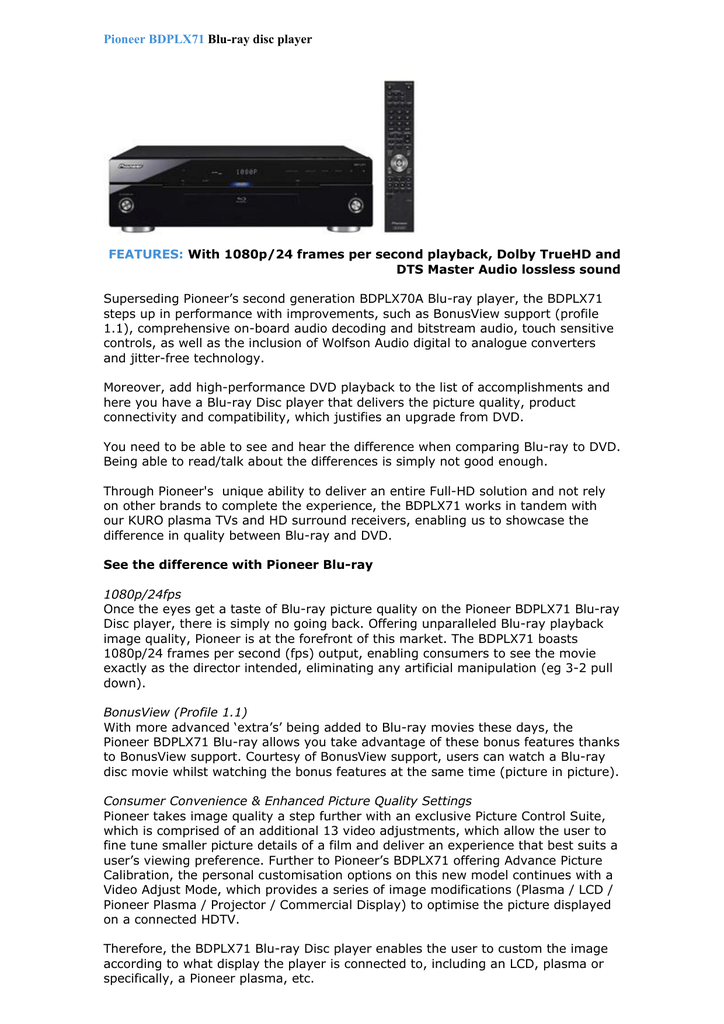 Pioneer BDPLX71 Blu-ray disc player
FEATURES: With 1080p/24 frames per second playback, Dolby TrueHD and
DTS Master Audio lossless sound
Superseding Pioneer's second generation BDPLX70A Blu-ray player, the BDPLX71
steps up in performance with improvements, such as BonusView support (profile
1.1), comprehensive on-board audio decoding and bitstream audio, touch sensitive
controls, as well as the inclusion of Wolfson Audio digital to analogue converters
and jitter-free technology.
Moreover, add high-performance DVD playback to the list of accomplishments and
here you have a Blu-ray Disc player that delivers the picture quality, product
connectivity and compatibility, which justifies an upgrade from DVD.
You need to be able to see and hear the difference when comparing Blu-ray to DVD.
Being able to read/talk about the differences is simply not good enough.
Through Pioneer's unique ability to deliver an entire Full-HD solution and not rely
on other brands to complete the experience, the BDPLX71 works in tandem with
our KURO plasma TVs and HD surround receivers, enabling us to showcase the
difference in quality between Blu-ray and DVD.
See the difference with Pioneer Blu-ray
1080p/24fps
Once the eyes get a taste of Blu-ray picture quality on the Pioneer BDPLX71 Blu-ray
Disc player, there is simply no going back. Offering unparalleled Blu-ray playback
image quality, Pioneer is at the forefront of this market. The BDPLX71 boasts
1080p/24 frames per second (fps) output, enabling consumers to see the movie
exactly as the director intended, eliminating any artificial manipulation (eg 3-2 pull
down).
BonusView (Profile 1.1)
With more advanced 'extra's' being added to Blu-ray movies these days, the
Pioneer BDPLX71 Blu-ray allows you take advantage of these bonus features thanks
to BonusView support. Courtesy of BonusView support, users can watch a Blu-ray
disc movie whilst watching the bonus features at the same time (picture in picture).
Consumer Convenience & Enhanced Picture Quality Settings
Pioneer takes image quality a step further with an exclusive Picture Control Suite,
which is comprised of an additional 13 video adjustments, which allow the user to
fine tune smaller picture details of a film and deliver an experience that best suits a
user's viewing preference. Further to Pioneer's BDPLX71 offering Advance Picture
Calibration, the personal customisation options on this new model continues with a
Video Adjust Mode, which provides a series of image modifications (Plasma / LCD /
Pioneer Plasma / Projector / Commercial Display) to optimise the picture displayed
on a connected HDTV.
Therefore, the BDPLX71 Blu-ray Disc player enables the user to custom the image
according to what display the player is connected to, including an LCD, plasma or
specifically, a Pioneer plasma, etc.
Due to the exclusive chip set design and build quality Pioneer is now utilizing,
significant strides in speed performance have been made with the new players to
now rival the rapid playback rate consumers have come to experience when using
their DVD players. This platform greatly improves disc load, power on, power off
and disc eject times. With a continued focus on unifying the appearance and
enhancing the operation of its home theatre products, Pioneer has integrated the
same graphic user interface found on its KURO displays and HD receivers.
12-Bit Deep Colour
Taking advantage of HDMI® 1.3a technology, Pioneer brings film aficionados to the
frontier of next generation entertainment with the most cutting edge video
processing available. Since its market inception, Blu-ray technology has promised
to deliver picture quality that is on par with going to the movies.
When it comes to delivering on that promise, the Pioneer BDPLX71 Blu-ray Disc
player surpasses its predecessor (BDP-LX70A), thanks to the implementation of 12Bit Deep Colour. Equipped with 12-Bit Deep Colour, the BDPLX71 produces an
unprecedented range of hues and shades, resulting in greater colour depth and
detail.
High Definition Noise Reduction
To reduce the picture artefacts left by MPEG compression, the BDPLX71 features
three different noise reduction circuits, including 3D Noise Reduction and Block /
Mosquito Noise Reduction. The 3D Noise Reduction is based on pixel-per-pixel basis
to reduce Gaussian Noise without blurring the image, whilst the Block and Mosquito
Noise Reduction enhances poorly created content.
High Quality Playback of Existing DVD Library
Pioneer has continued to enhance high performance DVD playback on the BDPLX71
with the inclusion of the proprietary and advanced PureCinema Deinterlacer, which
essentially eliminates jiggered lines that can negatively affect the viewing
experience. DVDs can be up-scaled to a 1080p resolution for improved picture
quality and compatibility with HDTVs.
Hear the difference with Pioneer Blu-ray
Dynamic Audio
Enhances Emotional Experience Pioneer recognises the vital importance that sound
plays in creating an emotional home entertainment experience and for film
enthusiasts who want to a sound experience on par with being at the movies.
Thanks to on-board HD audio decoding, a high-quality Wolfson Audio digital to
analogue converter (DAC) and jitter-free audio technology, the Pioneer BDPLX71
Blu-ray Disc Player does not disappoint.
The BDPLX71 is set to become the industry's first Blu-ray player to support all
advanced audio formats, with the ability to decode Dolby® TrueHD and Dolby
Digital Plus, DTS® HD* and DTS HD Master* high resolution audio formats, which
also enables advanced connectivity that makes compatibility a minimal concern. (*
BDPLX71 will be capable of on-board decoding both DTS® HD* and DTS HD
Master* high resolution audio formats with a scheduled software upgrade in
January 09).
By offering on-board decoding of the latest HD audio formats, consumers can
connect the BDPLX71 Blu-ray player to an existing high quality AV receiver and
enjoy the benefits of HD home entertainment, without having to upgrade to a HD
AV receiver.
The Pioneer BDPLX71 will also provide bitstream audio over the HDMI jack for all of
the above formats. Consumers will hear the subtle nuances and deep bass in their
favourite films to bring an unprecedented listening experience that transcends what
was previously thought possible in home theatre. Typically utilised by high end
audio manufacturers and professional audio equipment, Pioneer selected the
professional quality Wolfson Digital Audio Converters (DACs) in the BDPLX71 to
ensure the highest level audio performance that sound engineers intended
audiences to experience.
This very same Wolfson Digital Audio Converters are also utilised in Pioneer's latest
flagship HD amplifier – SUSANO (SC-LX90).Serving-up benefits beyond Blu-ray
technology, the Pioneer BDPLX71 is also an accomplished CD player, utilising the
Pioneer-developed Precision Quartz Locking System (PQLS), which provides jitterfree audio transmission from CD content, when connected to a Pioneer HD receiver.
Pioneer sought to create jitter-free playback and dynamic sound quality for music
CDs. When connected to a Pioneer HD receiver via HDMI, the BDPLX71 enhances
CD playback with the proprietary Precision Quartz Lock System (PQLS). This
advanced feature synchronizes music data coming from the Blu-ray Disc player to
the receiver giving music fanatics a revolutionary high resolution listening
experience far exceeding traditional methods.
Robust Build Quality
Pioneer's first BonusView Blu-ray Disc player features a supreme build construction
and attention to detail to ensure unrivalled content performance. The BDPLX71
defines premium performance with high quality parts, a centre loading tray which
helps reduce vibration as well as dedicated audio and video boards for smooth
operation and uninterrupted playback of discs.
The build quality does not stop there, with the BDPLX71 also featuring gold-plated
connection ports, and touch key buttons for operation.
Pioneer Home Theatre Synergy
Working in tandem with Pioneer's KURO displays technology and range of HD A/V
receivers, the new BDPLX71 completes the home entertainment experience,
allowing consumers to immerse themselves in stunning HD content.
Home theatre synergy on the BDPLX71 is best demonstrated through KURO
Control, which synchronizes the Blu-ray Disc player with Pioneer's KURO plasma
displays with other Pioneer HDMI-control enabled home theatre products such as
Pioneer A/V amplifier.
The KURO Control allows users to operate their basic operations including Playback
or Power ON/OFF on all products with a single remote control. Anyone can easily
perform these operations by pressing the HDMI Control button on the remote
control and following the menu displayed on the screen.
EXTRA FEATURES:
Single-Wire Connection
One HDMI® 1.3a digital connection is all you need from the BDPLX71 to output
both HD audio and video signals to your HDMI-capable A/V receiver or HD flat
panel. Compared to typical connections, the HDMI interface replaces multiple cords
without degradation in signal quality between components.
HDMI 1.3a also provides 12-bit deep color support, improving subtle gradations
between colors.
Exclusive Jitter Reduction Circuit
Utilizing a Pioneer developed IC, this circuit digitally reshapes the waveform of the
audio clock to greatly reduce jitter for all content.
Frequency Control Circuit
By tuning the low-pass filter, waveform distortion of the coaxial digital output is
greatly reduced for improved audio performance.
7.1 Channel Analog Audio Outputs
For compatibility with non-HDMI equipped receivers and preamps.
Easy Operation and Setup
New Advanced HD GUIs for easy set-up and operation.
Multi-Format Compatibility
The BDPLX71 is compatible with BD-ROM, BD-R, BD-RE, DVD-Video, DVD-R (Video
Mode) / RW (Video Mode), and CD media.