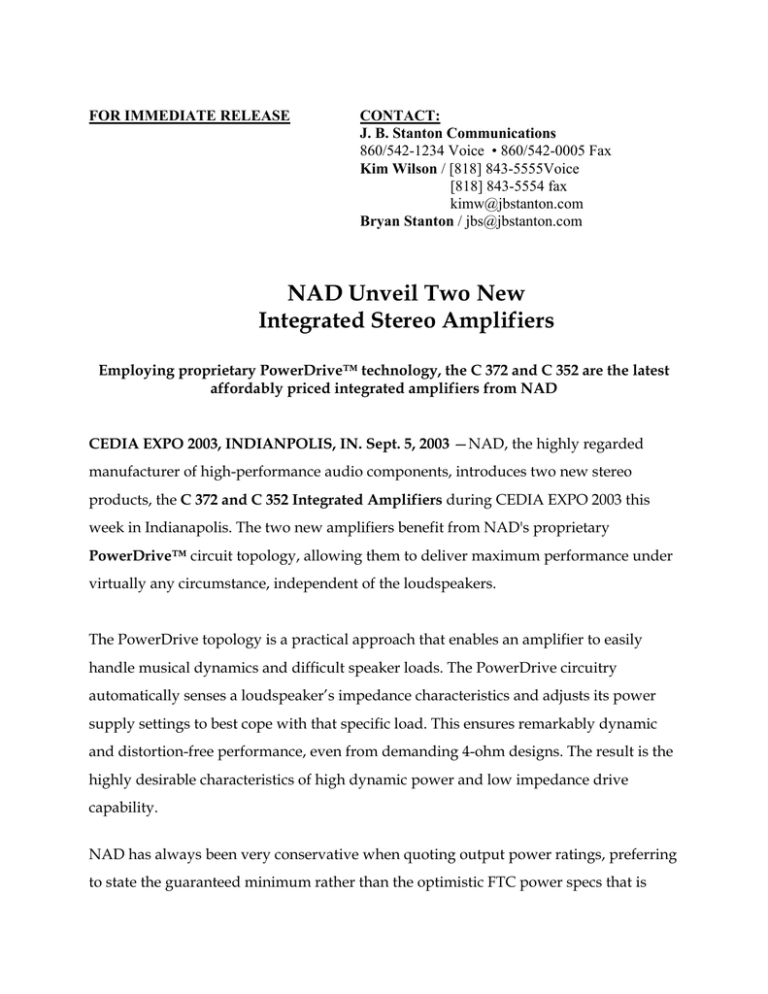 FOR IMMEDIATE RELEASE
CONTACT:
J. B. Stanton Communications
860/542-1234 Voice • 860/542-0005 Fax
Kim Wilson / [818] 843-5555Voice
[818] 843-5554 fax
[email protected]
Bryan Stanton / [email protected]
NAD Unveil Two New
Integrated Stereo Amplifiers
Employing proprietary PowerDrive™ technology, the C 372 and C 352 are the latest
affordably priced integrated amplifiers from NAD
CEDIA EXPO 2003, INDIANPOLIS, IN. Sept. 5, 2003 —NAD, the highly regarded
manufacturer of high-performance audio components, introduces two new stereo
products, the C 372 and C 352 Integrated Amplifiers during CEDIA EXPO 2003 this
week in Indianapolis. The two new amplifiers benefit from NAD's proprietary
PowerDrive™ circuit topology, allowing them to deliver maximum performance under
virtually any circumstance, independent of the loudspeakers.
The PowerDrive topology is a practical approach that enables an amplifier to easily
handle musical dynamics and difficult speaker loads. The PowerDrive circuitry
automatically senses a loudspeaker's impedance characteristics and adjusts its power
supply settings to best cope with that specific load. This ensures remarkably dynamic
and distortion-free performance, even from demanding 4-ohm designs. The result is the
highly desirable characteristics of high dynamic power and low impedance drive
capability.
NAD has always been very conservative when quoting output power ratings, preferring
to state the guaranteed minimum rather than the optimistic FTC power specs that is
stated by most competitors. NAD chooses the far stricter and more conservative Full
Disclosure Power rating, with all channels driven simultaneously, at any frequency
20Hz to 20kHz, with less than 0.08% THD at 8 and 4 ohms. Finally, in what we consider
to be most representative of real world performance, we include Dynamic Power at 8
ohms, 4 ohms, and 2 ohms!
The T C372 delivers a robust 150wpc of continuous power with both channels driven at
rated distortion into 4 or 8 ohms. It is also bridgeable, capable of 350 watts in the mono
mode. The C 352 supplies a powerful 80wpc of continuous power with both channels
driven at rated distortion into 4 or 8 ohms. Dynamic power is even more impressive,
with an unprecedented 460 watts from the C372 and 240 watts from the C 352, into 2
ohms!
The power supply was carefully designed using NAD's exclusive "Holmgren"
transformer, which incorporates a special core design with materials to enhance
efficiency and make the transformer less sensitive to DC offsets on the AC mains
voltage. An improved tone control circuit and revised PCB layout has reduced
distortion and noise to unprecedented levels.
Both amps features an FET Class A input and driver stage circuit, employing high
speed, high current discrete output devices to promulgate superb dynamic quality. The
result is musical detail, impact, and soundstage stability and depth unmatched by other
integrated amps in this price range. NAD's proprietary Soft Clipping (defeatable)
maintains sonic quality and offers speaker protection even under severe overdrive
conditions by significantly reducing the risk of damage to loudspeakers due to
prolonged high power operation.
Both the C 372 and C 352 provide seven (7) line inputs (including 2 tape in/outputs with
dubbing facility) and the pre-amplifier section can be separated from the power
amplifier for easy upgrades or adding ancillary equipment to meet future system needs.
Each amp sports 2 pre-amp outputs for bi-amping, with one preout offering an
adjustable gain allowing it to work with virtually any amplifier, or be connected to a
powered subwoofer.
Both amps are fully remote controlled and come supplied with the all-new NAD SR 5
system remote control featuring an ergonomic form, with large buttons that are
differentiated by shape and position, to make operation intuitive and enjoyable. The SR
5 will operate many other NAD products such as CD players, tuners, etc.
For remote on/off switching of ancillary components within the system, such as source
devices or active speakers, both amps have been equipped with a 12V-trigger. Besides
the 12V-trigger, they each have an AC-switched outlet for easy on/off switching of an
entire system with the supplied SR 5 remote control or even from the amp's front panel.
The C372 and C 352 Integrated Amplifiers will sell for MSRP$899 and $599, respectively.
They can be seen with NAD's other new products in Booth # 308 in the Indianapolis
Convention Center during CEDIA EXPO 2003.

* Your assessment is very important for improving the work of artificial intelligence, which forms the content of this project