Vegetable slicers Food processors Combined machines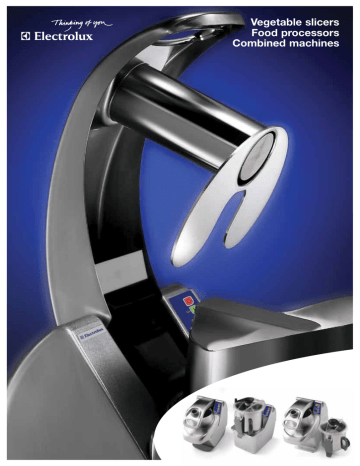 Vegetable slicers
Food processors
Combined machines
Quality,
Speed,
Performance
electrolux TRS / K / TRK
3
Bring vegetable preparation to the next generation.
A new range of machines specially designed to slice, dice, shred, grate or emulsify anything you require.
TRS - Vegetable slicers
Thanks to the vast selection of cutting discs, this new and improved vegetable slicer guarantees
outstanding
cut quality in addition to superior performance. All types of vegetable preparations such as slicing, dicing, shredding and julienne can be obtained with a simple touch of a button. Cleaning made easy: all parts can be dismantled without tools and are dishwasher safe.
K - Food processors
Able to chop, mash, mix, knead, and emulsify everything from fresh salads, potatoes and pastry doughs to meats, fruits, nuts and vegetables. New ergonomics,
increased capabilities and easier cleaning are only a few of the advantages which make the K series food processors an essential item in every kitchen.
TRS
TRK – Combined cutter-slicers
2 in 1! The ultimate in vegetable preparation. Slice, dice, julienne, and grate with the vegetable slicer attachment or chop, grind, puree and knead with the cutter attachment. The specially designed base can easily be adjusted: inclined for slicing vegetables and level for emulsifying, thus adding to the superior quality and durability of the TRK machines.
K 45/55/70
TRK 45/55/70
4
electrolux TRS / K / TRK
TRS
Vegetable slicers
Outstanding quality, superior performance. The ideal solution for slicing, dicing, mincing, grating, shredding, and much more.
• A
vast assortment of slicing discs
allows vegetable preparations to be performed quickly and easily
• More than
70 different types of slices
ranging from the most simple to the most creative
• Long lifetime thanks to the durable stainless steel construction
• Maximum cleanability due to the ergonomic design with rounded shapes.
All parts in contact with food are either in stainless steel or plastic
• Compact, powerful and with angled
base (20°) makes loading and unloading operations quick and easy
•
Large hopper guarantees a higher output and allows vegetables of large size and unusual shapes to be easily inserted
electrolux TRS / K / TRK
5
Long vegetable hopper Touch button control
• Slicing celery, leeks, zucchini or cucumbers is made easy thanks to the special long vegetable hopper
(60mm diameter)
• The waterproof control panel gives complete protection against strong jets of water
• On 2 speed model: 1st speed (360 rpm) for fragile items, 2nd speed (720 rpm) for increased productivity with resistant vegetables. The variable speed model allows even more flexibility (from 150 to 820 rpm)
• Pulse control for precise slicing
• Only minimal pressure is required to process the vegetables thanks to the ergonomic and easy to lift handle
• Slice an entire cabbage or several tomatoes at once thanks to the large round hopper (215cm
2
) in stainless steel
• Save time and effort: powerful lever remains in upright position so operator can freely use both hands to feed vegetables
• Easy access to the cutting chamber so discs and ejector can be easily removed
• Powerful, silent and requires no maintenance.
Asynchronous industrial motor for heavy duty and longer life
• High discharge zone permits the use of deep GN containers
(up to 20cm)
20cm
• With a few simple movements all parts can be removed, without tools, and placed in a dishwasher for fast cleaning
• Multiple safety devices to protect the operator and stop the machine in case of misuse
• Automatic start/stop function will stop the machine when the lever hopper is lifted and will restart automatically when lowered
Large round hopper
TRS
Speed
1 speed
2 speeds
Variable
Phases
1 ph
1 ph
3 ph
3 ph
1 ph
Power
370 W
500 W
500 W
750 W
750 W
RPM
360
360
360
360-720
150 to 820
External dimensions (wxdxh)
252x500x502mm
6
electrolux TRS / K / TRK
K 45/55/70
Food processors
High powered, built to last. The ideal machines for the professional chef. Chop, mince, grind, mix, puree, and blend any preparation your recipe requires.
• The new 4,5, 5,5 and 7 litre capacities are a complement to any size kitchen
• A unique scraper / emulsifier allows you to prepare everything from meats to creams
• Easily upgrade to a combined machine with a special kit
• Increased flexibility with your choice of
1, 2 or variable speeds
• Stainless steel cutter bowl guarantees
hygiene and food safety
• The unique design of bowl bottom guarantees
perfect results when mixing both large or small quantities of food
• Special
pulse function for an even more precise cutting
electrolux TRS / K / TRK
7
Transparent lid Variable speed control
• Produce more in less time. Unique high chimney increases the real capacity of the bowl (use up to 75% of nominal capacity)
• Smooth or microtoothed blades in 420 AISI stainless steel allow you to prepare everything from coarse meats to the finest creams
• Ergonomic handle allows the bowl to be placed on the base with ease and self-locking feature assures maximum stability
• Powerful induction motor built on ball bearings for a silent process
• Transparent lid permits the operator to check the consistency of the food during preparation and to eventually add ingredients without opening the lid
• Flat and waterproof control panel with easy to use functions: on/off, 1 speed, 2 speed, variable speed and pulse
• A simple touch of a button lets you reach the maximum speed of 3300 rpm
Bowl with high chimney
K45 - 4,5 litre capacity
Speed Phases Power RPM
1 speed
2 speeds
1 ph
3 ph
750 W
900 W
1500
1500-3000
Variable 1 ph 1000 W 300 to 3300
External dimensions (wxdxh)
256x415x470mm
• Improved cleanability thanks to the new design with rounded corners
• Hinged cover, when lifted, remains open to permit a fast, easy and practical check of the preparation when necessary
• The transparent lid can be easily dismantled and all of its parts are dishwasher safe
• Ergonomic scraper in composite material for added resistance
• Multiple safety devices ensure that the machine will only operate when the cover is properly closed and all parts are correctly positioned
K55 - 5,5 litre capacity
Speed
2 speeds
Variable
Phases
3 ph
1 ph
Power
1000 W
RPM
1500-3000
1300 W 300 to 3300
External dimensions (wxdxh)
256x415x470mm
K70 - 7 litre capacity
Speed
2 speeds
Variable
Phases
3 ph
1 ph
Power
1200 W
RPM
1500-3000
1500 W 300 to 3300
External dimensions (wxdxh)
256x422x510mm
8
electrolux TRS / K / TRK
TRK 45/55/70
Combined cutter-slicers
2 in 1! With TRK your culinary creativity has no limits. A versatile machine able to prepare an entire menu from hors d'oeuvres to dessert.
• Easily change from a vegetable slicer to a
food processor in a matter of seconds
• New Incly System to maintain an inclined base when using the vegetable slicer attachment
• Designed for easy cleaning thanks to the rounded shapes and stainless steel top
• User friendly
touch button control
panel to select required speed and pulse function
• Efficient scraper eliminates the need to manually remove food from the sides of the bowl in addition to maintaining the lid clean for
optimal visibility
• The extensive range of slicing discs and cutting blades makes even difficult preparations possible
electrolux TRS / K / TRK
9
Adjustable base Removable shaft
• Vegetable slicer attachment for shredding, grating, dicing and mincing your favourite recipes
• Cutter-mixer attachment to mix, blend, chop and puree meats, vegetables, and even desserts
• Specially designed smooth or microtoothed blades in
420 AISI stainless steel guarantee foods will not separate
• User friendly control panel automatically indicates which speed can be selected based on the attachment being used
• Adjust the base from flat to inclined by simply moving a lever, making vegetable preparations even easier
• Convert from vegetable slicer to food processor in a few simple steps
• Sauces and creams as smooth as silk thanks to the variable speed from 300 to 3300 rpm
• Pulse function for perfect results and complete control
• Induction motor for heavy usage without brushes for increased lifetime and reliability
TRK45 - 4,5 litre combined cutter-slicer
Speed
Variable
Phases
1 ph
Power RPM
1000 W 300 to 3300
External dimensions (wxdxh)
Slicer 252x500x502mm Cutter 256x415x470mm
TRK55 - 5,5 litre combined cutter-slicer
Speed
Variable
Phases
1 ph
Power RPM
1300 W 300 to 3300
External dimensions (wxdxh)
Slicer 252x500x502mm Cutter 256x415x470mm
TRK70 - 7 litre combined cutter-slicer
Speed
Variable
Phases
1 ph
Power RPM
1500 W 300 to 3300
External dimensions (wxdxh)
Slicer 252x500x502mm Cutter 256x422x510mm
Combined cutter-slicer
10
electrolux TRS / K / TRK
TRS/TRK Slicing discs
Disc
Grating disc
Disc with curved blades
Model
J2
J3
J4
J7
J9
C1C
C2C
C3C
C5C
C10C
Size (mm)
2
3
9
1
4
7
2
3
5
10
Disc with corrugated blades
Shredding disc
Grid for chips
Grid for cubes
Slicing disc
Slicing disc for mozzarella
(can be used with grids)
C2W
C3W
C6W
AS2
AS3
AS4
FT06
FT08
FT10
MT05T
MT08T
MT10T
MT12T
MT20T
C1
C2
C3
C6
C8
C10
C14
C10M
2
3
4
2
3
6
6x6
8x8
10x10
5x5
8x8
10x10
12x12
20x20
1
2
3
10
14
6
8
10
K/TRK Cutting blades
Smooth blade rotor Microtoothed blade rotor
Ground meat Peppers Basil pesto
Chicken Peas Tomato sauce
Mixed herbs Wild berries Vegetable puree
electrolux TRS / K / TRK
11
www.electrolux.com/foodservice
Share more of our thinking at www.electrolux.com
* Your assessment is very important for improving the work of artificial intelligence, which forms the content of this project