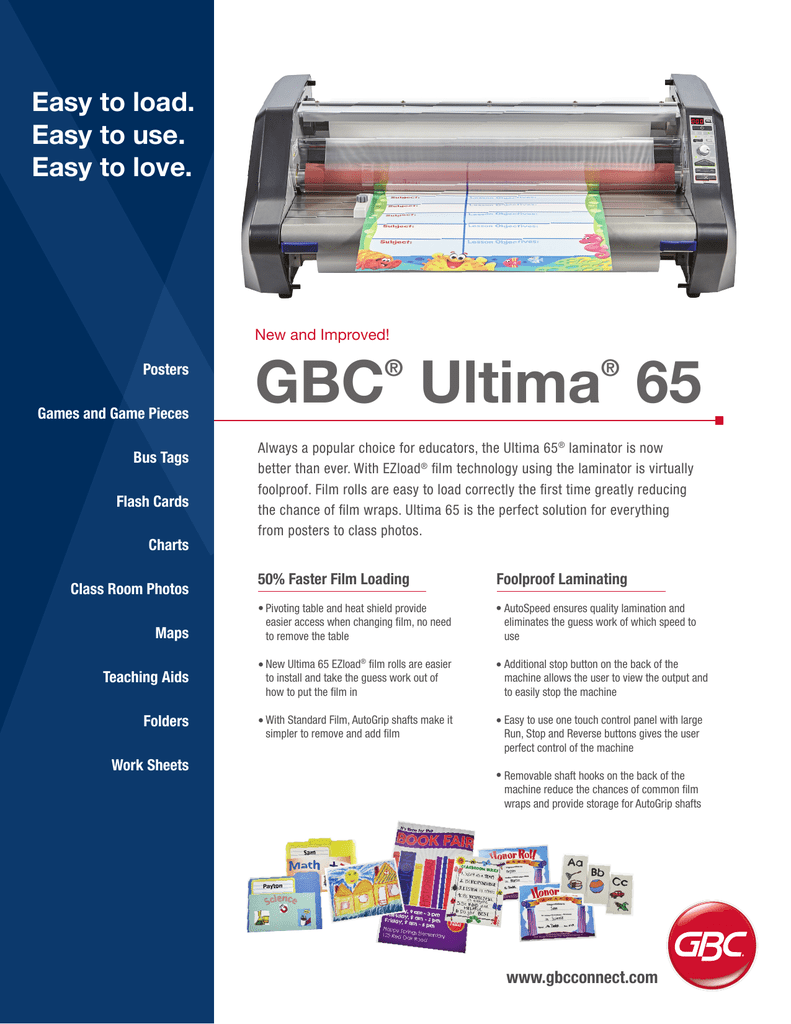 Easy to load.
Easy to use.
Easy to love.
New and Improved!
Posters
Games and Game Pieces
Bus Tags
Flash Cards
Charts
Class Room Photos
Maps
Teaching Aids
Folders
Work Sheets
GBC Ultima 65
®
®
Always a popular choice for educators, the Ultima 65® laminator is now
better than ever. With EZload® film technology using the laminator is virtually
foolproof. Film rolls are easy to load correctly the first time greatly reducing
the chance of film wraps. Ultima 65 is the perfect solution for everything
from posters to class photos.
50% Faster Film Loading
Foolproof Laminating
• Pivoting table and heat shield provide
easier access when changing film, no need
to remove the table
• AutoSpeed ensures quality lamination and
eliminates the guess work of which speed to
use
• New Ultima 65 EZload® film rolls are easier
to install and take the guess work out of
how to put the film in
• Additional stop button on the back of the
machine allows the user to view the output and
to easily stop the machine
• With Standard Film, AutoGrip shafts make it
simpler to remove and add film
• Easy to use one touch control panel with large
Run, Stop and Reverse buttons gives the user
perfect control of the machine
• Removable shaft hooks on the back of the
machine reduce the chances of common film
wraps and provide storage for AutoGrip shafts
www.gbcconnect.com
GBC Ultima 65
®
®
Product Specs
Product Number
Warm-up Time
Variable Speed
AutoSpeed
Film Supplies Supported
Film Thickness
Film Width
Standard 1" Core Film
Ultima 65 EZload® Film
Ready Light Indicator
Rear Stop Button
Rear Trimmer
Footage Counter
Reverse
Energy Saver
Standby Mode
Auto Shut-off
Warranty
Dimensions
Weight
Power Requirements
Safety
1710740B
< 10 Min
2 ~ 10 ft./min.
Yes
Nap I School Film
Up to 3 mil
Up to 27"
Yes
Yes
Yes
Yes
Yes
Yes
Yes
2 Hrs without use
3 Hrs without use
90 Days
35" (W) x 21" (D) x 14" (H)
111 lbs
120V, 60Hz
CU, C/UL
EZload® Film Specifically for Ultima 65®
Pivoting Table
Easy to Use Control Panel
Stop Button on Back of the Machine
Adjustable Edge Guide
New Ultima® 65 School Films
EZload® Film technology uses color coded end caps to take the guesswork out of film loading.
Thickness
1.5 mil
1.5 mil
3 mil
Size
25" x 500'
27" x 500'
25" x 250'
EZload® Film
3000004EZ
3126061EZ
3000024EZ
Standard Film
3000004
3126061
3000024
© 2016 ACCO Brands. All rights reserved. ACCO®, EZload® and Ultima 65® are trademarks of ACCO Brands. GBC® is a trademark of General Binding Corporation.

* Your assessment is very important for improving the work of artificial intelligence, which forms the content of this project