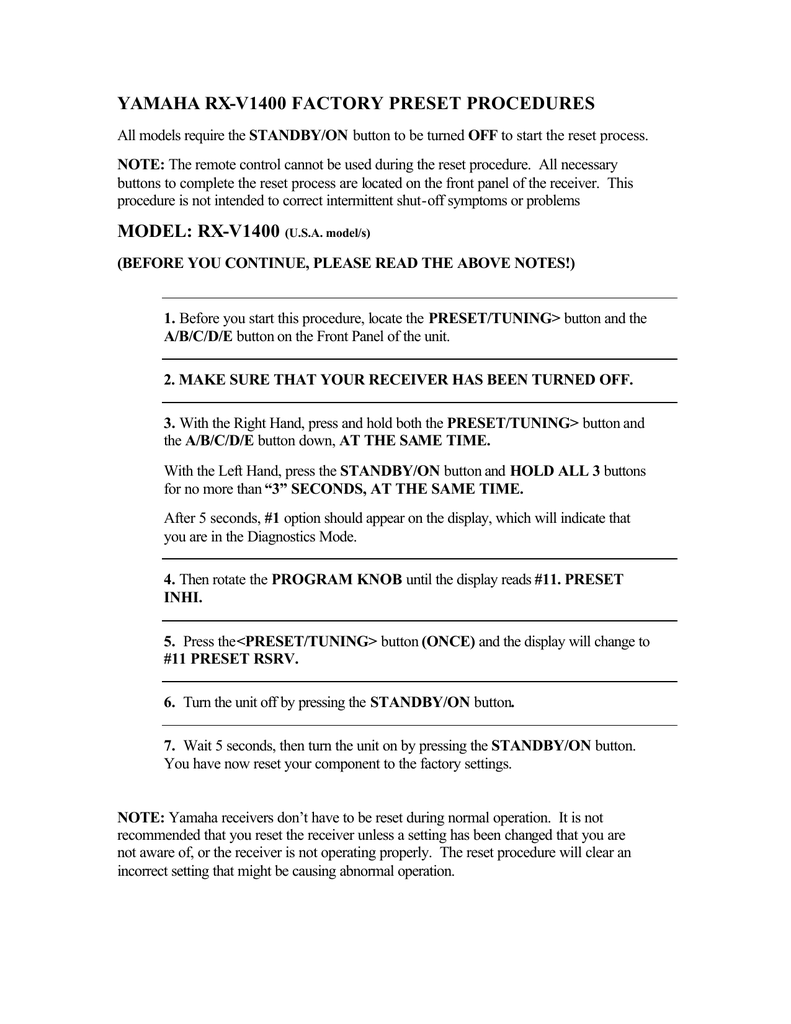 YAMAHA RX-V1400 FACTORY PRESET PROCEDURES
All models require the STANDBY/ON button to be turned OFF to start the reset process.
NOTE: The remote control cannot be used during the reset procedure. All necessary
buttons to complete the reset process are located on the front panel of the receiver. This
procedure is not intended to correct intermittent shut-off symptoms or problems
MODEL: RX-V1400 (U.S.A. model/s)
(BEFORE YOU CONTINUE, PLEASE READ THE ABOVE NOTES!)
1. Before you start this procedure, locate the PRESET/TUNING> button and the
A/B/C/D/E button on the Front Panel of the unit.
2. MAKE SURE THAT YOUR RECEIVER HAS BEEN TURNED OFF.
3. With the Right Hand, press and hold both the PRESET/TUNING> button and
the A/B/C/D/E button down, AT THE SAME TIME.
With the Left Hand, press the STANDBY/ON button and HOLD ALL 3 buttons
for no more than "3" SECONDS, AT THE SAME TIME.
After 5 seconds, #1 option should appear on the display, which will indicate that
you are in the Diagnostics Mode.
4. Then rotate the PROGRAM KNOB until the display reads #11. PRESET
INHI.
5. Press the<PRESET/TUNING> button (ONCE) and the display will change to
#11 PRESET RSRV.
6. Turn the unit off by pressing the STANDBY/ON button.
7. Wait 5 seconds, then turn the unit on by pressing the STANDBY/ON button.
You have now reset your component to the factory settings.
NOTE: Yamaha receivers don't have to be reset during normal operation. It is not
recommended that you reset the receiver unless a setting has been changed that you are
not aware of, or the receiver is not operating properly. The reset procedure will clear an
incorrect setting that might be causing abnormal operation.

* Your assessment is very important for improving the work of artificial intelligence, which forms the content of this project