View Document - HP Online Store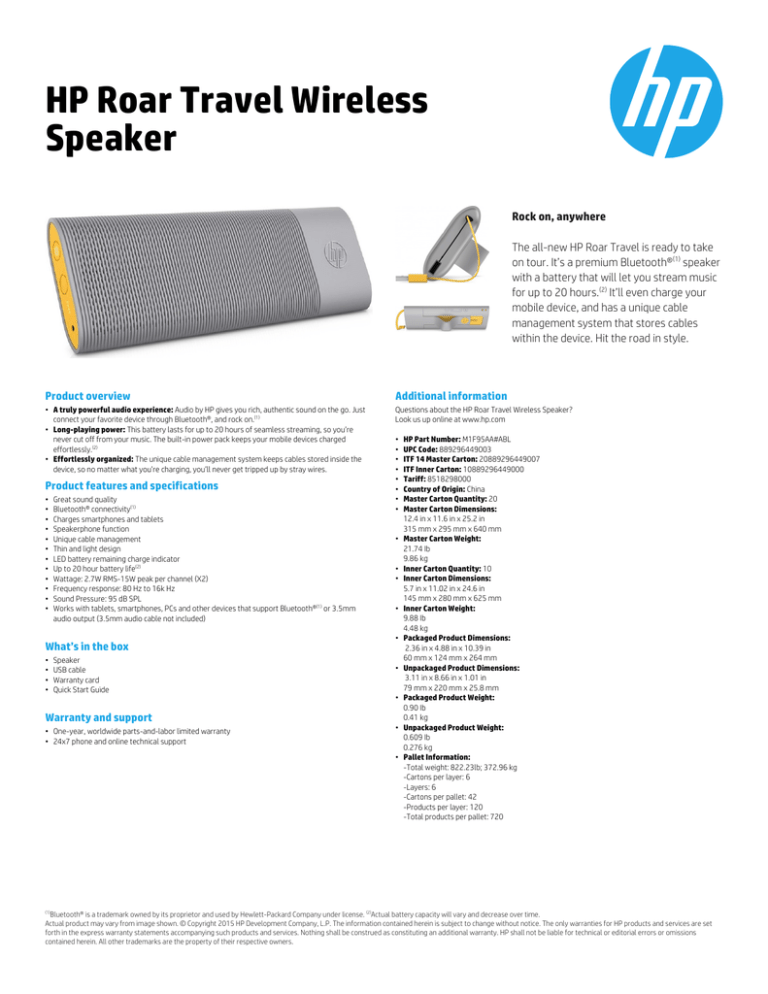 HP Roar Travel Wireless
Speaker
Rock on, anywhere
The all-new HP Roar Travel is ready to take
on tour. It's a premium Bluetooth®(1) speaker
with a battery that will let you stream music
for up to 20 hours.(2) It'll even charge your
mobile device, and has a unique cable
management system that stores cables
within the device. Hit the road in style.
Product overview
Additional information
• A truly powerful audio experience: Audio by HP gives you rich, authentic sound on the go. Just
connect your favorite device through Bluetooth®, and rock on.(1)
• Long-playing power: This battery lasts for up to 20 hours of seamless streaming, so you're
never cut off from your music. The built-in power pack keeps your mobile devices charged
effortlessly.(2)
• Effortlessly organized: The unique cable management system keeps cables stored inside the
device, so no matter what you're charging, you'll never get tripped up by stray wires.
Questions about the HP Roar Travel Wireless Speaker?
Look us up online at www.hp.com
Product features and specifications
•
•
•
•
•
•
•
•
•
•
•
•
Great sound quality
Bluetooth® connectivity(1)
Charges smartphones and tablets
Speakerphone function
Unique cable management
Thin and light design
LED battery remaining charge indicator
Up to 20 hour battery life(2)
Wattage: 2.7W RMS-15W peak per channel (X2)
Frequency response: 80 Hz to 16k Hz
Sound Pressure: 95 dB SPL
Works with tablets, smartphones, PCs and other devices that support Bluetooth®(1) or 3.5mm
audio output (3.5mm audio cable not included)
What's in the box
•
•
•
•
Speaker
USB cable
Warranty card
Quick Start Guide
Warranty and support
• One-year, worldwide parts-and-labor limited warranty
• 24x7 phone and online technical support
•
•
•
•
•
•
•
•
•
•
•
•
•
•
•
•
•
(1)
HP Part Number: M1F95AA#ABL
UPC Code: 889296449003
ITF 14 Master Carton: 20889296449007
ITF Inner Carton: 10889296449000
Tariff: 8518298000
Country of Origin: China
Master Carton Quantity: 20
Master Carton Dimensions:
12.4 in x 11.6 in x 25.2 in
315 mm x 295 mm x 640 mm
Master Carton Weight:
21.74 Ib
9.86 kg
Inner Carton Quantity: 10
Inner Carton Dimensions:
5.7 in x 11.02 in x 24.6 in
145 mm x 280 mm x 625 mm
Inner Carton Weight:
9.88 Ib
4.48 kg
Packaged Product Dimensions:
2.36 in x 4.88 in x 10.39 in
60 mm x 124 mm x 264 mm
Unpackaged Product Dimensions:
3.11 in x 8.66 in x 1.01 in
79 mm x 220 mm x 25.8 mm
Packaged Product Weight:
0.90 Ib
0.41 kg
Unpackaged Product Weight:
0.609 Ib
0.276 kg
Pallet Information:
-Total weight: 822.23lb; 372.96 kg
-Cartons per layer: 6
-Layers: 6
-Cartons per pallet: 42
-Products per layer: 120
-Total products per pallet: 720
Bluetooth® is a trademark owned by its proprietor and used by Hewlett-Packard Company under license. (2)Actual battery capacity will vary and decrease over time.
Actual product may vary from image shown. © Copyright 2015 HP Development Company, L.P. The information contained herein is subject to change without notice. The only warranties for HP products and services are set
forth in the express warranty statements accompanying such products and services. Nothing shall be construed as constituting an additional warranty. HP shall not be liable for technical or editorial errors or omissions
contained herein. All other trademarks are the property of their respective owners.

* Your assessment is very important for improving the work of artificial intelligence, which forms the content of this project