LA20 Alphasonic Data Sheet 00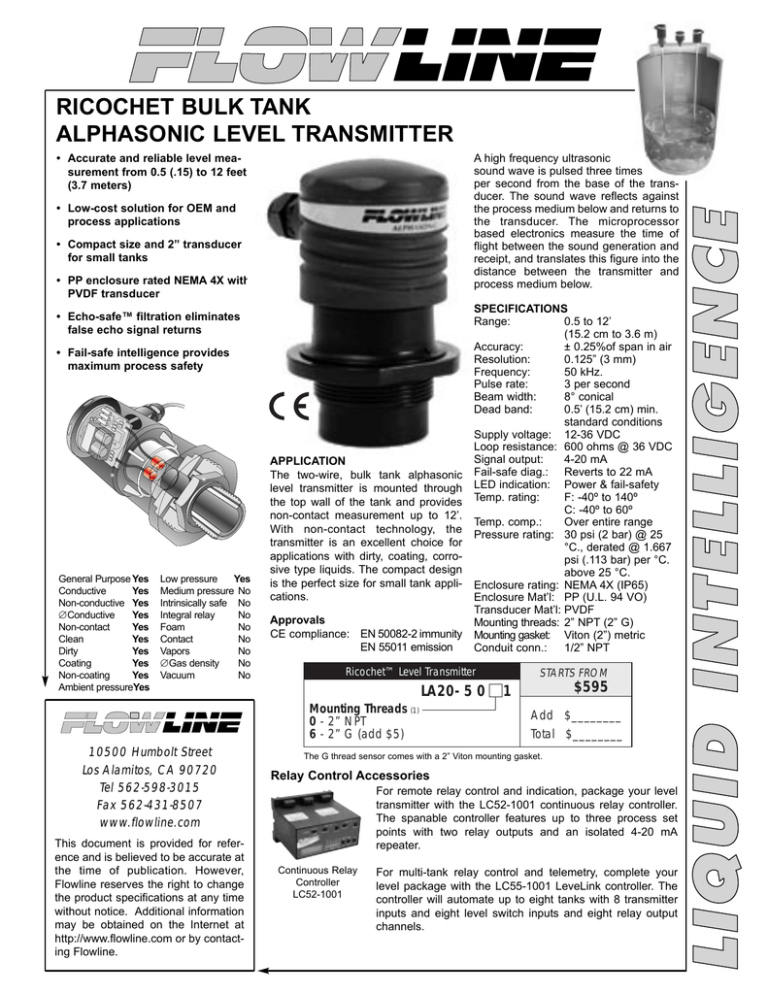 RICOCHET BULK TANK
ALPHASONIC LEVEL TRANSMITTER
• Accurate and reliable level measurement from 0.5 (.15) to 12 feet
(3.7 meters)
A high frequency ultrasonic
sound wave is pulsed three times
per second from the base of the transducer. The sound wave reflects against
the process medium below and returns to
the transducer. The microprocessor
based electronics measure the time of
flight between the sound generation and
receipt, and translates this figure into the
distance between the transmitter and
process medium below.
• Low-cost solution for OEM and
process applications
• Compact size and 2" transducer
for small tanks
• PP enclosure rated NEMA 4X with
PVDF transducer
• Echo-safe™ filtration eliminates
false echo signal returns
• Fail-safe intelligence provides
maximum process safety
General Purpose Yes
Conductive
Yes
Non-conductive Yes
∆ Conductive
Yes
Non-contact
Yes
Clean
Yes
Dirty
Yes
Coating
Yes
Non-coating
Yes
Ambient pressureYes
Low pressure
Yes
Medium pressure No
Intrinsically safe No
Integral relay
No
Foam
No
Contact
No
Vapors
No
∆ Gas density
No
Vacuum
No
APPLICATION
The two-wire, bulk tank alphasonic
level transmitter is mounted through
the top wall of the tank and provides
non-contact measurement up to 12'.
With non-contact technology, the
transmitter is an excellent choice for
applications with dirty, coating, corrosive type liquids. The compact design
is the perfect size for small tank applications.
Approvals
CE compliance: EN 50082-2 immunity
EN 55011 emission
Ricochet™ Level Transmitter
LA20- 5 0
Mounting Threads (1)
0 - 2" NPT
6 - 2" G (add $5)
10500 Humbolt Street
Los Alamitos, CA 90720
Tel 562-598-3015
Fax 562-431-8507
www.flowline.com
This document is provided for reference and is believed to be accurate at
the time of publication. However,
Flowline reserves the right to change
the product specifications at any time
without notice. Additional information
may be obtained on the Internet at
http://www.flowline.com or by contacting Flowline.
SPECIFICATIONS
Range:
0.5 to 12'
(15.2 cm to 3.6 m)
Accuracy:
± 0.25%of span in air
Resolution:
0.125" (3 mm)
Frequency:
50 kHz.
Pulse rate:
3 per second
Beam width:
8° conical
Dead band:
0.5' (15.2 cm) min.
standard conditions
Supply voltage: 12-36 VDC
Loop resistance: 600 ohms @ 36 VDC
Signal output:
4-20 mA
Fail-safe diag.: Reverts to 22 mA
LED indication: Power & fail-safety
Temp. rating:
F: -40º to 140º
C: -40º to 60º
Temp. comp.:
Over entire range
Pressure rating: 30 psi (2 bar) @ 25
°C., derated @ 1.667
psi (.113 bar) per °C.
above 25 °C.
Enclosure rating: NEMA 4X (IP65)
Enclosure Mat'l: PP (U.L. 94 VO)
Transducer Mat'l: PVDF
Mounting threads: 2" NPT (2" G)
Mounting gasket: Viton (2") metric
Conduit conn.:
1/2" NPT
STARTS FROM
$595
1
Add $________
Total $________
The G thread sensor comes with a 2" Viton mounting gasket.
Relay Control Accessories
For remote relay control and indication, package your level
transmitter with the LC52-1001 continuous relay controller.
The spanable controller features up to three process set
points with two relay outputs and an isolated 4-20 mA
repeater.
Continuous Relay
Controller
LC52-1001
For multi-tank relay control and telemetry, complete your
level package with the LC55-1001 LeveLink controller. The
controller will automate up to eight tanks with 8 transmitter
inputs and eight level switch inputs and eight relay output
channels.

* Your assessment is very important for improving the work of artificial intelligence, which forms the content of this project