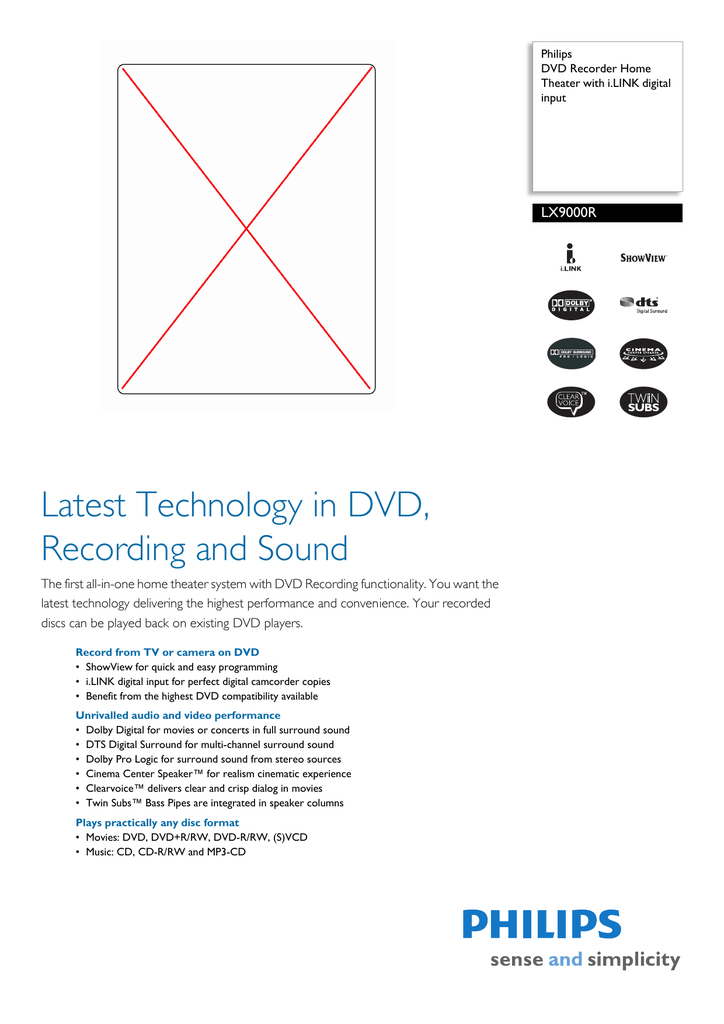 Philips
DVD Recorder Home
Theater with i.LINK digital
input
LX9000R
Latest Technology in DVD,
Recording and Sound
The first all-in-one home theater system with DVD Recording functionality. You want the
latest technology delivering the highest performance and convenience. Your recorded
discs can be played back on existing DVD players.
Record from TV or camera on DVD
• ShowView for quick and easy programming
• i.LINK digital input for perfect digital camcorder copies
• Benefit from the highest DVD compatibility available
Unrivalled audio and video performance
• Dolby Digital for movies or concerts in full surround sound
• DTS Digital Surround for multi-channel surround sound
• Dolby Pro Logic for surround sound from stereo sources
• Cinema Center Speaker™ for realism cinematic experience
• Clearvoice™ delivers clear and crisp dialog in movies
• Twin Subs™ Bass Pipes are integrated in speaker columns
Plays practically any disc format
• Movies: DVD, DVD+R/RW, DVD-R/RW, (S)VCD
• Music: CD, CD-R/RW and MP3-CD
DVD Recorder Home Theater with i.LINK digital input
Specifications
LX9000R/29S
Product highlights
Picture/Display
• A/D converter: 10 bit, 54 MHz
• Aspect ratio: 4:3, 16:9
• D/A converter: 10 bit, 54 MHz
Sound
•
•
•
•
•
•
•
A/D converter: 24 bit, 96 kHz
D/A converter: 24 bit, 96 kHz
Distortion and Noise (1kHz): 90 dB
Frequency response: 30-20000 Hz
Signal to noise ratio: >100 dB (A-weighted)
Sound Enhancement: Treble and Bass Control
Sound System: Dolby Digital (AC-3), Dolby
Prologic, DTS, MPEG2
• Total Sound Power (RMS): 450 W
Loudspeakers
• Satellite Speaker: 2 way, Magnetically shielded
front
• Satellite speaker freq range: 120-20000 Hz
• Satellite speaker impedance: 4 ohm
• Satellite speaker drivers: 3/4" tweeter, 3x 2" mid
range woofers
• Center Speaker: 2 way, Cinema Center speaker,
Magnetically shielded
• Center freq range: 120-20000 Hz
• Center speaker impedance: 4 ohm
• Center speaker drivers: 1.75" tweeter, 4x 2" mid
range woofers
• Subwoofer type: TwinSubs
• Subwoofer freq range: 30-120 Hz
• Subwoofer impedance: 8 ohm
• Subwoofer driver: 2 x 4" long throw woofer
Video Playback
• Compression formats: MPEG1, MPEG2
• Playback Media: DVD+RW, DVD+R, DVD-RW
(Video mode), DVD-R, DVD-Video, SVCD, Video
CD
• Disc Playback Modes: A-B Repeat, Repeat
• Loader Type: Tray
• Number of Discs: 1
• Video disc playback system: NTSC, PAL
• Video Enhancement: Progressive Scan
Video Recording
•
•
•
•
Audio compression: Dolby Digital
Compression formats: MPEG2
Max recording time on DVD: 8 hr
Recording enhancements: Append, Chapter
Marker Insertion, Direct Record, Erase, Favorite
Scene Selection, Manual Chapter Marking, One
Touch Record (OTR), Program Name Recording,
Safe Record, Selectable Index Pictures, Station ID
Recording
• Recording Modes: M1: 60 minutes, M2: 120
minutes, M2x: 150 minutes, M3: 180 minutes, M4:
240 minutes, M6: 360 minutes, M8: 480 minutes
• Recording system: NTSC, PAL
Audio Playback
• Compression format: Dolby Digital, DTS, MP3,
MPEG2 Multichannel, PCM
• Playback Media: CD, CD-R, CD-RW, MP3-CD
• Disc Playback Modes: Fast Forward/Backward,
Next/Previous Album Search, Next/Previous
Track Search, Repeat one/album/all, Shuffle Play
• MP3 bit rates: 32-320 kbps and VBR
ShowView
With the ShowView system, all you need to do to
program your video recorder is to enter the ShowView
number – a single code of up to nine digits (but usually
less) that is printed next to each TV program in most TV
guides.
• Disc capacity: 4.7 GB
• Recording media: DVD+R, DVD+RW
• Recording speed: M1, M2, M2x, M3, M4, M6, M8
i.LINK digital input
Also known as IEEE 1394 and FireWire, i.Link carries all
audio and video signals via a single cable digitally, with no
loss in picture and sound quality. With i.Link digital video
input, you can copy your home videos in their original
digital picture quality.
Tuner/Reception/Transmission
DVD+RW highest compatibility
Storage Media
•
•
•
•
•
•
Aerial Input: 75 ohm coaxial (IEC75)
Auto digital tuning
Auto store
Number of Preset Channels: 40
Tuner Bands: FM Stereo, MW
TV system: PAL, SECAM
Connectivity
• Front / Side connections: Audio L/R in, CVBS in,
i.LINK DV in (IEEE1394, 4-pin), S-video in
• Other connections: Analog audio Left/Right in,
Digital coaxial in, Digital optical in, FM Antenna,
Line out, MW Antenna, SCART1 (CVBS, S-video/
RGB out), SCART2 (CVBS, S-video/RGB in), TV in
(antenna cable)
Dolby Digital Surround
Because Dolby Digital and DTS, the world's leading digital
multi-channel audio standards, make use of the way the
human ear naturally processes sound, you experience
superb quality surround sound audio with realistic spatial
cues.
DTS Digital Surround
DTS delivers superior surround sound with your DVD
movies.
Convenience
Dolby Pro Logic
Because Dolby Pro Logic, from the world renowned Dolby
Laboratories, makes use of the way the human ear
naturally processes sound. You experience superb quality
5.1 channel surround sound audio from stereo
recordings.
Accessories
Cinema Center Speaker™
Recreate and experience realism cinematic experience
right in your environment with Cinema Center
Speaker™. With a wider sweet spot delivered by four
multi-directional woofers and a high frequency tweeter
positioned precisely at different angles, more sound
depths are distinguished from front and background and
action from dialogue. Natural and crystal clear sound
reproduction are created through the revolutionary new
2" full range woofers to give an incredible 'through the
screen' experience which creates the sensation of being
not just in the cinema but in the movie itself.
•
•
•
•
•
•
•
Child Protection: Parental Control
Display Type: FTD, On Screen (OSD)
Ease of Installation: Autoinstall, Follow TV
Pre-set Channels: 99
Programmable Events: 6
Programming Period: 1 month
Programming/Timer Enhancements: Automatic
Satellite Recording, Daily/Weekly Repeat
Program, Manual Timer, One Touch Recording,
ShowView, VPS/PDC recording control
• Remote Control: Multi-functional
• Included Accessories: 1x center speaker, 2x front
satellite speakers, 2x rear satellite speakers, 2x
TwinSub subwoofer/stand, AC Power Cord,
Coax RF antenna cable, FM/MW Antenna, Quick
Use Guide, Remote Control, Scart Cable, User
Manual, Warranty certificate
• Included batteries: 2x Longlife AA
Power
• Power supply: 200-240 V, 50/60 Hz
• Standby power consumption: < 2 W
•
Clearvoice™
Clearvoice™ is a Philips unique dialogue enhancer that
clearly separates speech from action.
Twin Subs™
Twin Subs™ give you increased bass performance due to
downward firing woofers, enhanced accuracy because of
real non-directional bass distribution and clean, easy set
up with twin subs integrated in the speaker columns.
Multi-format Movies
Multi-format playability allows you to play most disc
formats for maximum disc compatibility and viewing
pleasure.
Multi-format Music
Multi-format playability allows you to play most disc
formats for maximum disc compatibility and listening
pleasure.
Issue date 2009-02-12
© 2009 Koninklijke Philips Electronics N.V.
All Rights reserved.
Version: 4.0.5
Specifications are subject to change without notice.
Trademarks are the property of Koninklijke Philips
Electronics N.V. or their respective owners.
12 NC: 9073 100 11205
EAN: 87 10895 74210 8
www.philips.com
Quick Start Guide
To guide you through the initial set-up of your system,
Philips delivers a Quick Start Guide that uses an easy
approach with clearly defined graphics and colors to
guide you through the basic steps of connection and
obtaining picture and sound. These basic steps are clearly
described on one page in the packaging box, making
setup quick and simple.