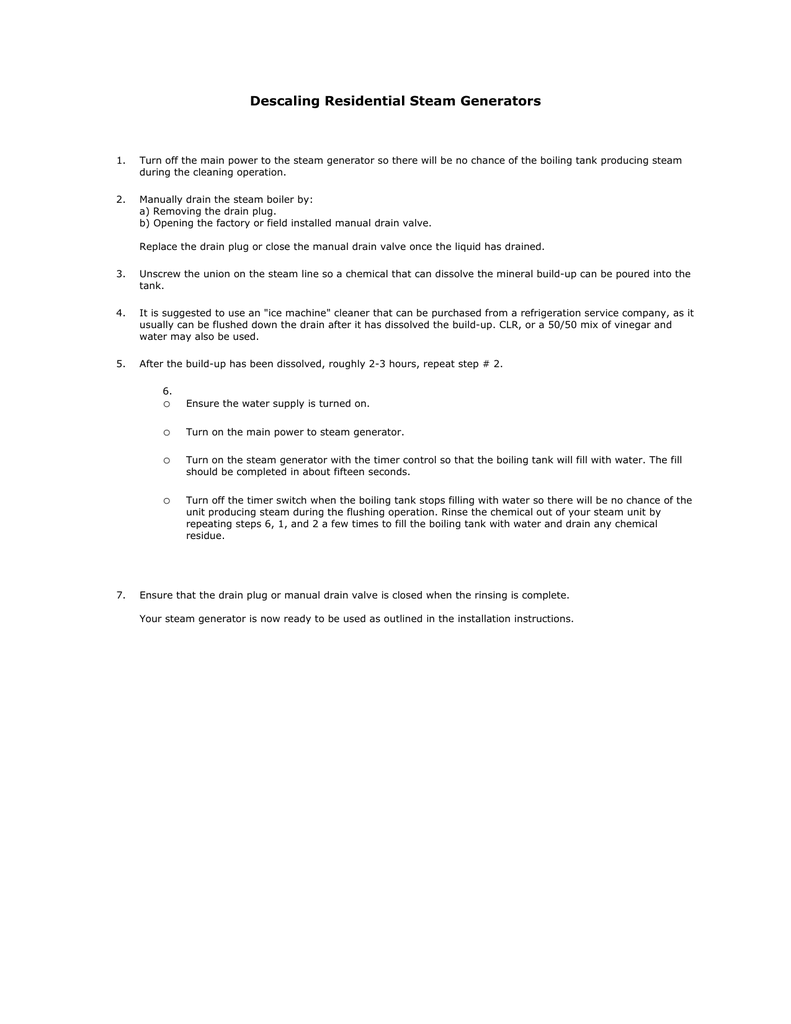 Descaling Residential Steam Generators
1.
Turn off the main power to the steam generator so there will be no chance of the boiling tank producing steam
during the cleaning operation.
2.
Manually drain the steam boiler by:
a) Removing the drain plug.
b) Opening the factory or field installed manual drain valve.
Replace the drain plug or close the manual drain valve once the liquid has drained.
3.
Unscrew the union on the steam line so a chemical that can dissolve the mineral build-up can be poured into the
tank.
4.
It is suggested to use an "ice machine" cleaner that can be purchased from a refrigeration service company, as it
usually can be flushed down the drain after it has dissolved the build-up. CLR, or a 50/50 mix of vinegar and
water may also be used.
5.
After the build-up has been dissolved, roughly 2-3 hours, repeat step # 2.
6.
7.
o
Ensure the water supply is turned on.
o
Turn on the main power to steam generator.
o
Turn on the steam generator with the timer control so that the boiling tank will fill with water. The fill
should be completed in about fifteen seconds.
o
Turn off the timer switch when the boiling tank stops filling with water so there will be no chance of the
unit producing steam during the flushing operation. Rinse the chemical out of your steam unit by
repeating steps 6, 1, and 2 a few times to fill the boiling tank with water and drain any chemical
residue.
Ensure that the drain plug or manual drain valve is closed when the rinsing is complete.
Your steam generator is now ready to be used as outlined in the installation instructions.

* Your assessment is very important for improving the work of artificial intelligence, which forms the content of this project