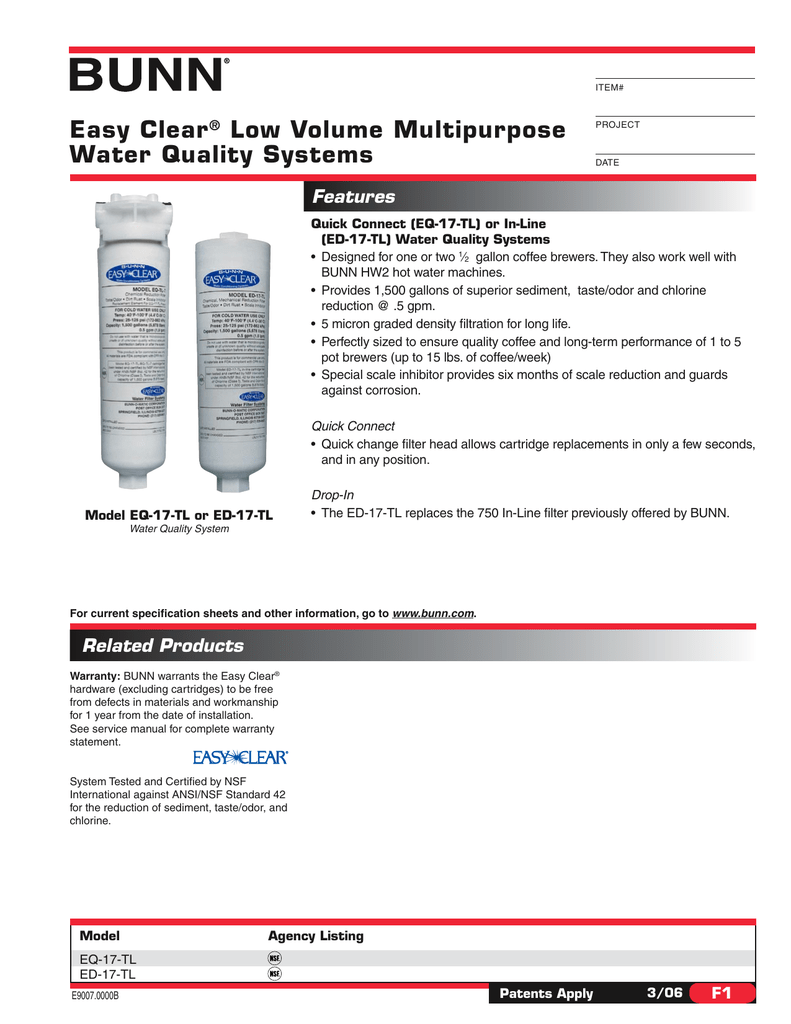 ITEM#
Easy Clear ® Low Volume Multipurpose
Water Quality Systems
PROJECT
DATE
Features
Quick Connect (EQ-17-TL) or In-Line
(ED-17-TL) Water Quality Systems
• Designed for one or two 1⁄2 gallon coffee brewers. They also work well with
BUNN HW2 hot water machines.
• Provides 1,500 gallons of superior sediment, taste/odor and chlorine
reduction @ .5 gpm.
• 5 micron graded density filtration for long life.
• Perfectly sized to ensure quality coffee and long-term performance of 1 to 5
pot brewers (up to 15 lbs. of coffee/week)
• Special scale inhibitor provides six months of scale reduction and guards
against corrosion.
Quick Connect
• Quick change filter head allows cartridge replacements in only a few seconds,
and in any position.
Model EQ-17-TL or ED-17-TL
Drop-In
• The ED-17-TL replaces the 750 In-Line filter previously offered by BUNN.
Water Quality System
For current specification sheets and other information, go to www.bunn.com.
Related Products
Warranty: BUNN warrants the Easy Clear®
hardware (excluding cartridges) to be free
from defects in materials and workmanship
for 1 year from the date of installation.
See service manual for complete warranty
statement.
System Tested and Certified by NSF
International against ANSI/NSF Standard 42
for the reduction of sediment, taste/odor, and
chlorine.
Model
Agency Listing
EQ-17-TL
ED-17-TL
E9007.0000B
Patents Apply
3/06
F1
m
di
e
al
0.5 gpm/1,500 gals.
0.5 gpm/1,500 gals.
n/a
750 In-Line
•
•
•
•
•
•
•
•
(1) 30200.1001
(48) 30200.0001
0.5 gpm/1,500 gals.
n/a
•
•
•
•
Flow Rate
& Capacity
Replaces
C
Product #
Se
Sc
te
(1) 30200.1000
(1) 30201.1001
(12) 30201.0001
Model
hl
Ta
s
or
in
e
en
t
Dimensions & Specifications
Systems
EQ-17-TL
ED-17-TL
Case
Cartridge Only
EQ-TL-7
Case
Note: EQ model includes inlet and outlet valves with 3⁄8" female pipe threading plus mounting bracket.
21⁄ 2
3
19⁄ 16
25⁄ 16
127⁄ 16
81⁄ 4
11⁄ 4 Car tridge Changeout
EQ-17-TL
ED-17-TL
BUNN Corporation - 1400 Stevenson Drive Springfield, Illinois 62703 • 800-637-8606 • 217-529-6601 • Fax 217-529-6644 • www.bunn.com
BUNN® practices continuous product research and improvement. We reserve the right to change specifications and product design without notice. Such
revisions do not entitle the buyer to corresponding changes, improvements, additions or replacements for previously purchased equipment.
All dimensions shown in inches.
Bunn Corporation owns all copyrights relating to materials in this publication. Please contact Bunn Corporation to request permission to reproduce any portion of this publication.

* Your assessment is very important for improving the work of artificial intelligence, which forms the content of this project