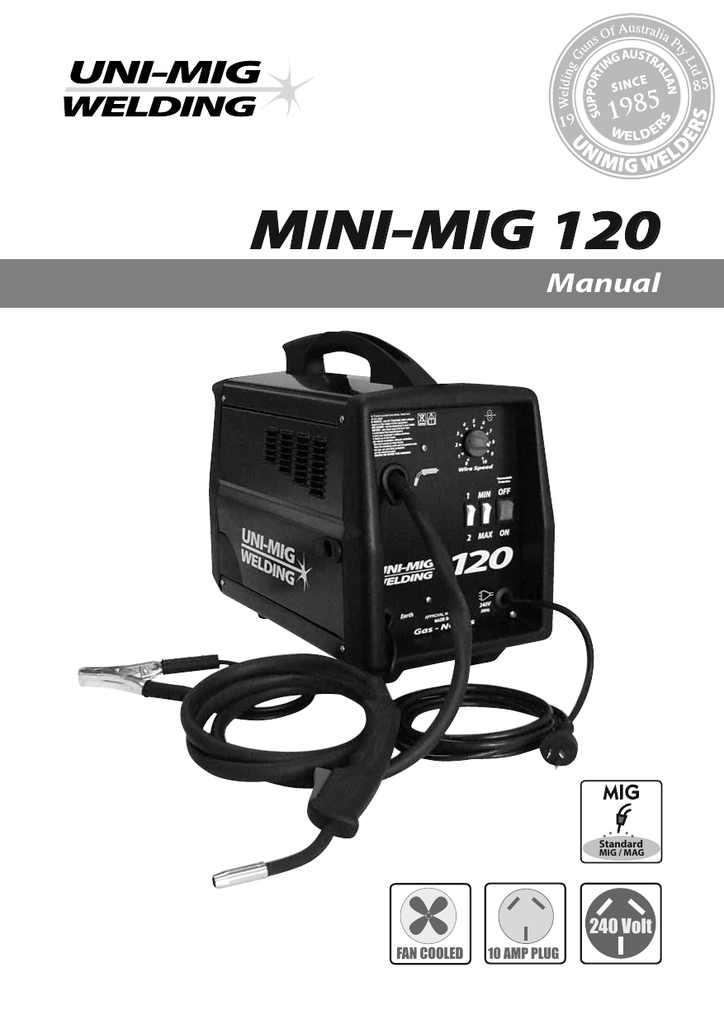 UNI FLAME AUTOLIFT
MINI-MIG 120
Manual
Standard
MIG / MAG
240 Volt
FAN COOLED
10 AMP PLUG
UNI FLAME AUTOLIFT
3YEARS Warranty
*
Machine Model
Description
MINIMIG120
Part Number
KMM120
CONTENTS
PAGE No:
Safety
Main Parameter.
Machine Features
Installation & Operation
Caution
Maintenance
Troubleshooting
3
4
4
4
11
12
12
Machine Model
UNIMIG pursue a policy of continuous research and development, and therefore
reserve the right to change the specifications, or design, without prior notice. * 2 year warranty power source.
SAFETY
Welding and cutting equipment can be dangerous to both the operator and people in or near the
surrounding working area, if the equipment is not correctly operated. Equipment must only be
used under the strict and comprehensive observance of all relevant safety regulations. Please
read and understand this instruction manual carefully before the installation and use/operation
of this equipment.
not switch the function modes while the machine is operating.
• Do
Switching of the function modes during welding can damage the machine.
Damage caused in this manner will not be covered under warranty.
the electrode-holder cable from the machine before switching on the
• Disconnect
machine, to avoid arcing should the electrode be in contact with the work piece.
safety switch is necessary to prevent the equipment from electric leakage.
• AWelding
and accessories should be of high quality and in good working order.
• Operatorstools
be trained and or qualified. Electric shock: It can kill.
• Connect theshould
primary
cable according to Australian standard regulation.
• Avoid all contact withinput
live electrical parts of the welding circuit, electrodes and wires with
• bare hands. The operator
must wear dry welding gloves while he/she performs the
•
•
•
•
welding task.
The operator should keep the work piece insulated from
himself/herself. Smoke and gas generated whilst welding
or cutting can be harmful to people's health.
Avoid breathing the smoke and gas generated whilst
welding or cutting. Keep the working area well ventilated.
Arc rays are harmful to people's eyes and skin. Always
wear a welding helmet and suitable protective
clothing including welding gloves whilst the welding
operation is performed.
Measures should be taken to protect people in or near
the surrounding working area, from all hazards
associated with welding.
Fire hazard
welding sparks may cause fire, therfore remove
• The
flammable material away from the working area.
a fire extinguisher nearby, and have a trained
• Have
person ready to use it.
Noise: possibly harmful to people's hearing.
Noise is generated while welding/cutting, wear approved
hearing protection when noise levels are high.
Machine fault:
Consult this instruction manual.
Contact your local dealer or supplier for further advice.
•
•
•
*** CAUTION ***
Do not heat, cut or weld tanks, drums or containers
until the proper steps have been taken to insure that
such procedures will not cause flammable or toxic
vapours from substance inside. These can cause
an explosion even though the vessel has been
"cleaned".Vent hollow castings or containers before
heating, cutting or welding. They may explode.
UNI FLAME AUTOLIFT
UNI FLAME AUTOLIFT
UNI FLAME AUTOLIFT
UNI FLAME AUTOLIFT
UNI FLAME AUTOLIFT
UNI FLAME AUTOLIFT
UNI FLAME AUTOLIFT
UNI FLAME AUTOLIFT
UNI FLAME AUTOLIFT
UNI FLAME AUTOLIFT
UNI FLAME AUTOLIFT
1. Working Environment.
1.1
1.2
1.3
1.4
The environment in which this welding equipment is installed must be
free of grinding dust, corrosive chemicals, flammable gas or materials etc, and at
no more than maximum of 80% humidity.
When using the machine outdoors protect the machine from direct sun light, rain
water and snow etc; the temperature of working environment should be
maintained within -10°C to +40°C.
Keep this equipment 30cm distant from the wall for ventilation.
Ensure the working environment is well ventilated.
2. Safety Tips.
2.1
Ventilation
This equipment is small-sized, compact in structure, and of excellent performance
in amperage output. The fan is used to dissipate heat generated by this
equipment during the welding operation.
Important:
Maintain good ventilation of the louvers of this equipment. The minimum distance
between this equipment and any other objects in or near the working area should
be 30 cm. Good ventilation is of critical importance for the normal performance
and service life of this equipment.
2.2 Thermal Overload protection.
Should the machine be used to an excessive level, or in high temperature
environment, poorly ventilated area or if the fan malfunctions the Thermal Over
load Switch will be activated and the machine will cease to operate. Under this
circumstance, leave the machine switched on to keep the built-in fan working to
bring down the temperature inside the equipment. The machine will be ready for
use again when the internal temperature reaches safe level.
2.3 Over-Voltage Supply
Regarding the power supply voltage range of the machine, please refer to "Main
parameter" table. This equipment is of automatic voltage compensation, which
enables the maintaining of the voltage range within the given range. In case that
the voltage of input power supply amperage exceeds the stipulated value, it is
possible to cause damage to the components of this equipment. Please ensure
your primary power supply is correct.
2.4
Do not come into contact with the output terminals while the machine is in
operation. An electric shock may possibly occur.
UNI FLAME AUTOLIFT
CAUTION
MAINTENANCE
WARNING:
Exposure to extremely dusty, damp, or corrosive air is damaging to the welding
machine. In order to prevent any possible failure or fault of this welding
equipment, clean the dust at regular intervals with clean and dry compressed air
of required pressure.
Please note that: lack of maintenance can result in the cancellation of the
guarantee; the guarantee of this welding equipment will be void if the machine
has been modified, attempt to take apart the machine or open the factory-made
sealing of the machine without the consent of an authorized representative of the
manufacturer.
TROUBLESHOOTING
Caution:
Only qualified technicians are authorized to undertake the repair of this welding equipment. For your safety and to avoid Electrical Shock, please observe all safety notes
and precautions detailed in this manual.
WARRANTY
• 3 Years from date of purchase.
• Welding Guns of Australia Pty Ltd warranties all goods as specified by the
manufacturer of those goods. This Warranty does not cover freight or goods that have
been interfered with. All goods in question must be repaired by an authorised repair agent
as appointed by this company. Warranty does not cover abuse, mis-use, accident, theft,
general wear and tear. New product will not be supplied until
Welding Guns of Australia Pty Ltd has inspected product returned for warranty
and agree's to replace product. Product will only be replaced if repair is impossible.
If in doubt please ring.
WELDING GUNS OF AUSTRALIA Pty Ltd
WWW.UNIMIG.COM.AU
Disclaimer:
While the information is provided in good faith, Welding Guns Of Australia does not warrant the accuracy of information
provided nor assume any legal responsibility for it or for any damage which may result from reliance on or use of it or from any
negligence of Welding Guns Of Australia or other person/s with respect to it.
For further information please call Welding Guns of Australia Pty Ltd.
112 Christina Rd, Villawood NSW 2163 - PO Box 3033 Lansvale NSW 2166
UNIMIG pursue a policy of continuous research and development, and therefore
reserve the right to change the specifications, or design, without prior notice. * 3 year warranty power source.

* Your assessment is very important for improving the work of artificial intelligence, which forms the content of this project