No category
HP LaserJet 1018 and 1020 Series Printers Status Light Patterns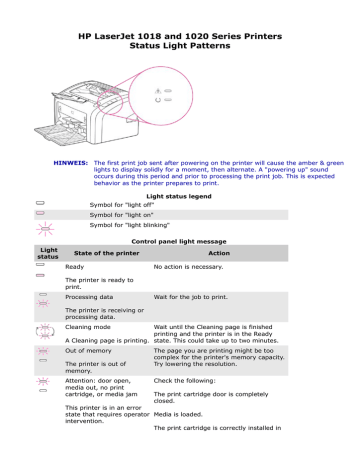 HP LaserJet 1018 and 1020 Series Printers
Status Light Patterns
HINWEIS: The first print job sent after powering on the printer will cause the amber & green
lights to display solidly for a moment, then alternate. A "powering up" sound
occurs during this period and prior to processing the print job. This is expected
behavior as the printer prepares to print.
Light status legend
Symbol for "light off"
Symbol for "light on"
Symbol for "light blinking"
Control panel light message
Light
status
State of the printer
Ready
Action
No action is necessary.
The printer is ready to
print.
Processing data
Wait for the job to print.
The printer is receiving or
processing data.
Cleaning mode
Wait until the Cleaning page is finished
printing and the printer is in the Ready
A Cleaning page is printing. state. This could take up to two minutes.
Out of memory
The printer is out of
memory.
Attention: door open,
media out, no print
cartridge, or media jam
The page you are printing might be too
complex for the printer's memory capacity.
Try lowering the resolution.
Check the following:
The print cartridge door is completely
closed.
This printer is in an error
state that requires operator Media is loaded.
intervention.
The print cartridge is correctly installed in
the printer.
There is no media jam.
Printer initialization
No action is necessary.
A printer initialization is
taking place.
Fatal error
All lights are on.
Unplug the printer for 30 minutes, and
then plug the printer back in power outlet.
If the printer still has an error, contact
HP Support..
All lights are off.
Make sure that there is power.
Unplug both ends of the power cord, and
then plug the power cord back into the
printer and the power outlet.

* Your assessment is very important for improving the work of artificial intelligence, which forms the content of this project