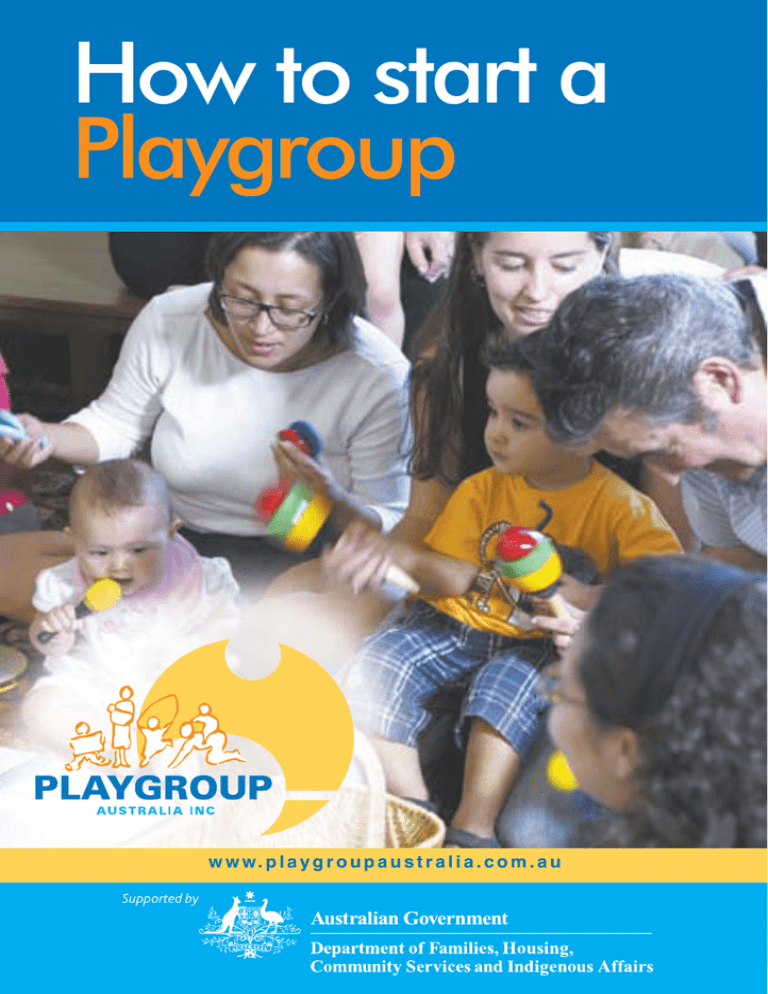 How to start a
Playgroup
Supported by
w w w. p l a y g r o u p a u s t r a l i a . c o m . a u
We all know how important play is to a child.
From babyhood onwards, it helps to develop physical skills, teaches problem solving, communication, social interaction
– and of course it's great fun.
Perhaps it's no surprise then, that more than 100,000 families meet every week in over 8,000 playgroups right across Australia, bringing children, parents and caregivers together in a uniquely affordable, accessible, welcoming, safe and enjoyable way.
If you are interested in adding another playgroup to that list, we've put together some guidelines on how to make it happen. Don't be daunted. It's not hard when you combine our 10 step system with all the advice and support available to you from Playgroup Australia and you share the 'jobs' around, we think you will find planning, starting up and running your playgroup is child's play.
Step 1: Find families
Step 2: Decide on a day and time
Step 3: Choose a place
Step 4: What to do
Step 5: What to play
Step 6: What equipment you need
Step 7: Set the guidelines
Step 8: Insurance is essential
Step 9: What will it cost?
Step 10: Ready, set, play!
page 1
What is a community playgroup?
Community playgroups are fun and open to everyone. All members are involved in the planning, organisation and running of their playgroup.
Playgroups are for parents and caregivers with children aged birth to school age. At playgroup, children make new friends, discover new experiences, gain self-confidence and develop physically, socially, emotionally and intellectually.
Parents make friends, spend special time with their children, exchange parenting ideas and build support networks. Playgroup can ease the isolation often felt by parents with young children.
The difference between playgroups and childcare centres
Playgroups are set up and run by parents and caregivers. In playgroups parents and caregivers stay to interact with other adults and play with their children.
Parents and other close adults are the child's first teachers and playgroup is wonderful opportunity to strengthen bonds between children and their closest carergivers.
Everyone has fun at playgroup and everyone benefits.
Why start a playgroup?
People start new playgroups for many reasons:
• A group of friends or neighbours want to regularly meet together with their children.
• There is no other playgroup nearby.
• A new parents' group at a health centre or maternal and child health centre may want to continue to meet and develop into a playgroup.
• Local playgroups are full.
• A community centre, neighbourhood house, school, church or other family service wants to offer playgroups as part of their program.
• They have a particular interest such as fathers, nannies, home educators, Montessori or the same cultural background. page 2
Find families
To start a playgroup, you need at least three or four interested families. The best way is to ask around. Try your friends with like aged children, people you met in hospital, the birthing centre or child health centre. Consider putting up a notice at your local shops, church, community or sports centre.
Once you've done that, arrange a meeting with the interested parents and carergivers (this is best done child-free) so you can start working through steps 2-10.
page 3
Decide on a day and time
When your group of interested parents or caregivers gets together, discuss what day of the week suits them best.
Playgroups usually meet once a week on a weekday, for about one and a half to two hours. You may consider a Saturday or
Sunday if that better suits your group.
Agree on a time of day that suits everyone as well. It's a good idea to have a few day/time options as this will give you more flexibility when looking for a place to hold your playgroup.
page 4
Choose a place
Playgroups can meet in many different places. Some work well by meeting at members' homes on a rotational basis. Baby playgroups often start this way. You may have to move to another venue however as children grow and become more active or if the group gets too big.
If you prefer a community venue, look for kindergartens, schools, church halls, parks, neighbourhood houses, community centres, council buildings, maternal and child health centres, aged care facilities, or Scout or Guide halls in your local area.
Ask someone in the group to follow up and investigate the most suitable venues.
Ideally, you will want a place that offers: both indoor and outdoor play spaces suitable for small children
• kitchen facilities
• storage areas for toys and equipment
• car parking
• public transport nearby
• children's toilets
• affordable rent.
Another way to go is to contact Playgroup Australia toll free on
1800 171 882
to find out about other existing playgroups in your area. You may be able to join that group as an additional session and share their venue and equipment.
page 5
What to do
How you structure your playgroup session is up to you. At the end of the day, it's what works best for the children and the adults involved.
Some playgroups offer organised activities and lots of stimulation, others are less formal and operate on more spontaneous lines.
A 'typical' playgroup session might include time for:
• setting up
• children to play and adults to chat both indoors and outdoors
• snacks
• stories and music play as a group
• general clean up and pack away.
It's a good idea to plan a break during the playgroup session.
This may be a set time when everyone eats together or an informal time, with each child eating according to their need.
You could ask each family to bring a drink and fruit or a snack to share or each child may bring their own.
Snack time tips
• Offer healthy foods.
• If sharing food provide each child with their own plate.
• Take precautions to minimise the risk of transferring communicable diseases.
• Think through safety issues such as the danger of children choking if eating while running.
• Keep hot tea and coffee out of children's reach.
• Be sensitive to food allergies.
• Decide whether to have party food to celebrate children's birthdays.
page 6
What to play
When deciding on what play activities to include, allow for plenty of free play.
Playgroup aged children are not ready for lots of rules and structure. They needs lots of uninterrupted time to make choices, experiment, explore and interact.
Choose a variety of activities that cover social, physical, intellectual, creative and emotional development across a range of developmental ages.
These include:
• painting
• sandpit
• building blocks
• playdough
• cutting, pasting and craft
• ride-on or push toys
• dress-ups and home corner.
You will also need to consider indoor and outdoor spaces, safety and equipment. Choose activities that focus on the skills used and learnt, not the perfection of the final product.
For more fun activities to try at playgroup, telephone
1800 171 882
or visit
www.playgroupaustralia.com.au
and click onto your state or territory playgroup association.
page 7
What equipment you need
Make a list of what equipment you will need for both adults and children in your playgroup.
Start with toys, books, play equipment, art and craft materials.
Most community venues will have a kettle, plates, bowls, cups and cutlery. If not, you will need to provide you own.
But you don't have to go out and buy new or expensive items.
Perhaps give a couple of families the task of searching through second hand and charity shops, fetes, garage sales, the local classifieds or on EBay. Local families or businesses might be happy to donate items.
You could even make you own toys from recycled materials such as cling wrap rolls, cardboard boxes, milk cartons and plastic water bottles. Contact your playgroup association toll free on
1800 171 882
to find out more.
page 8
Set the guidelines
It's important to establish upfront that this playgroup belongs to everyone. So everyone in the group is responsible for making decisions and everyone is expected to share the workload.
Most playgroups find it helps to write up some simple guidelines for the children and the adults in their playgroup. This way everyone knows what's expected of them and what's appropriate and acceptable.
This can help make playgroup a more relaxed, comfortable and enjoyable experience for all.
Your guidelines could include some or all of the following:
• Adults are responsible for the safety and supervision of the children they bring.
• Every child has a right to safe and fair play.
• Playgroup is a 'no hurting' zone.
• Playgroup is a smoke free environment.
• All members are valued and respected.
• All families are welcome.
• We are a SunSmart playgroup.
• Everyone helps with the workload and is involved in the planning and organising of playgroup.
It may be better to wait a few weeks after you begin before finalising your list.
page 9
Insurance is essential
Your playgroup must be covered by a comprehensive insurance policy right from the start. Contact your state or territory playgroup association toll free on 1800 171 882 as they offer membership packages with insurance cover specially designed to meet all playgroups' needs.
page 10
What will it cost?
One of the benefits of playgroups is that they are low cost.
Most playgroups charge their members a small fee each term to cover weekly expenses such as:
• hall or venue hire (if applicable)
• first aid kit
• art or craft materials such as glue, paint and paper
• snack time supplies like milk, tea and coffee
• administration costs.
There are many benefits to joining your state or territory playgroup association so add this annual fee for each family.
Your group might decide to do some fundraising to cover costs or to purchase equipment. Contact your playgroup association toll free on 1800 171 882 for help with fundraising opportunities.
By following our simple ten step guide, you've built a great model of a successful playgroup. You've also created a strong foundation for fun, friendships and support networks.
So let the fun begin!
page 11
Ready, set, play!
At your planning meeting, set a starting date for your first playgroup session for between two and six weeks. If all the planning isn't done by then, arrange to meet at someone's home or at a local park.
Encourage everyone to get their allocated tasks done quickly while enthusiasm is high. Before everyone leaves the meeting, swap names and telephones numbers so the group and families can keep in touch.
page 12
Playgroup Australia
Playgroup Australia is the national peak body for
Australian playgroups. It represents the country's eight peak state and territory playgroup associations. More than 100,000 families and 135,000 children go to 8,000 playgroup sessions every week throughout Australia.
Playgroup Australia:
• advocates for playgroups nationally
• provides a regular forum for information exchange between state and territory playgroup associations
• gives playgroups a national voice
• promotes access to playgroup for all parents and carergivers with young children
Call your state or territory playgroup association toll free on
1800 171 882
for friendly help to start a playgroup, join a playgroup, run a playgroup or become a member.
www.playgroupaustralia.com.au
* Your assessment is very important for improving the work of artificial intelligence, which forms the content of this project