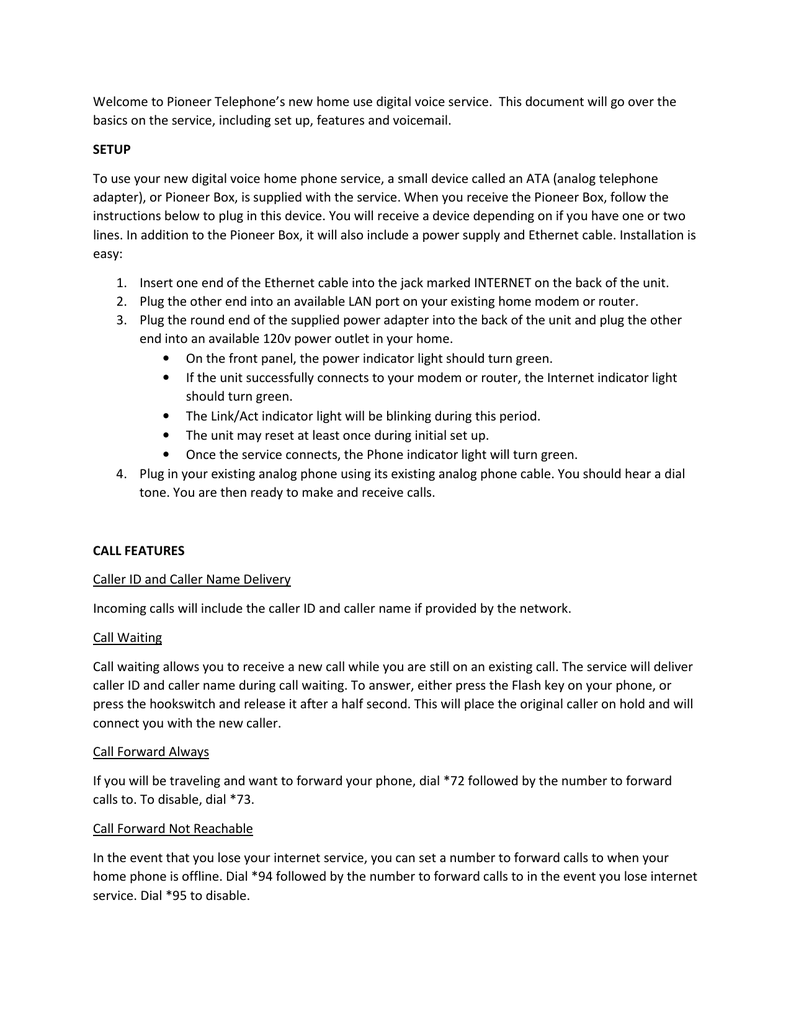 Welcome to Pioneer Telephone's new home use digital voice service. This document will go over the
basics on the service, including set up, features and voicemail.
SETUP
To use your new digital voice home phone service, a small device called an ATA (analog telephone
adapter), or Pioneer Box, is supplied with the service. When you receive the Pioneer Box, follow the
instructions below to plug in this device. You will receive a device depending on if you have one or two
lines. In addition to the Pioneer Box, it will also include a power supply and Ethernet cable. Installation is
easy:
1. Insert one end of the Ethernet cable into the jack marked INTERNET on the back of the unit.
2. Plug the other end into an available LAN port on your existing home modem or router.
3. Plug the round end of the supplied power adapter into the back of the unit and plug the other
end into an available 120v power outlet in your home.
• On the front panel, the power indicator light should turn green.
• If the unit successfully connects to your modem or router, the Internet indicator light
should turn green.
• The Link/Act indicator light will be blinking during this period.
• The unit may reset at least once during initial set up.
• Once the service connects, the Phone indicator light will turn green.
4. Plug in your existing analog phone using its existing analog phone cable. You should hear a dial
tone. You are then ready to make and receive calls.
CALL FEATURES
Caller ID and Caller Name Delivery
Incoming calls will include the caller ID and caller name if provided by the network.
Call Waiting
Call waiting allows you to receive a new call while you are still on an existing call. The service will deliver
caller ID and caller name during call waiting. To answer, either press the Flash key on your phone, or
press the hookswitch and release it after a half second. This will place the original caller on hold and will
connect you with the new caller.
Call Forward Always
If you will be traveling and want to forward your phone, dial *72 followed by the number to forward
calls to. To disable, dial *73.
Call Forward Not Reachable
In the event that you lose your internet service, you can set a number to forward calls to when your
home phone is offline. Dial *94 followed by the number to forward calls to in the event you lose internet
service. Dial *95 to disable.
For a full list of features, see the Welcome Guide.
VOICEMAIL
There are two ways to access your voicemail:
1. Call your own phone number
2. Picking up your phone and dialing *62 will put you into the main voice portal menu. The main
voice portal menu gives you access to additional features, where option 1 will also put you into
your voicemail box.
Initial Setup (*62)
The first time you call your voicemail box or dial *62, you will be prompted to set a 4-8 digit pass code to
access your voicemail and to record your personalized name.
Your recorded name will be played to callers as part of the default greeting callers will hear. You'll later
have the option to record a longer greeting. Once you have completed the set up, you can record
greetings and access your voicemails.
Voice Portal Main Menu (*62)
At the main menu, the following options are available:
1 – To access your voicemail box
3 - Go to the greetings menu
4 - Change call forwarding options
8 - Change your pass code
9 - Exit the voice portal
# - Repeat the menu
For more details, see the Welcome Guide.
MOBILE APPLICATION
With your service comes the exclusive homeXtend mobile application which allows you to make and
receive calls to or from your home number on your cell phone. To download, search homeXtend on
your app store and download the application. A username and password will provided for you when
you order the service.
The application allows you to manage several features under the settings tab, such as setting a call
forwarding number and allows you to set simultaneous ring so calls to your home phone also ring on
your cell phone if you are away from home.
When making a call, you will see two options when you hit call to dial. Use system default dialer if you
want the called party to see your mobile number as the caller ID or use call through service so that your
ID shows as your home phone number.
For more details, see the homeXtend guide.

* Your assessment is very important for improving the work of artificial intelligence, which forms the content of this project