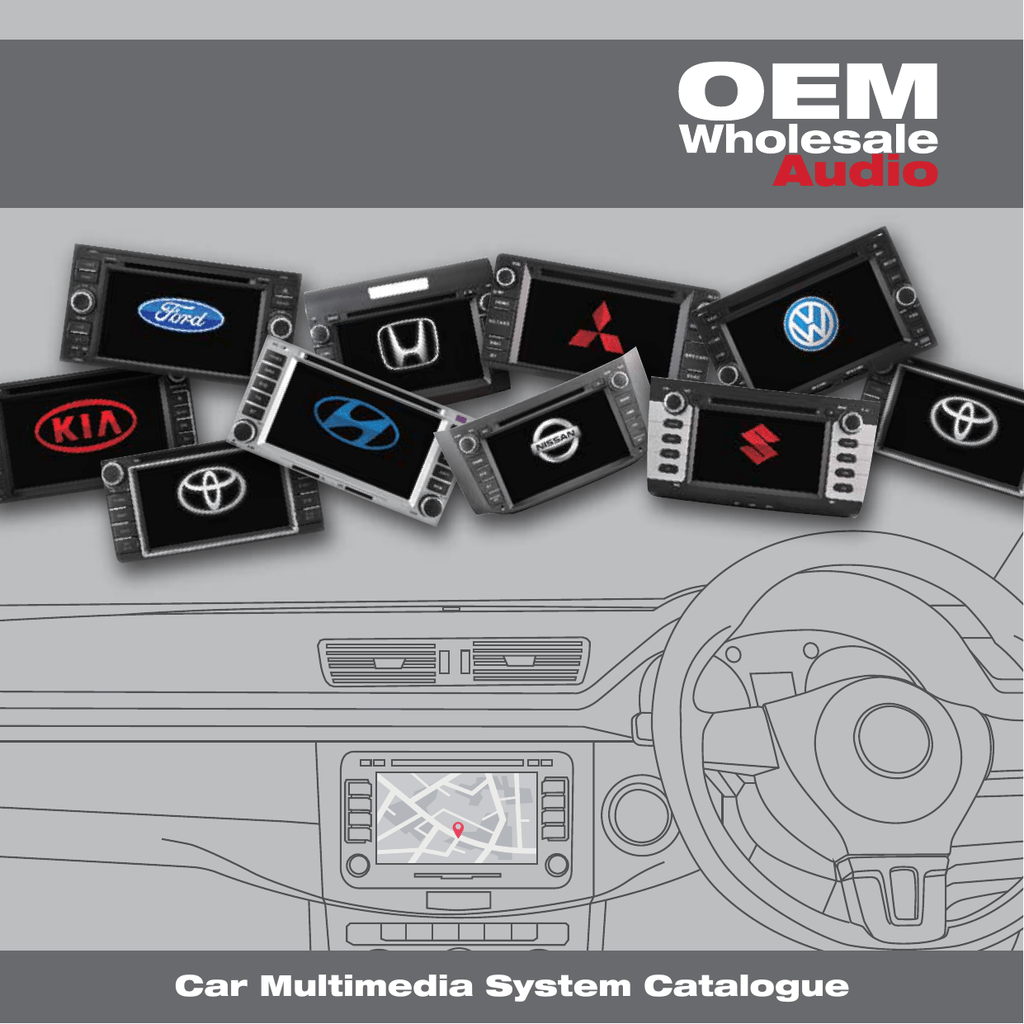 Car Multimedia System Catalogue
1
COMPANY PROFILE
OEM Wholesale Audio manufactures and sources High Quality Replacement Head Units for a wide range
of vehicles. The units feature GPS Navigation, Full Colour Reverse Camera, Bluetooth Handsfree Car Kit
with media streaming, DVD, CD, USB Player and iPod, iPhone compatibility and are designed to fit and
compliment your customer's vehicle.
Our all new 2016 GX platform features lightning fast reverse camera speed (under 1.5 seconds to
activate) RDS, Android Mirror Link, Capacitive touch screen, all at affordable pricing.
Our aim is to provide an all-in-one media unit that has all your current needs in one convenient well built,
well designed aesthetically pleasing unit.
All our units come with a 24 month warranty and technical backup and support based here in New
Zealand.
We have extensive quality control checks both here and at manufacturing level and we personally 'bench
test' each unit here in New Zealand before it goes to the end user. We offer models to suit most vehicles,
both new or used and supply units to many new car dealerships nationwide.
We have supplied units to several nationwide organisations vehicle fleets including the New Zealand AA
Road Service.
We have a network of installers nationwide who are trained to professionally fit your new Media Unit.
Whether you have a used Japanese import with a frustrating stereo or a New Zealand new vehicle without
GPS and Reverse Camera we have a solution for you.
OEM Wholesale Audio is 100% New Zealand owned and operated.
This catalogue is correct at time of printing in May 2016, however please feel free to call us
for any other required information.
USER INTERFACE
Wince System
CPU:800MHZ CUP Main Frequency, RAM:256M Ram Memory
HD Capacitive Touch Screen
Unique 3D Flash Graphical User Interface
Mirror Link Function
Front DVR Camera (High Solution & Speed)
Full Colour Reverse Camera
Support External OBD (• Special Order)
1080P HD Video Display
Audio Copy From CD to SD/USB
Built-in HD GPS/Dual Zone System
2
3
IN CAR MEDIA
CENTRE FUNCTIONS
FUNCTION
INTRODUCTION
High Definition Capacitive Screen
Our GX series of media units has a full HD
screen with immediate response, using the
latest mobile phone technology in the screen,
our devices boast enhanced screen
brightness, with improved appearance and
performance in New Zealand's bright sun.
These units support 1080p video display and
have an industry leading camera response time
of under 1.5 seconds to operate fully.
Android Mirror Link.
On devices equipped with Android 4.0 and above our GX
range of devices support two-way mirror link. You can
display your mobile phone on the in-car media unit and
control the phone from the touchscreen.
You can play and view video, listen to and control your
music library, view SMS, (don't text when driving) and
operate nearly all other smartphone functions all on your
in-car media screen. Supports both portrait and landscape
modes. You can also control your Android device from the
in-car media screen.
GPS / Satellite Navigation
Our units all come with optional GPS with either IGO or SYGIC,
the leading providers of in car GPS devices.
Our maps are designed to work with the unit allowing media
functions to continue to work in the background and the
GPS voice instructions to blend in seamlessly.
All our maps are the latest available and have search by street,
ideal for large metropolitan areas, with blurred boundaries.
IN CAR MEDIA
CENTREINTRODUCTION
FUNCTIONS
FUNCTION
REVERSE Camera
We can supply brand new wide angle cameras, IP 68
rated. These cameras have superb image and lightning
response time. Easily installed by a professional, these
cameras are a superb addition to an OEM Media unit.
Bluetooth
All our devices are supplied with an external bluetooth
microphone for increased call quality. Our units will also
download the customer's phonebook and allow
searching via keypad. Bluetooth music playback is also
available via the Bluetooth music feature (A2DP).
YOUTUBE Channel
OEM Audio has our own YouTube channel:
www.youtube.com/OEMAUDIONZ
On this channel we have over 70 videos
from demonstrations to tutorials.
On demand we will promptly upload additional video on
customer request.
AM/FM Playback
All our radio tuners are in NZ frequencies
and feature ( GX model and RX only)
RDS Radio Data System, simply put
means that the Station identifier is
displayed on the OEM Media centre,
making it easier to understand what
station is currently being played.
4
5
TOYOTA
TOYOTA
TOYOTA SERIES
6.2"
TOYOTA COROLLA FIELDER/LUXEL
8"
TOYOTA CAMRY
8"
TOYOTA YARIS
6.2"
TOYOTA PRADO
7"
TOYOTA RAV4
7"
TOYOTA RAV4 2013
8"
TOYOTA BLADE/AURIS
7"
TOYOTA ESTIMA
8"
TOYOTA LANDCRUISER
9"
TOYOTA HIGHLANDER 2008-15
8"
TOYOTA HIGHLANDER 2015
9"
TOYOTA PRADO 2011
8"
TOYOTA PRADO 2014
9"
TOYOTA CAMRY 2012
8"
TOYOTA CAMRY 2015
9"
TOYOTA / AUDI / FORD / HOLDEN
TOYOTA
TOYOTA HILUX
6.2"
TOYOTA ALPHARD
9"
TOYOTA ALPHARD 2015
9"
TOYOTA CAMRY
8"
TOYOTA PRIUS
8"
FORD FIESTA
8"
FORD FOCUS
7"
FORD FOCUS
7"
FORD MONDEO
7"
FORD MONDEO
7"
FORD RANGER
8"
TOYOTA COROLLA 2014 (RHD)
9"
TOYOTA HILUX 2016
7"
AUDI A3
7"
FORD FOCUS 2015
8"
HOLDEN EPICA
7"
6
7
HONDA / HYUNDAI
HONDA CIVIC
8"
HONDA CRV 2012
7"
HONDA CIVIC 2012 (RHD)
8"
HONDA HRV
8"
HYUNDAI ELANTRA 2011
8"
HYUNDAI ELANTRA 2014
7"
HYUNDAI IX25
8"
HYUNDAI IX45
8"
HONDA CRV 2006-2012
8"
HONDA JAZZ 2014 (RHD)
8"
HYUNDAI ACCENT
7"
HYUNDAI ELANTRA 2008
7"
HYUNDAI H1
6.2"
HYUNDAI SANTAFE
6.2"
HYUNDAI IX35
8"
HYUNDAI SONATA
8"
HYUNDAI / ISUZU / KIA / MAZDA / MERCEDES
HYUNDAI SONATA 2015
8"
HYUNDAI TUCSON
8"
ISUZU D-MAX
8"
KIA CERATO
6.2"
KIA CERATO 2013
8"
KIA FORTE
7"
KIA K3/RIO
7"
KIA MORNING/PICANTO
8"
KIA OPTIMA
8"
KIA SPORTAGE
7"
MAZDA 3 2008 - 2012
7"
MAZDA 6
7"
MAZDA CX7
7"
MAZDA MPV 2006+
8"
MAZDA 3 2004-2008
7"
MERCEDES A & B
7"
8
9
MITSUBISHI / NISSAN / SKODA / SUZUKI
MERCEDES ML
7"
MITSUBISHI ASX
8"
MITSUBISHI LANCER
8"
MITSUBISHI OUTLANDER
PEUGEOT 4007 8"
MITSUBISHI OUTLANDER 2014
6.2"
MITSUBISHI PAJERO
7"
NISSAN PULSAR 2013+
8"
NISSAN TEANA
7"
NISSAN JUKE 2010+
6.2"
NISSAN NEW X-TRAIL
/ QASHQAI 2014+ 8"
NISSAN TEANA 2012
8"
SKODA OCTAVIA
• SPECIAL ORDER 8"
SUZUKI SX4
7"
SUZUKI SWIFT 2004-2010
7"
SUZUKI SWIFT 2010+
6.2"
SUZUKI GRAND VITARA
7"
SUZUKI / UNIVERSAL / VW
SUZUKI S-CROSS
8"
UNIVERSAL
6.2"
VW SERIES
7"
VW GOLF 7
8"
OEM Audio also supplies the following
high quality button cell batteries:
CR1220, CR1616, CR1620, CR1632,
CR2016, CR2025, CR2032
ONLY $1.10 + GST per battery
Minimum order of 10 batteries (2 cards).
Sold in cards of 5 batteries
Free shipping with an in car
media centre order.
UNIVERSAL
6.2"
VW PASSAT
6.2"
10
11
INTRODUCTORY PACK
As a signal of our commitment, every Genuine OEM Audio Unit comes with an English language owner's
manual, OEM Audio USB Bottle opener containing helpful instructional videos, map instructions, update
instructions, warranty form, bluetooth connection password, all enclosed in a quality owners folder.

* Your assessment is very important for improving the work of artificial intelligence, which forms the content of this project