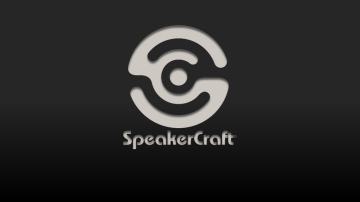 Rules Of The Craft
 we practice abandonment
 our culture is our life
 tactical domination
 financial and emotional profit
 the right dealers
 absolute dealer satisfaction
 constant improvement
 fix the problems
 play the game and win
 it's fun or it's wrong
 mediocrity sucks
 triangulation is not welcome here
conventional coaxial speaker coaxial in-ceiling speakers create narrow columns of sound the perceived volume levels and tonal quality noticeably changes in different areas of the room nobody hears the same piece of music!
Poor Good Poor
WavePlane™ speaker
the WavePlane™ guide was designed by and is patented by SpeakerCraft
a WavePlane's open baffle creates a far wider and more even dispersion of sound with greatly improved off axis response tonal quality and perceived volume levels remain uniform throughout the listening area with WavePlane™ everyone gets to hear how the music really should sound!
Good Good Good
conventional coaxial in-ceiling speakers create narrow vertical columns of sound that isolate the left and right channels a speaker can ONLY image when both channels are heard in unison
a SpeakerCraft in-ceiling speaker with a
WavePlane™ guide offers a far wider sound dispersion left and right hand channels are evenly presented to the listener creating a more solid stereo image
SpeakerCraft invented and patented the world's first AIM™ able in-ceiling speaker
infinitely variable driver positioning allows the sound to be focussed toward the listening area stereo or multi-channel imagery and tonal accuracy are all greatly improved
AIM5 Three CRS6 Three
AIM7 DT Three
Aluminium Drivers Aluminium Drivers perfect tonal matching from room to room
Aluminium Drivers
AIM7 Three
Aluminium Drivers
AIM8 Three
Aluminium Drivers
AIM Wide Three
Aluminium Drivers
AIM LCR 3 Three
Aluminium Drivers in-Ceiling or in-Wall there is NO Compromise
AIM Dipole Three
Aluminium Drivers
AIM 7 MT Three
Aluminium Drivers
AIM Cinema Three
Aluminium Drivers
AccuFit – AccuFit Ultra Slim One / Three
SpeakerCraft's AccuFit models can be installed where a conventional in-ceiling speaker is simply too deep
AccuFit CRS7 & DT7 utilise a 175mm bass driver in a metal sound enclosure only 70mm deep
AccuFit Ultra Slim utilise four 75mm mid bass drivers within an enclosure only 50mm deep
Steel & Wooden Sound Enclosures maximise the sound quality of SpeakerCraft inwall and in-ceiling speakers. provides effective noise attenuation between floors and walls. available in both steel and wooden box designs. steel enclosures are also fire rated to provide a one hour fire break. available to fit most SpeakerCraft models.
Cinema Sub – 8 / 10 / 12 Systems high performance active in-wall subwoofer systems with external bass power amplifier dedicated in-wall enclosure ensures optimum performance in all wall constructions three models utilising 200mm / 250mm / 300mm long throw bass drivers two off-board power amplifiers (150W / 250W) with in-built bass management controls
the new standard in discreet speaker design
Profile – design features high performance architectural speakers with integral neodymium magnetic frame fast fit design – low profile grille with smooth micro edge frame new all black front baffle refined and retuned crossovers to even further enhance sound quality available in both AIM & CRS in-ceiling and AIM
MT7 & LCR in-wall versions. optional square grille available for in-ceiling models
"I just don't want to see any speakers anywhere"
"Certainly what do you think of these?"
Seamless FR 1 & Subwoofer completely hidden in-the-wall utilises Live-Wall™ technology point source design creates wide and even off-axis dispersion can be installed behind: plaster & paint stucco wallpaper
Seamless FR-1 – full range monitor frequency response: 60Hz – 20kHz sensitivity: 87dB power handling 100W RMS can be used alone or in combination with
Seamless Subwoofer dimensions:
H457mm x W305mm x D73mm
Seamless FR 1
Seamless Subwoofer frequency response: 45Hz – 250Hz power handling 250W RMS optional in-wall enclosure use with Bass Power 250 power amplifier dimensions:
H438mm x W356mm x D83mm
Seamless Subwoofer
Outdoor Element – equally at home in the garden or at sea high performance outdoor and marine loudspeakers rugged enclosure and drive units are tested to operate in all weather extremes suitable for many applications where other speakers would more quickly fail gardens, patios, swimming pools,
Jacuzzis and marine craft are all excellent locations for an OE speaker
Ruckus – to boulder go where no sound has gone before... significant improvement in sound quality over previous Rox models convincing "rock" look and feel integrated drainage system three models using 133mm, 165mm,
200mm bass drivers. a 165mm DT model is also available granite and sandstone finishes
On Ground (POD) – no sight but definitely sound... die cast aluminium enclosure mimics outdoor lighting fixtures inconspicuous size and shape ground spike secures speaker into the ground
75mm full range aluminium driver can be combined with Boom Tomb or Outdoor Elements
Boom Tomb – even moles can enjoy the music... discreet underground active subwoofer buried enclosure with discreet external hooded port weather resistant poly resin enclosure
250mm long throw bass driver
250W RMS external sub power amplifier
ETA Q4 - 2011
Roots – reference performance subwoofers
Two models available:
Roots 208 – 200mm driver 200W amplifier
Roots 310 – 250mm driver 300W amplifier
DSP controls with multiple mode & EQ settings user settings can be stored and retrieved boundary gain control variable phase & low pass filter controls front mounted digital display and controls remote control operation high gloss cabinet in five colours
Roots – stylish high performance speakers
Four new high performance speakers:
350 –
89mm Bass & 13mm Silk dome Tweeter
450 –
114mm Bass & 19mm Silk dome Tweeter
650 –
165mm Bass & 25mm Silk dome Tweeter
Centre - 2 x 114mm Bass & 19mm Silk dome HF
Small & Medium models include integral wall mounts high gloss piano cabinet in black or white
SmartPath – IR control designed to operate in difficult environments including fluorescent light and with plasma screens five compact IR receiver designs including plasma friendly amplified and passive IR termination hubs. AT-1.0 capable of driving over 20 emitters single, dual emitters with LED feedback and unique EZ
Dock mounting system flood and micro emitters also available
Vital 1250 & 850 multi channel power amplifiers high current , high performance 12 & 8 channel digital power amplifiers three input options with independent level controls for each channel audio sensing or 12V triggering for activation
Vital 850 – 8 x 50W RMS
Vital 1250 - 12 x 50 RMS stereo channels stable into a 4 ohm load channels can be bridged for higher power
Vital 170V commercial power amplifier high current, 6 channel commercial power amplifier switchable operation modes: 100V / 70V / 4 Ω
6 x 60W RMS balanced Phoenix type input connectors multiple protection systems including: output current limiting, DC protection, circuit breaker and thermal protection
Q1 - 2012
Sonic Air – wireless amplification wireless audio extension for multi-room / surround or
LFE applications stable 2.4GHz RF operation – 4 RF ID codes
TX & RX modules operate up to 21m / 70ft apart line or speaker level – RX includes local audio input
2 x 50W RMS + line level subwoofer output remote for volume and local input selection
MZC-64 multi-zone controller
6 independent sources – 4 independent zones can be stacked to create a 16 zone system audio only switching two-way control of up to six iPods
12 x 30W RMS (stable into 4 ohm load) seamless integration of home theatre receivers and HDMI matrix switchers
MZC-66 multi-zone controller
6 independent sources – 6 independent zones can be stacked to create a 24 zone system audio & composite video switching two-way control of up to six iPods
12 x 30W RMS (stable into 4 ohm load) seamless integration of home theatre receivers and HDMI matrix switchers
MODE – keypad & iPod docking system connect up to six iPods / iPhones to a single
MZC controller complete control of iPod / iPhone in every zone with all metadata visible on MODE 3.1 keypad
MODE Base compatible with all iPods / iPhones
3 rd
Gen forwards
MODE 3.1 keypad and iPod base compatible with all MZC controllers
UK & US back box mounting options
SpeakerCraft were the first company to offer two-way control of an iPod in a multi-room system!
MODE Free – wireless two-way keypad wired or wireless keypad compatible with all
MZC controllers in wireless operation is capable of controlling every zone within an MZC system can also operate as a wired keypad when placed in the optional wall dock or table dock full iPod control with all metadata as with standard wired MODE 3.1 keypad
System overview
A completely modular system
Source and zone capacity to exceed the largest residential installations
From kitchen to home cinema - every zone operates the same way
Tailor each zone – for each member of the household
Can all run through one Cat 5e/Cat6 cable to each room
System overview
Up to 1080p HDMI (> 400m) to any zone - from any zone
Stereo or multichannel PCM audio to any zone - from any zone
Any source in any zone can be accessed from any other zone
No HDMI matrix switchers or AV processors / receivers required
Integrated door entry, intercom and paging system
Can all run through one Cat5e or Cat6 cable to each zone
Zones in a nirv system
Audio only zones
Central amplification - e.g. MZC or similar home run system upgrade
Local amplification – nirv power amplifier or the client's own
Audio & Video zones
HD TV stereo – nirv STC + central, local or TV only amplification
Home cinema multichannel – nirv STC + multichannel amplification
Kitchen
Audio only
Study
Audio only
Dining
Audio only
Patio
Audio only
Master Bedroom
HD video + Stereo Audio
Speaker cable from hub is
NOT shown
Theatre
HD video + 7.1 Audio
AIB
VIB
MSC
MCA iPhone / Pad Apps provide control of any zone
Central sources
AIB
VIB
STC
VIB
NB
STC VIB
MCA
* Your assessment is very important for improving the work of artificial intelligence, which forms the content of this project