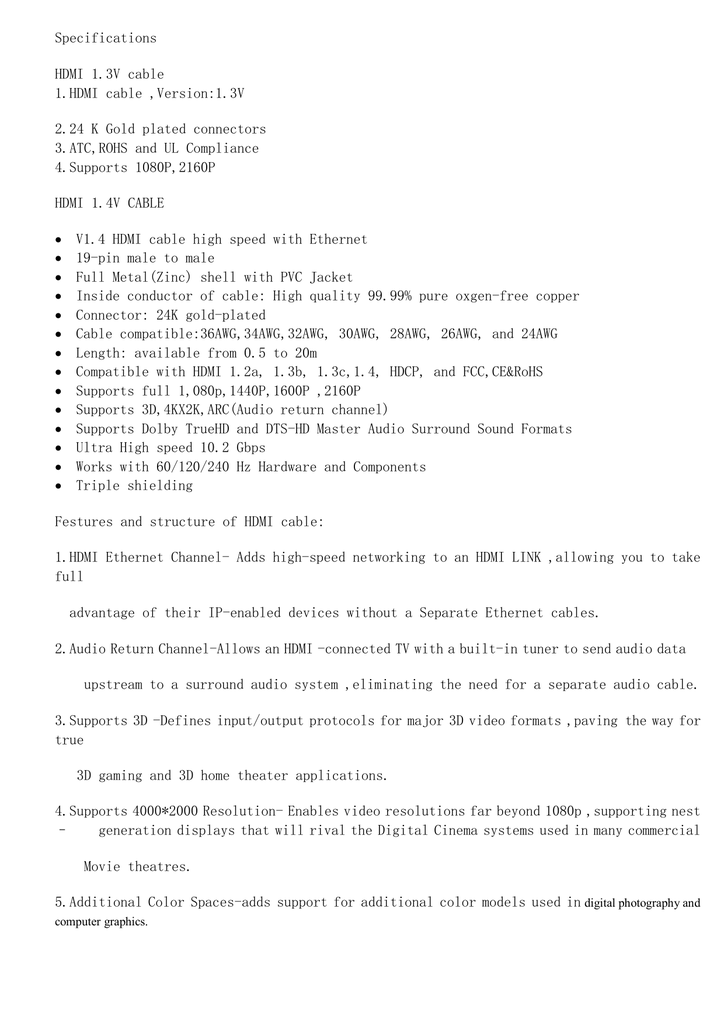 Specifications
HDMI 1.3V cable
1.HDMI cable ,Version:1.3V
2.24 K Gold plated connectors
3.ATC,ROHS and UL Compliance
4.Supports 1080P,2160P
HDMI 1.4V CABLE














V1.4 HDMI cable high speed with Ethernet
19-pin male to male
Full Metal(Zinc) shell with PVC Jacket
Inside conductor of cable: High quality 99.99% pure oxgen-free copper
Connector: 24K gold-plated
Cable compatible:36AWG,34AWG,32AWG, 30AWG, 28AWG, 26AWG, and 24AWG
Length: available from 0.5 to 20m
Compatible with HDMI 1.2a, 1.3b, 1.3c,1.4, HDCP, and FCC,CE&RoHS
Supports full 1,080p,1440P,1600P ,2160P
Supports 3D,4KX2K,ARC(Audio return channel)
Supports Dolby TrueHD and DTS-HD Master Audio Surround Sound Formats
Ultra High speed 10.2 Gbps
Works with 60/120/240 Hz Hardware and Components
Triple shielding
Festures and structure of HDMI cable:
1.HDMI Ethernet Channel- Adds high-speed networking to an HDMI LINK ,allowing you to take
full
advantage of their IP-enabled devices without a Separate Ethernet cables.
2.Audio Return Channel-Allows an HDMI -connected TV with a built-in tuner to send audio data
upstream to a surround audio system ,eliminating the need for a separate audio cable.
3.Supports 3D -Defines input/output protocols for major 3D video formats ,paving the way for
true
3D gaming and 3D home theater applications.
4.Supports 4000*2000 Resolution- Enables video resolutions far beyond 1080p ,supporting nest
–
generation displays that will rival the Digital Cinema systems used in many commercial
Movie theatres.
5.Additional Color Spaces-adds support for additional color models used in digital photography and
computer graphics.

* Your assessment is very important for improving the work of artificial intelligence, which forms the content of this project