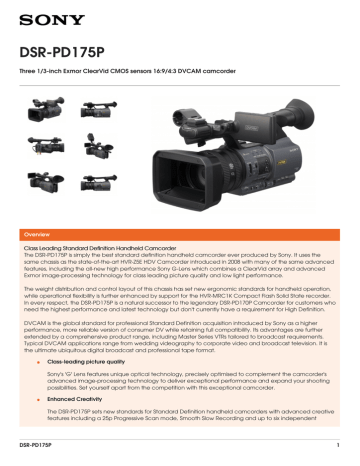 DSR-PD175P
Three 1/3-inch Exmor ClearVid CMOS sensors 16:9/4:3 DVCAM camcorder
Overview
The DSR-PD175P is simply the best standard definition handheld camcorder ever produced by Sony. It uses the same chassis as the state-of-the-art HVR-Z5E HDV Camcorder introduced in 2008 with many of the same advanced features, including the all-new high performance Sony G-Lens which combines a ClearVid array and advanced
Exmor image-processing technology for class leading picture quality and low light performance.
The weight distribution and control layout of this chassis has set new ergonomic standards for handheld operation, while operational flexibility is further enhanced by support for the HVR-MRC1K Compact Flash Solid State recorder.
In every respect, the DSR-PD175P is a natural successor to the legendary DSR-PD170P Camcorder for customers who need the highest performance and latest technology but don't currently have a requirement for High Definition.
DVCAM is the global standard for professional Standard Definition acquisition introduced by Sony as a higher performance, more reliable version of consumer DV while retaining full compatibility. Its advantages are further extended by a comprehensive product range, including Master Series VTRs tailored to broadcast requirements.
Typical DVCAM applications range from wedding videography to corporate video and broadcast television. It is the ultimate ubiquitous digital broadcast and professional tape format.
•
Class-leading picture quality
Sony's 'G' Lens features unique optical technology, precisely optimised to complement the camcorder's advanced image-processing technology to deliver exceptional performance and expand your shooting possibilities. Set yourself apart from the competition with this exceptional camcorder.
•
Enhanced Creativity
The DSR-PD175P sets new standards for Standard Definition handheld camcorders with advanced creative features including a 25p Progressive Scan mode, Smooth Slow Recording and up to six independent
DSR-PD175P 1
•
•
•
Picture Profiles for a variety of different camera set-ups.
Proven Workflow
DVCAM is the world's leading professional standard definition format - widely supported, easy to work with and highly reliable. You don't need the latest generation software, computer or large amounts of storage to work quickly and efficiently with the DSR-PD175P.
Ideal Design for Handheld Operation
Sony has responded to customer feedback to create the ideal handheld camcorder chassis with an ergonomically designed body-weight balance and a carefully planned button layout that reduces operator fatigue. Improved protection for audio settings and independent rings for zoom, focus and iris demonstrate this attention to detail.
Affordability
DVCAM media is widely available and ideal not just for acquisition but low cost archival purposes as well.
Sony DVCAM hardware also retains compatibility with ubiquitous consumer DV media. In addition, despite a wide range of advanced features, the DSR-PD175P has been designed for the same entry-level price range as its predecessor model - the DSR-PD170P.
DSR-PD175P 2
Features
•
Sony's Exclusive High-performance G Lens
Discover the exceptional optical performance of Sony's G Lens. This sophisticated lens incorporates Sony's unique optical technology and unparalleled quality control. Moreover, it's been optimised to perfectly complement the camcorder's advanced image sensor and image-processing technology, thus expanding your shooting possibilities.
•
•
Express yourself more fully with the utmost precision of Sony's G Lens.
Major 'G' Lens Features on the DSR-PD175P
•
•
•
•
The camcorder's 29.5mm wide-angle, 20x optical zoom 'G' Lens offers a field of view that's ideal for many shooting situations, ranging from broad landscape shots to close-up shots where it is difficult to obtain sufficient distance from the subject.
Two ED (Extra-low Dispersion) glass elements reduce the chromatic aberrations caused by differences in light refraction to minimise colour fringing. The advanced 10-group, 15-element lens structure also includes three compound aspheric lenses for images that are crisp and clear, even when shooting at a high zooming ratio.
Advanced optical lens technology enables Sony's Exmor Sensor system realise sharper images with higher resolution and less noise, even when shooting in very low light.
The six-blade iris diaphragm is almost circular, which allows operators to incorporate creative background blur into their shots for beautiful visual effects.
Natural-touch Lens Operation
The ergonomic layout of the zoom, focus and iris control rings makes operation of these three functions possible with just one hand.
The zoom function can be controlled by any of the following:
•
The lens barrel ring
•
•
The lever at the lens grip
The lever on the camera handle
A high-speed zoom mode is also available. The digital extender system increases the zoom ratio to approximately 30x.
The iris control ring can be customised via the menu to:
•
Select and control the iris or the exposure
•
Open and close iris direction
The exposure function is ideal for varied shooting environments that range from very dark to very bright, allowing easy one-handed control using single-ring operation.
Sony's Super SteadyShot system (optical) helps you achieve a stable picture, even when camera handling is unsteady.
•
Three built-in ND (Neutral Density) filters - 1/4, 1/16 and 1/64 - help to vary the depth of field with iris control.
Cutting-edge Imaging System With Exmor Technology
The DSR-PD175P boasts cutting-edge features including unique Exmor technology which maximises the potential of the camcorder's imaging system. This includes the same column-parallel A/D conversion and dual noise-cancelling method used in Sony's top-of-the-line camera models. Multiple A/D (analogue to digital) converters on each pixel row convert analogue signals to digital as soon as they are generated, unlike traditional technology that only has one A/D converter on each chip.
Exmor technology helps eliminate the influence of external noise, which can often enter the signal chain
DSR-PD175P 3
during transfer to the A/D converter. As a result, you get high-quality digital signals with extremely low noise.
•
By adopting this groundbreaking technology, the Exmor Sensor system enables the DSR-PD175P to achieve a low light sensitivity of just 1.5 lux (At 1/25 shutter, auto iris and auto gain).
Progressive Scan Mode
The DSR-PD175P provides SD-quality 25p footage. The 25p image captured by the sensor system is recorded as an interlaced signal by dividing each frame into two fields. This enables compatibility with current editing and monitoring equipment that only accept interlaced signals, while maintaining the quality of the 25p image.
•
•
Progressive scan mode is suitable for feature films, documentaries and music videos, where the content is required to have the filmic look.
Picture Profile
Up to six different picture set-ups, including gamma and colour settings, can be registered in the memory as a Picture Profile™. This labour-saving function allows operators to easily recall customised picture set-ups for various shooting conditions. It is also useful for matching footage shot at different times or for multi-camera operation.
Smooth Slow Rec
The Smooth Slow Rec function of the DSR-PD175P enables smooth slow-motion playback by capturing images 4x faster than normal (200 fields/s). In this mode, quad-speed images are captured for six seconds, stored in the built-in buffer memory, and then recorded to tape (in either DVCAM or DV format) as slowmotion pictures lasting 24 seconds.
This quad-speed image capture is the fastest speed available on any compact handheld camcorder.
•
Smooth Slow Rec is ideal for sports or nature photography, where the action can be viewed more easily in slow motion, and opens up many creative possibilities.
Shot Transition Function
The Shot Transition™ function allows for smooth automatic scene transitions. After you have programmed a shot's START and END point settings (e.g., for zoom, focus, iris, gain, shutter speed and white balance) and pressed the start button, a smooth picture transition takes place over the duration of the shot by automatically calculating the intermediate setting values.
•
Transition types can be selected from a choice of LINEAR, SOFT STOP and SOFT TRANS, and transition time can be set from 3 to 90 seconds.
DVCAM/DV Selectable Recording
The DSR-PD175P adopts the DVCAM format, which is the worldwide standard SD format for professional handheld camcorders.
•
If you require a longer recording time, the DSR-PD175P is also capable of recording and playing back DV format signals (SP mode only).
Assignable Features
The DSR-PD175P provides up to seven ASSIGN buttons for quick access to frequently used functions suitable for variable shooting conditions. Some default functions are pre-assigned by name.
The assignable functions are AE Shift, Back Light, Colour Bars, Digital Extender, End Search, Expanded Focus,
Fader, Focus Macro, Hyper Gain, Index Mark, Marker, Peaking, Photo, Picture Profile, Push Auto Iris, REC
DSR-PD175P 4
•
•
Review, Ring Rotate Direction, Shot Transition, Smooth Slow REC, Spot Light, Steady Shot, TC Reset and Zebra.
XtraFine LCD Panel
The DSR-PD175P is equipped with a 3.2-inch-type widescreen XtraFine™ LCD panel on the front of its handle.
This has a high resolution of approximately 921,000 pixels, which allows for easier focus adjustments. It can also display virtually 100% of the recorded picture area at a colour temperature of approximately 6500K.
XtraFine EVF
The 0.45-inch-type XtraFine EVF (Electronic View Finder) has approximately 1,227,000 pixels and three independent LEDs for red, green and blue colours. This technology allows users to monitor objects with remarkable colour reproduction accuracy and high resolution*.
The EVF has a choice of colour or black-and-white display modes. It also displays virtually 100% of the picture area at a colour temperature of approximately 6500K.
•
•
* When the camcorder is panned quickly, or when an object on the screen moves quickly, the R/G/B primary colours may be seen on the object in the EVF momentarily
InfoLITHIUM L Series Battery Compatibility
The DSR-PD175P uses the same L series batteries as the DSR-PD170P, so you can use your existing chargers and batteries
Versatile Audio Input Selection
The DSR-PD175P offers a versatile choice of audio inputs. It features a newly designed high-quality built-in stereo microphone, as well as two XLR audio input channels for connecting to either professional microphones or an external-line audio source. A 48V microphone power source can also be supplied.
By adjusting the INPUT ASSIGN switch located on the side panel of the DSR-PD175P, you can easily assign the two audio input channels to either the built-in stereo microphone or an external-line audio source, or dedicate one channel to each and record them separately or mixed.
•
When assigned to one channel, the built-in stereo microphone acts as a wide-directional monaural microphone.
On-handle Zoom Lever and Rec. Start/Stop Button
In order to facilitate zoom control and recording operation during low-angle shooting, an additional zoom lever and a rec. start/stop button have been added to the carrying handle. The rec. start/stop button has a hold function to prevent accidental operation.
•
The three-position slide switch located on the side of the handle lets users select the zoom control type from
FIX, VAR and OFF. In FIX mode, zoom speed is determined by the speed setting selected in the menu, where eight speeds are available. In VAR mode, zoom speed can be adjusted manually using the zoom lever.
HYBRID Solution With HVR-MRC1K
The DSR-PD175P is ready for HYBRID DVCAM/DV operation, when connected to the optional HVR-MRC1K
Memory Recording Unit via an i.LINK connector. In HYBRID operation, you can simultaneously record video footage to both a tape and a standard CompactFlash (CF) card.
Three recording options:
•
Synchronous recording
•
•
Relay recording
HVR-MRC1K-only recording
For user convenience, the DSR-PD175P can display status information of the HVR-MRC1K on its LCD. This
DSR-PD175P 5
status information includes:
•
Connection status
•
•
REC status
Remaining CF recording time
The recording time on a 16-GB CF card* in DVCAM and DV format is approximately 72 minutes.
•
•
* At least 133x speed and 2-GB capacity is required.
One-touch Clip-type Microphone Holder
A one-touch clip-type microphone holder makes it easy to attach and remove the microphone for quick storage.
Digital Still Camera Function With Memory Stick Duo
The Memory Photo function allows the camera to be switched to progressive scan mode for capturing still images. Files can be recorded on Memory Stick Duo™ media in a choice of two sizes: 1080x810 pixels (4:3) or
1440x810 pixels (16:9).
DSR-PD175P 6
Technical Specifications
General
•
Mass
•
Dimension (W x H x D)
•
Power requirements
•
Power consumption
•
Operating temperature
•
Storage temperature
•
Battery operating time
•
Recording format
•
Recording frame rate
•
Recording/Playback time
2.2 kg (4 lb 14 oz) (with Lens hood, Lens cover,large eyecup)
2.7 kg (5 lb 15 oz) (with Lens hood, Lens cover,large eyecup, NP-F970 battery)
169 x 188 x 401 mm (6 3/4 x 7 1/2 x 15 3/4 inch)
(including protrusions w/o gripbelt, w/ hood, w/ large eye-cup)
DC 8.4 V (Battery) / DC 7.2 V (AC adapter)
Approx. 6.0 W (LCD OFF and LCD viewfinder ON)
0 to +40 °C (+32 to +104 °F)
-20 to +60 °C (-4 to +140 °F)
Approx. 475 min. (LCD OFF and LCD viewfinder ON) with NP-F970 battery
Video: DVCAM/DV (SP) PAL
Audio: Linear PCM (2ch, 16-bit, 48-kHz / 2ch, 12-bit, 32-kHz)
DVCAM/DV: 576/50i
DV (SP): Approx. 63 min. with PHDVM-63DM DigitalMaster tape
DVCAM: Approx. 41min. with PHDVM-63DM DigitalMaster tape
Lens
•
Zoom ratio Sony G Lens, 20x (optical), 1.5x Digital Extender
•
Focal length f = 4.1 to 82.0 mm (equivalent to f = 29.5 to 590 mm at 16:9 mode f = 36.1 to 722 mm at 4:3 mode on 35 mm lens)
•
Iris
•
Focus
F1.6 to F3.4
AF/MF selectable, 800 mm to infinity (MACRO OFF), 10 mm to infinity (MACRO ON, Wide), 800 mm to infinity (MACRO ON, Tele)
•
Image stabilizer ON/OFF selectable, shift lens
•
Filter diameter 72 mm
Camera Section
•
Imaging device
•
Effective picture elements Approx.
•
Built-in optical filters
•
Minimum illumination
•
Shutter speed
•
Slow Shutter (SLS)
•
Slow & Quick Motion function
•
White balance
•
Gain
Inputs/Outputs
•
DC input
•
Remote
Power code (DK-215)
3-chip 1/3-inch type Exmor CMOS with ClearVid pixel array
1,037,000 pixels with ClearVid array
Clear, 1/4, 1/16, 1/64
1.5 lx (auto gain, auto iris, 1/25 shutter)
Auto, Manual 50i/25p: 1/3 - 1/10000 sec.
1/3, 1/6, 1/12, 1/25 sec.
200 fields/s (fixed) as improved Smooth Slow Rec
Auto, one-push auto (A/B positions), indoor (3200 K), outdoor (5800K)
AGC, -6, -3, 0, 3, 6, 9, 12, 15, 18, 21 dB
LANC (Stereo mini-mini jack (ø2.5 mm) (x 1))
DSR-PD175P 7
•
Audio input
•
Composite output
•
S-Video output
•
Audio output
• i.LINK
•
Headphone output
Monitoring
•
Viewfinder
•
Built-in LCD monitor
Other
•
Built-in Microphone
•
Media Type
XLR 3-pin (female) (x 2), line/mic/mic +48 V selectable
RCA Type (x 1) via A/V multi connector
Mini-Din 4-pin (x 1) via A/V multi connector (optional VMC-15FS is required.)
RCA type (CH-1,CH-2) via A/V multi connector
IEEE1394, 4-pin (x 1), DV stream input/output, S400
Stereo mini jack (ø3.5 mm) (x 1)
0.45 inch-type approx. 1,226,880 dots (852 x 3[RGB] x 480), 16:9 aspect ratio
3.2 inch-type, XtraFine LCD, approx. 921,600 dots, hybrid type, 16:9 aspect ratio
Supplied Accessories
•
Supplied Accessories AC-L100 AC adaptor (x 1)
•
A/V Composite Connecting Cable (x 1)
•
Lens hood with Lens cover (x 1)
•
Large size eye-cup (x 1)
•
RMT-831 wireless remote commander (x 1)
•
Lithium battery (CR2025) (x 1)
•
Operating instructions (CD-ROM) (x 1)
•
Printed operating instructions
Stereo microphone miniDV tape (x 1)
DSR-PD175P 8
Accessories
Analogue Portable Microphone
Packages
UWP-V2
UWP wireless microphone package
UWP-V6
Belt-pack UWP wireless microphone package with
XLR plug-on transmitter
Batteries and Power Supplies
2NP-F970/B
Info-Lithium Battery Twin
Pack
ACC-L1BP
AC adaptor/charger and battery kit
AC-VQ1050B
AC Adaptor / Charger
AC-VQL1BP
Intelligent Quad Battery
Charger and Dual AC adaptor
Lights
Mixers and AV Amps
LPM-770BP
7-inch portable LCD field monitor
Lenses and Lens Adaptors
VCL-HG0872K
Wide Conversion Lens
HVL-LBPA
LED Battery Video Light
HVL-LBPB
On-camera LED Video Light
HVL-LBPC
LED battery video light
DSR-PD175P 9
NP-F570
InfoLITHIUM Rechargeable
Battery Pack
NP-F770
InfoLITHIUM Rechargeable
Battery Pack
NP-F970
InfoLITHIUM Rechargeable
Battery Pack
DMX-P01
Portable digital audio mixer
Remote Controls
RM-1000BP
Remote Commander
RM-1BP
LANC Remote Commander
Cases
LCH-GT1BP
Hard Shell Carrying Case
LCS-BP1BP
Soft Backpack Style Carrying
Case
LCS-G1BP
Shotgun
ECM-673
Short Shotgun Electret
Condenser Microphone.
ECM-674
Affordable shotgun Electret condenser microphone
ECM-680S
MS stereo shotgun Electret condenser microphone
HDV & DVCAM (Discontinued)
DSR-PD175P 10
HVR-DR60
Portable Hard Disk
Recording Unit
HVR-MRC1K
Headphones
MDR-7506
Stereo professional headphones
MDR-7510
Studio professional headphones
MDR-7520
High quality studio professional headphones
LCD Production Monitors
ECM-VG1
Shotgun Electret condenser microphone
Tripods and Supports
VCT-1BP
Bracket For Camera Rear
Mount
VCT-PG11RMB
Tripod
VCT-SP1BP
Extendable Monopod
Camcorder Support System
VCT-SP2BP
Multi-function Camcorder
Shoulder Support
Viewfinders
SH-L32WBP
LCD Hood
© 2016 Sony Corporation. All rights reserved. Reproduction in whole or in part without written permission is prohibited.
Features and specifications are subject to change without notice. The values for mass and dimension are approximate.
All trademarks are the property of their respective owners.
DSR-PD175P
11
* Your assessment is very important for improving the work of artificial intelligence, which forms the content of this project