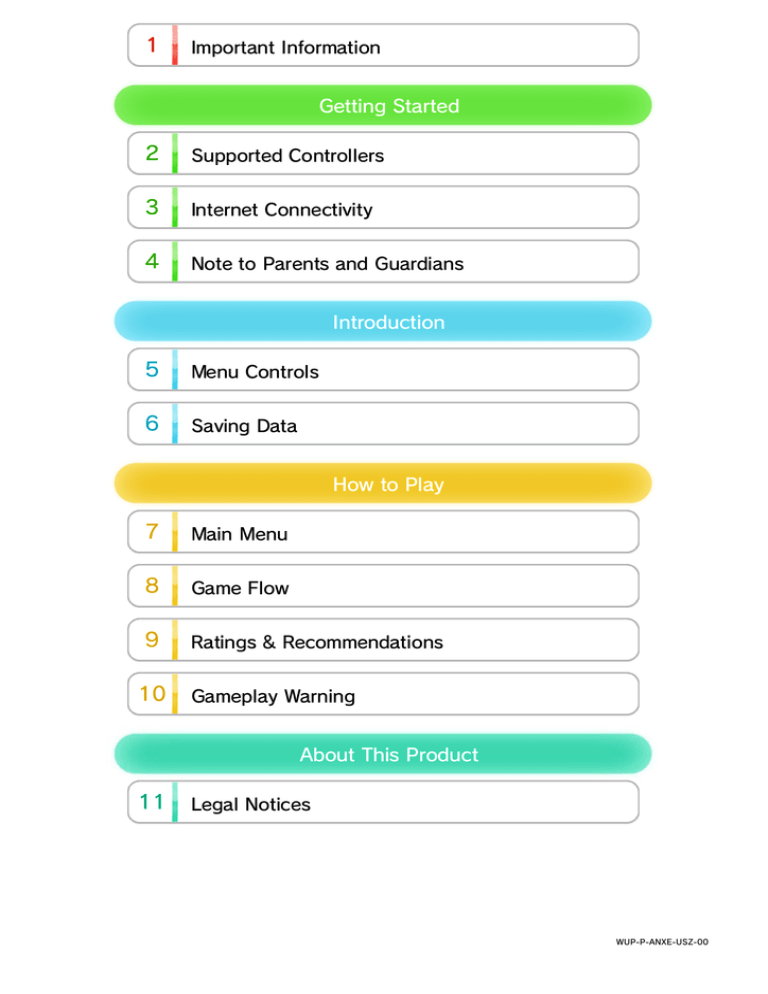 1
Im p or ta n t I nf o rm at i on
2 e t
Su p po rt e d C on t ro ll e rs t a
3
In t er ne t C o nn e ct iv i ty
4
Not e to Pa r ent s an d Gu ard i ans
5
M e n u C o n t r o l s
6 g a a
I n t r o d u c t i o n o l y
7 a i e n
8
G a m e l o
9
Rat ing s & Re c omm end ati ons
10
Ga me pl ay W ar ni ng
11
L e g a l N o it c e s ou T s o ct
WUP-P-ANXE-USZ-00
r o s o o
12
Su o I n fo a on
1
Im p or ta n t I nf o rm at i on
Thank you for selecting the Wii Party™ U game for the Wii U™ system.
Important Information
Please read this manual carefully before using this software. If the software will be used by children, the manual should be read and explained to them by an adult.
Also, before using this software, please read the content of the Health and Safety Information application on the Wii U Menu. It contains important information that will help you enjoy this software.
2
Su p po rt e d C on t ro ll e rs
Any of the following controllers can be used if they are paired with the console.
Wii U
GamePad
Wii Remote
◆ The number of required controllers varies from game to game. Some games can be played with up to four
Wii Remote™ controllers and one GamePad.
◆ Only one Wii U GamePad controller can be used.
◆ A Wii Remote Plus can be used instead of a Wii
Remote.
◆ When using a Wii Remote or Wii Remote Plus controller, a sensor bar is required. For details, see the Installing the Sensor Bar section of the printed
Wii U Operations Manual.
Pairing Wii Remote Controllers
From the HOME Menu, select Controller Settings to display the screen shown to the right.
Select Pair , and then follow the on-screen instructions to pair the controller.
Information about Audio Output
This game supports 5.1-channel linear PCM surround sound. In order to experience surround sound, select (System Settings) from the Wii U
Menu, choose the TV item, and then change the audio-output type to Surround .
◆ In order to experience surround sound with this software, you will need to connect your Wii U console with a receiver that has a built-in HDMI™ port using a
High Speed HDMI Cable. For more information about how to configure and connect your receiver, see the instruction manual for the receiver.
3
In t er ne t C o nn e ct iv i ty
Connecting your system to the Internet lets you enjoy the following features:
Send Ratings and Posts
Send ratings of games you've played and post to
(Miiverse™)
9
.
View Everyone's Ratings
View ratings of recommended games and posts on Miiverse
9
.
◆ See the Internet Connection section of the printed
Wii U Operations Manual for more information about the equipment required to connect to the Internet.
Once you have all the required equipment, select
Internet from (System Settings) in the Wii U Menu to configure an Internet connection.
◆ See the Miiverse section of the Wii U electronic manual for information about Miiverse. For the electronic manual, press  on the Wii U Menu and choose (Manual) from the HOME Menu.
◆ In order to post on Miiverse, you need to connect to the Internet and initialize Miiverse.
4
Not e to Pa r ent s an d Gu ard i ans
You can restrict use of the following features by selecting (Parental Controls) from the Wii U
Menu.
Item
Online
Interaction in
Games
Miiverse
Content
Limits the ability to see ratings and posts from Archives
9
and elsewhere, as well as the ability to send ratings and posts when the game ends.
You can restrict the writing of posts by choosing Restrict Posting .
You can restrict the writing and viewing of posts by choosing
Restrict Posting and Viewing .
However, either of these settings allows you to view user ratings for games.
◆ Access to this game (as well as other games) can also be restricted through the Game Rating item in
Parental Controls.
5
M e n u C o n t r o l s
You can navigate the menu using either the
Wii U GamePad or a Wii Remote.
Wii U
GamePad
Wii
Remote
Change
Selection
Enter
Cancel/Return
Scroll



 / 



 / 
◆ You can also make selections using the GamePad touch screen.
Pause
Press  to pause the game.
6
S v n g a a
Wii Party U will automatically save data at certain points during play.
◆ When erasing the save data for this game, please erase it from Data Management in System
Settings on the Wii U Menu.
◆ You can transfer data to other Mii™ characters when you delete participating Mii characters from
Mii Maker.
7 a i e n
Here you can choose the game genre and other modes.
TV Party
One to four players participate in games while looking at the TV screen. Players can play board-game-style games and minigames in this mode. Additional Wii Remote controllers required for multiplayer mode. Sold separately.
House Party
Two to four players play using the Wii U
GamePad and Wii Remote controllers, using the room as the play area.
GamePad Party
One to two players use only the GamePad to play games.
Other Modes
Minigames
Choose from a large selection of minigames.
Suggestions
Party Phil will suggest a game for you based on the number of current players and the type of game you want to play.
Archives
Look at data, such as game records and
Amazing Feats
9
, or connect to the
Internet to view ratings. You can also change the setting for whether or not the title screen will display Miiverse posts.
8
G a m e l o
Follow on-screen instructions, such as the ones below, to proceed.
Choosing a Game
Players will see a simple explanation of the game.
Choosing the Number of
Players
When a Wii Remote controller is connected, its Player
LED will turn on.
Connecting the Wii Remote
Press any button on the Wii Remote to connect it to the Wii U console.
◆ You must pair the Wii Remote with the Wii U console before starting the game. See
Pairing Wii Remote Controllers 2 for details.
Starting the Game
Rules and controls will
be displayed before a game starts.
◆ The rules will display the first time the game is played. From the second time on, you may choose whether or not to hear the rules again.
9
Rat ing s & Re c omm end ati ons
You can rate games you've played. When connected to the Internet, you can post ratings as well as view popular games.
Rating Games
Choose a number of
to rate how fun a game was.
◆ Choose the rating option on the postgame menu to rate games.
Making Posts to Miiverse
Only signed-in users with a linked Nintendo
Network ID and playing Wii Party U with their user Mii will be able to post.
About Amazing Feats
When an Amazing
Feat occurs (for example, if all players get the exact same score in a game), you can post your reactions to it on Miiverse.
◆ The possibility and conditions of achieving an Amazing Feat vary from game to game.
◆ Most Amazing Feats occur when you are playing in four-player mode.
View Everyone's
Ratings
View games that have received ratings from players from your region by selecting
Archives →Main Game
Ratings, Minigame
Ratings, or Tabletop Minigame Ratings.
Player Posts
Touch a game in the ratings to look at its posts.
View Popularity
You can sort the minigames by popularity in
Minigame
Collection and
Tabletop
Minigames by selecting ★Popularity★. You can sort games by popularity in Main
Games by selecting ★View Ratings★.
10
Ga me pl ay W ar ni ng
When playing a game that alternates between holding a Wii Remote and holding the Wii U GamePad, make sure to keep the GamePad nearby.
When you place the GamePad on the floor, put it on a flat surface. Make sure there is enough room around the
GamePad to play safely. Stepping on or kicking the GamePad can lead to injury or damage to the GamePad.
Some games are played by turning the
GamePad around and showing the screen to other players. If the GamePad becomes difficult to hold in this position, please put the GamePad on a stable surface, like a table or your lap.
When playing with the GamePad on the floor or when playing a GamePad Party game, make sure the GamePad is not being charged at the same time. If your hands or feet get caught in the Wii U
GamePad AC adapter cord, it could lead to injury or damage to the GamePad.
When playing Water Runners in House
Party mode, make sure there is plenty of space around you and do not make any vigorous movements. This could lead to injuries or damage to the GamePad and other nearby things.
11
L e g a l N o it c e s
IMPORTANT
This game is not designed for use with any unauthorized device. Use of any such device will invalidate your Nintendo product warranty. Copying and/or distribution of any Nintendo game is illegal and is strictly prohibited by intellectual property laws.
Unauthorized copying or distribution is prohibited.
This product contains technical protection measures.
Your Wii U system and this software are not designed for use with any unauthorized device or any nonlicensed accessory. Such use may be illegal, voids any warranty, and is a breach of your obligations under the End User License Agreement. Further, use of an unauthorized device or software, will render this game or your Wii U system permanently unplayable and result in removal of unauthorized content. Nintendo (as well as any Nintendo licensee or distributor) is not responsible for any damage or loss caused by the use of such device or nonlicensed accessory. A system update may be required to play this game.
© 2013 Nintendo.
Trademarks are property of their respective owners.
Wii U is a trademark of Nintendo.
The Tetris theme song is a registered trademark of
Tetris Holding in the U.S. and other countries, used with permission.
This software is based in part on the work of the
Independent JPEG Group.
The Nuance logo is a trademark of Nuance
Communications, Inc.
Havok software is ©Copyright 1999-
2012 Havok.com, Inc. (or its
Licensors). All Rights Reserved.
12
Su o I n fo a on
Nintendo Customer Service
SUPPORT.NINTENDO.COM
USA/Canada:
1-800-255-3700
Latin America/Caribbean:
(001) 425-558-7078
* Your assessment is very important for improving the work of artificial intelligence, which forms the content of this project