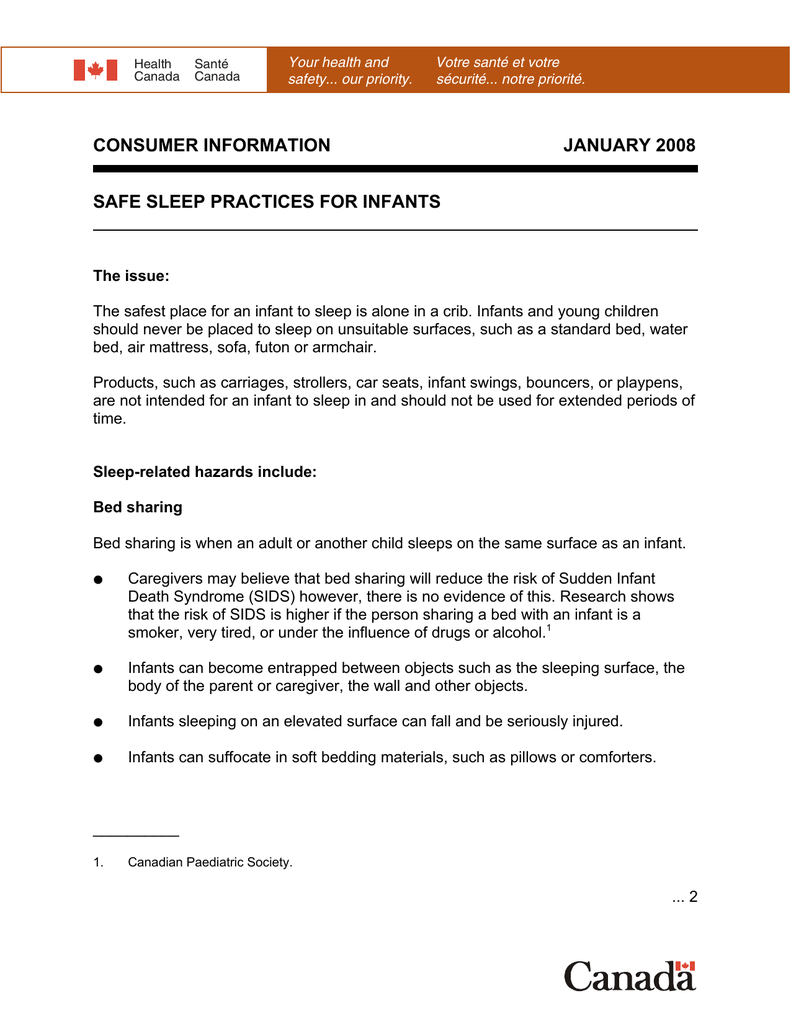 Health
Canada
Santé
Canada
Your health and
safety... our priority.
Votre santé et votre
sécurité... notre priorité.
CONSUMER INFORMATION
JANUARY 2008
SAFE SLEEP PRACTICES FOR INFANTS
The issue:
The safest place for an infant to sleep is alone in a crib. Infants and young children
should never be placed to sleep on unsuitable surfaces, such as a standard bed, water
bed, air mattress, sofa, futon or armchair.
Products, such as carriages, strollers, car seats, infant swings, bouncers, or playpens,
are not intended for an infant to sleep in and should not be used for extended periods of
time.
Sleep-related hazards include:
Bed sharing
Bed sharing is when an adult or another child sleeps on the same surface as an infant.
M
Caregivers may believe that bed sharing will reduce the risk of Sudden Infant
Death Syndrome (SIDS) however, there is no evidence of this. Research shows
that the risk of SIDS is higher if the person sharing a bed with an infant is a
smoker, very tired, or under the influence of drugs or alcohol.1
M
Infants can become entrapped between objects such as the sleeping surface, the
body of the parent or caregiver, the wall and other objects.
M
Infants sleeping on an elevated surface can fall and be seriously injured.
M
Infants can suffocate in soft bedding materials, such as pillows or comforters.
__________
1.
Canadian Paediatric Society.
... 2
Playpens:
Since playpens do not meet the same safety requirements and are not as durable as
cribs, they are not designed to be used as a sleep surface.
M
Do not leave an infant sleeping in a playpen for extended periods of time.
M
If a change table or bassinet is provided as an attachment for the playpen, never
place a baby in the playpen while the change table or bassinet attachment is still in
place.
M
Do not add blankets, pillows or an extra mattress to a playpen. The use of these
items could lead to suffocation.
M
Check that the mattress pad is firm. Mattress pads that are too soft or worn down
in any area could create a suffocation hazard.
Cribs:
A crib that meets current Canadian safety regulations is the safest place for an infant to
sleep. A crib can be used until there is a possibility that the child could climb out on their
own or when they are taller than 90 cm (usually when the child is between the ages of
18-24 months). A cradle is a safe place for an infant to sleep until they can sit-up on
their own (usually by the time the child reaches 6 months of age).
To ensure that a crib is safe for a sleeping infant:
M
Do not use a crib made before September 1986 as it does not meet current safety
regulations.
M
Avoid the use of soft objects, such as pillows, plush toys, sleep positioners,
comforters, bumper pads, lambskins and similar products as they can pose a
suffocation risk.
M
Check that the crib mattress is firm and tight-fitting. The space between the
mattress and the sides of the crib should not be more than 3 cm. The mattress
should not be more than 15 cm thick.
M
Do not modify a crib in any way. Always follow manufacturer's instructions for
assembling and using the crib.
M
After placing the baby in the crib, ensure the sides are up and locked securely in
position.
... 3
M
Do not place cords, straps or similar items, in or near a crib, as they could become
wrapped around a child's neck. Keep the crib away from windows or patio doors
where a child can reach a blind or curtain cord as these items could also cause
strangulation.
General Safe Sleep Tips:
M
Infants should be placed on their backs to sleep.
M
Never allow an infant to sleep on the same surface as an adult or another child.
M
Do not allow an infant to sleep in a stroller, swing, bouncer or car seat for extended
periods of time.
M
When travelling, use a hard-sided portable crib instead of a playpen to place an
infant to sleep.
M
Never place a child younger than 2 years of age on a bed fitted with a portable bed
rail.
M
Children under the age of 6 should not sleep on the top bunk of bunk beds.
For more information:
Crib Safety (http://www.hc-sc.gc.ca/cps-spc/pubs/cons/cribs-lits_enfants_e.html)
Is Your Child Safe?
(http://www.hc-sc.gc.ca/cps-spc/pubs/cons/child-enfant/index_e.html)
Danger! Children Can Strangle on Blind and Curtain Cords
(http://www.hc-sc.gc.ca/cps-spc/pubs/cons/blinds-cordons_e.html)
For further information or to report an injury or complaint, please contact
Health Canada's Consumer Product Safety program at 1-866-662-0666 or
[email protected], or visit the Consumer Product Safety (CPS) section
of Health Canada's Web site at www.healthcanada.gc.ca/cps.

* Your assessment is very important for improving the work of artificial intelligence, which forms the content of this project