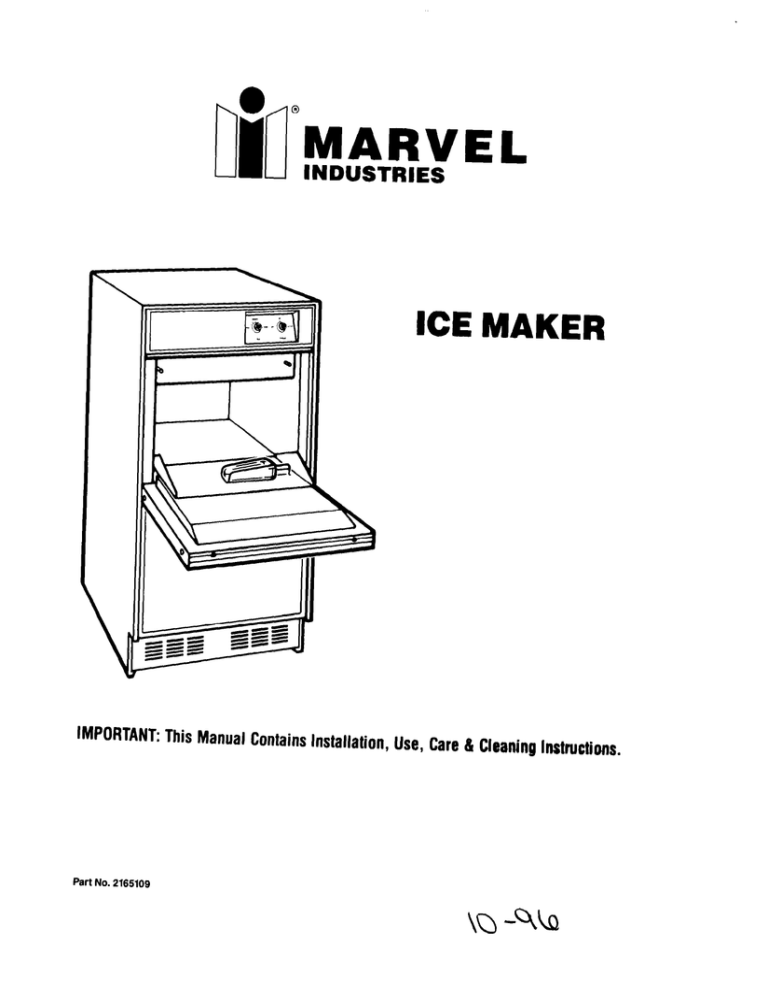 htNo.2165109
I
@MARVEL
INDUSTRIES
ICE MAKER
MODEL AND SERIAL
NUMBER PLATE
(not shown)
ICE RETAINER
BAFFLE \
LOWER ACCESS
SPECIFICATIONS
1. REFRIGERATION UNIT
Compressor-O,150 kw.(l/s HP) Reciprocating (Tecumseh AE3425A)
Voltage220/240
Phase-l
V, 50 HZ
Refrigerant Charge- 227 Gm. (8 oz.) R-l 2
Oil Charge-295 Ml. (10 FI. OZ.)
Drier-Molecular
Relay-Current start contacts
Condenser-Air
Sieve-High Side
(Magnetic) type with Normal-Open
Cooled fin and tube
2. FREEZING PLATE
Stainless Steel
3. CAPACITY
At 21°C (70°F) Ambient and 1 O'C( 50°F) Water, approxi- mately 25 kg. (55 Ibs.)of ice will be delivered to storage bin per 24 hours.
4. STORAGE CAPACITY
16 kg. (35 Ibs.) maximum
5. CABINET DIMENSIONS
Height - 674 mm
(34'/16")
Width - 454 mm (17%")
Depth - 606 mm (23%")
6. CABINET FINISH
Baked Enamel and Stainless Steel
PARTS AND FEATURES
/
ICE THICKNESS
CONTROL
CYCLE CONTROL
INSTALLATION INSTRUCTIONS
GENERALINFORMATION
UNPACK
LEVEL UNIT
Check the levelness of the ice maker from front to back and side to side. The ice maker must be level for proper operation. Shim the ice maker with masonite or any hard, permanent material so that it is level and held tightly in place. If local codes require, seal ice maker to floor with an approved caulking compound.
REMOVE
2
INTERIOR
PACKING
BOTTOM FLAPS
1.
2.
3.
4.
Lay carton on rear face and break open bottom flaps.
Set carton upright with all four flaps outward.
Lift carton up and off of machine.
Remove all tape and packaging material from the out- side and inside of the cabinet.
5. Remove the front lower access panel and grille area; take out the screws at the bottom and lift it free of cabinet.
6. Turn the fan by hand to make certain it moves freely.
UTILITIES
OBSERVE LOCAL CODES s w
WATER 1
DRAIN
3
2
ELECTRICITY
LOCATE UNIT
AIR FLOW
IMPORTANT
2
1.
2.
3.
4.
Place unit so that the front side will be completely unobstructed, to provide proper air flow.
Area should be well ventilated with temperature above 15°C (60°F). Best results are obtained between
21°C (70°F) and 32°C (90°F).
Provision for electricity, water and drain connec- tions should be determined.
The unit may be closed in on the top and three sides, but the front MUST BE unobstructed for air circulation and proper operation. Installation should be such that the cabinet can be moved forward for servicing, if necessary.
Each installation is unique but will require:
1.
A cold water inlet of 6.35 mm (l/4") OD soft copper tubing and a shut-off valve.
2. Either a gravity drain system or a sump pump to lift the water to an existing drain.
3. An electrical branch circuit of 220/240 Volt, 50 Hz, 1 phase, with a 10 Amp delayed action fuse.
FORTHEPLUMBER
OBSERVE LOCAL CODES
CONNECT TO WATER
1.
Use 6.35 mm (l/4") OD soft copper tubing for the cold water supply.
2.
3.
Provide a convenient manual shut-off valve in the water line.
Position the tubing so it can enter the access hole located in the right-hand rear of the cabinet. The tubing should extend beyond the cabinet front when the cabinet is pushed back into position.
See Figure 1.
NOTE: Always purge the water line before making the final connection to the inlet tube to prevent possible water valve malfunction.
After the cabinet is in place, bend the tubing to meet the connection at the water valve. This joint provides a convenient disconnect for service. Be sure the tubing is clear of compressor, to prevent rattle.
2
5
1
SUMP PUMP HAS FLOAT
SWITCH THAT CYCLES
ITS PUMP. DO NOT
CONNECT THRU
2
ADD PLASTIC HOSE
FROM BIN DRAIN
DIRECTLY
SUMP PUMP.
TO
15.9 mm O.D. TUBE
WATER LINE
THRU THIS HOLE.
CABINET
6.35 mm O.D. WATER
LINE COMPRESSION
FITTING AT
WATER INLET
VALVE
1
BEND FIELD SUPPLIED
WATER LINE TO CONNECT
TO WATER VALVE FITTING
FIGURE 1
HOLE FOR FlELD
SUPPlED WATER
CONNECT THE DRAIN
1, The unit is provided with a gravity drain.
2. The ideal installation has a standprpe (32 mm,l%" minimum) installed directly below the outlet of the drain tube.
3. It may be desirable to insulate drain line thoroughly up to drain inlet.
SUMP PUMP
1.
2.
3.
When a drain connection below the level of the unit is not available, a sump pump may be used to lift the water to an available drain.
Pumps of approved design for operation on 2201240
Volt, 50 Hz current may be purchased locally.
Install sump pump on floor behind ice maker with discharge tube to the rear. Run bin drain directly to sump pump as shown in the illustration.
NOTE: Electric connection to sump pump should be from a circuit that remains energized continually.
FOR THE ELECTRICIAN
ELECTRICAL REQUIREMENTS
A 2201240 Volt, 50 Hz, 10 Amp fused electrical supply is required (time delay fuse or circuit breaker is recom- mended). It is recommended that a separate circuit, serving only this appliance be provided.
USE COPPER WIRE ONLY
GROUNDING
ELECTRICAL GROUND IS REQUIRED ON
THIS MACHINE
For your personal safety permanently ground this unit in accordance with applicable local codes and ordi- nances. It is recommended that a separate, permanent ground connection be made to the unit using a green/ yellow colored, insulated conductor of appropriate size from a grounded cold water pipe*, a grounded lead in the service panel or a properly driven and electncally grounded ground rod. Do not ground to a gas supply pipe. Do not connect to electric power supply until unit is permanently grounded. Connect the ground wire to the approved ground and then connect to the metal frame of the unit.
'Cold water pipe must have metal continuity to electrical ground. and not be interrupted by plastic, rubber, or other electrically insulating con- nectors (including water meter or pump) without adding a jumper wire at these connections.
WIRING
CONFORM TO NATIONAL ELECTRICAL CODE
CONFORM TO ALL LOCAL CODES
AND ORDINANCES
Remove grill mounting screws for access to motor com- partment and water connectrons. Electrical connec- tions are made to the electrical box which is located at the rear of the machine. Run permanent type 1.6 mm 4
(# 14) wiring through the hole provided in the electrrcal box to the line screws on the terminal board. (See figure
2 next page.)
DO NOT USE AN EXTENSION CORD
GROUND TERMINAL
REAR VIEW OF UNIT
COMPARTMENT
(FROM BACK OF
ICE MAKER)
INSTALL
FIGURE 2
STRAIN RELI
I
TERMIN ALS
CHECK OPERATION
Start the unit by turning the service switch to "ON" and opening the line water valve.
NOTE: Left is "OFF" - Middle is "ON" - Right is
"CLEAN." In "CLEAN" position, only the pump operates.
Check condenser fan to make sure it is revolving.
Water will not enter pump pan until freezing plate gets cold and machine goes into a harvest cycle.
Check for even water flow over freezing plate. Unit must be level for proper operation.
Check for desired ice cube thickness and, after 24 hours, adjust if necessary. Maximum ice yield will be obtained with ice thickness 13 mm to 16 mm.
Replace lower access panel and grille assembly.
FREEZING CYCLE
L-N
YTL cOMPRESSOR m
When the desired ice slab thickness is reached, the harvest cycle begins and the following happens: l l
Evaporator thermostat is satisfied
Compressor keeps running l
Condenser fan stops
0 Water pump stops l l l
Hot gas solenoid opens
0 Water inlet valve opens
Excess water is flushed out of the drain pan
Cutter grid is warm to the touch
Machine resumes freezing after slab is released from evaporator and the cutting process begins.
When the storage bin is filled, bin thermostat opens.
0 Cutter grid remains on
THINGS TO REMEMBER
The unit will make up to 25 kg. (55 Ibs.) of ice per day under ideal conditions. These conditions are: (1) Room temperature 21°C (70°F); (2) Water temperature 10°C
(50°F).
As the room and water temperatures vary, so will the amount of ice produced. Higher operating tempera- tures will result in reduced ice production.
The storage bin has a maximum capacity of 16 kg. (35
Ibs.). When the bin is filled, the unit stops making ice.
The storage bin is not refrigerated and some meltage will occur. This, too, varies with room temperature.
The unit needs good air circulation to perform effi- ciently. Keep the front grill and the condenser clean.
The water system, including filter screen in the water inlet solenoid valve, need to be cleaned periodically for good circulation. Instructions are located on the inner door panel.
HOW IT WORKS
l l
Compressor runs
Condenser fan runs l
Water pump runs (circulates water)
0 Cutter grid is warm to touch
OPERATING
INSTRUCTIONS
Before starting, wash out interior of cabinet with a Bak- ing Soda solution of 30Gm.(l oz.) soda to 1 Liter (1 qt.) of warm water. Rinse thoroughly.
Make certain the water is turned on.
Turn switch to the "ON" position.
IMPORTANT: Allow unit to run for 3 hours before expecting ice, and for 24 hours before trying to set the thickness control.
BEFORE OPERATING THE ICE MAKER
l l l l l l
It is your responsibility to make sure that the ice maker: has been installed where it is protected from the elements. is located so that the front is not blocked, to provide proper air flow. is properly leveled. is located in a well ventilated area with temperature above 15°C (60°F). Best results are obtained at tem- peratures between 21°C (70°F) and 32°C (9PF). is properly connected to a water supply and drain. is properly connected to electricity. A 220/240 Volt, 50
Hz, 1 phase, 10 amp fused electrical supply is required.
NOTE: Time delay fuse or circuit breaker iS recommended. l is properly electrically grounded. l is not operated by anyone not able to use it properly. l is used only for the job it was designed to perform. l is properly maintained.
ICE MAKER OPERATION
How it makes ice:
2. When the desired thickness is reached, the ice sheet is released and slides onto a cutter grid. The grid divides the sheet into individual cubes.
3. The water containing the rejected minerals is drained out at the end of each freezing cycle.
4. Fresh water then enters the machine for the next ice making cycle.
1. Water is circulated over a freezing plate. As the water freezes, minerals in the water are rejected. The absence of minerals produces a clear sheet of ice.
5. Cubes fall into the storage bin. When the bin is full the ice maker shuts off automatically and restarts when more ice is needed.
6
General Information
SIZING OF ICE CUBES
Your ice maker will produce 32 mm x 32 mm (1 l/4" x 1 W') cubes or 19 mm x 19 mm ("A" x "W') cubelets. Any time a change in cube size is desired, the cutting grid can be changed at a modest cost. See your dealer for more information.
Your ice maker has been pre-set to produce ice approx- imately 13 mm (l/2") thick. The thickness can be in- creased or decreased by resetting the thickness control,
Figure 1, however best performance will be obtained at the 13 mm (l/2") thickness.
NORMAL
ICE
I
I
ICE THICKNESS
CONTROL
THICK
OFF -
ON
CYCLE
I
I
CYCLE CONTROL
FIGURE 1 - CONTROL SWITCHES
-CLEAN
The "ON" position of the cycle control is for the normal ice making cycle. The "OFF" position stops machine op- eration. The "CLEAN" position is used whenever solu- tions are circulated through the water system for cleaning. At this position only the water pump will oper- ate.
IMPORTANT: In switch position "ON", the cutter grid remains energized and placement of metal objects on grid wires can cause the grid fuse to open or can cause damage to grid wires. To completely deacti- vate all electrical circuits, the power supply must be disconnected.
FILTERING 81 TREATING WATER
In some areas it may be beneficial to filter or treat the water being supplied to the ice machine to reduce water system maintenance (see Cleaning 8 Sanitizing tll;J,"e Making System) and to produce the best type
For information on filtering and treating the water see your ice maker dealer.
OILING
All components of the ice maker are lubricated at the factory and should not require any additional oiling for the normal life of the machine.
GENERAL CARE & CLEANING
Periodic inspection and cleaning is necessary to keep your ice cube maker operating at peak efficiency and to assure a sanitary ice producing mechanism. Your dealer is well qualified to perform this service for you.
Use a vacuum cleaner and stiff brush to remove the dirt and accumulated lint from the condenser fins.
Figure 3.
CAUTION: Avoid contact with air cooled condenser fins which may be sharp.
CLEANING EXTERIOR SURFACES
Enamel finishes may be cleaned with a mild deter- gent. Regular use of a good household appliance cleaner and wax is recommended for protecting the finish.
Stainless steel surfaces should be cleaned with a good stainless steel cleaner.
NOTE: Do not use abrasive cleaners on either painted or stainless surfaces.
CLEANING THE CONDENSER
Dirty or clogged condenser fins prevent proper air flow resulting in reduced ice capacity and subject the unit to higher than normal operating temperatures.
Access to the Condenser
Place cycle control in the "OFF" position.
NOTE: Failure to place switch in "OFF" position will allow condenser fan to cycle on and off which could cause injury when the front lower access panel is removed.
Remove screws from the bottom of the front lower access panel and grille assembly, Figure 2. Pull forward and down to remove the panel.
LOWER ACCESS PANEL
WWRE 2
FIGURE 3
CLEANING & SANITIZING
THE ICE MAKING SYSTEM
Impurities are rejected from the circulating water that freezes into ice. These impurities collect on the freezing mechanism and in the water system and form a hard scaly deposit. Generally this scale prevents a rapid release of the ice slab during the harvest cycle. The water and ice making system, therefore, should be periodically cleaned and sanitized. The frequency of cleaning will depend on local water conditions and how rapidly scale accumu- lates.
Cleaning and sanitizing is not too difficult. Having a qualified service representative clean the system the first time should make subsequent cleaning easier to perform, if the operator wishes to take over this portion of the ice machine maintenance.
Follow this approved procedure to assure that the machine is clean and sanitary:
1. Place cycle control, Figure 1, in "OFF" position.
2. Remove cutter grid (two thumb screws), Figure 4. The grid slides off of two mounting tabs near the water pan.
3. Remove all ice from the storage bin and cutter grid.
Care should be exercised when removing ice off the cut- ter grid to prevent breaking or stretching of grid wires.
Running water on the ice sheet will rapidly melt the ice.
Ice may also have been forming on the freezing plate and should be removed before proceeding further.
4. Drain the water pan, Figure 5, by removing the rubber plug. Replace the plug.
UNPLUG
REMOVAL AND CLEANING OF
INTERIOR COMPONENTS
11.
12.
Remove ice retainer baffle,
Figure 6.
Remove water pan, (two thumb screws)
Figure 5.
THUMB SCREWS
FIGURE 4
5. Pour 2 Liters (2 qts.) of hot water into the water pan and turn the cycle control to "CLEAN." This step warms up the system and allows the cleaning solution to be more effective. Allow to circulate 5 minutes. Turn switch to "OFF" and drain.
6. Prepare the cleaning solution by thoroughly mixing
60 Gm. (2 oz.) of powdered citric acid or phosphoric acid into 2 Liters (2 qts.) of hot water. Commercial ice machine cleaners are also available in liquid form and should be mixed according to instructions on the label.
WARNING: Most ice machine cleaners are citric or phosphoric acid which can cause irritation even after dilution. In case of contact with eyes, flush eyes thoroughly with fresh water and contact a phy- sician immediately. In case of contact with skin, rinse well with water. If swallowed, give large amounts of water and contact a physician immedi- ately. Do not induce vomiting. KEEP OUT OF
REACH OF CHILDREN.
7. Pour cleaning solution into water pan and turn switch to 'CLEAN." If solution foams while pouring, stop until foaming subsides, then add balance of solution. Allow solution to circulate until scale has dissolved. The cir- culating solution may not contact scale on the side flanges of the freezing plate. To remove this scale use a stainless steel sponge or pad dipped in cleaning solution and scrub the side flanges until scale is removed. Gener- ally scale will be dissolved in 15 to 30 minutes. Severe scale formation may require repeating the cleaning proc- ess with a fresh quantity of solution if the scale has not dissolved after 30 minutes.
8. Turn switch to "OFF" and drain.
9. Follow cleaning with two fresh water rinses, circulate each rinse for 5 minutes and drain.
10.
This completes the "in place" cleaning and sanitizing of the water system and freezing plate. Other interior components must also be cleaned and sanitized,
WATER PAN
THUMB SCREWS
FIGURE 5
ICE RETAINER
FLEXTO SLIDE -
FIGURE 6
13. Remove hose from the water pump.
14. Remove the plastic water distributor tube irom the freezing plate. Pull one end forward to release the rubber end plugs.
15. Wash the "interior" components with a mild detergent solution, rinse with clean water and sanitize in a solution of 30 Ml. (1 oz.) of common laundr bleach to 4 Liters (4 qts.) of water.
N ii TE: Plastic parts are not to be subjected to temperatures over 60°C (140°F). Do not wash in dishwasher.
9
16. Wash the storage bin, door, gasket and ice scoop with mild detergent, rinse with clean water and sanitize with the sanitizing solution (see Step 15).
17. Replace the water distributor, water pan, and cutter grid.
NOTE: Check the followina:
::
::
Hose from water valve i"s in water pan.
Cutter grid is electrically plugged in.
Rubber plug is in water pan.
Hose from water pan is inserted into drain opening.
WINTER SHUT DOWN
Remove all ice from storage bin. Shut off water supply. Disconnect lines at water valve and to drain.
Water and drain lines must be blown out if the unit will be subjected to freezing temperatures during shut down. Reconnect water and drain lines. Failure to do so may cause these lines to freeze and rupture.
Clean and sanitize the ice machine and storage bin before placing back in operation.
IF THE MACHINE DOES NOT PRODUCE ICE
Check the following before calling a serviceman:
1. Unit does not run -
A. Check for blown fuse in electrical supply to machine.
B. Is Power ON?
C. Switch must be in "ON" position.
D. Room temperature too low (must be above
15" C). Unit may be shut down on bin thermostat even though bin is not full.
2. Unit runs but produces no ice -
A. Check water supply to make sure it is open.
B. Cycle control must be in the "ON" position.
3. Unit runs but produces very little ice -
A. Operating in extremely high room temperature
(normal for ice production to be low).
B. Dirt or lint blocking air flow thru finned con- denser. (Clean)
C. Unit may have scale build up in water and freezing system. Check and clean if necessary.
4. Grid not cutting ice sheets-
A. Check grid fuse (see section on how to re- place).
B. Check grid harness plug to make sure the connection is secure.
If the above suggestions do not correct machine opera- tion, contact your dealer.
* Your assessment is very important for improving the work of artificial intelligence, which forms the content of this project