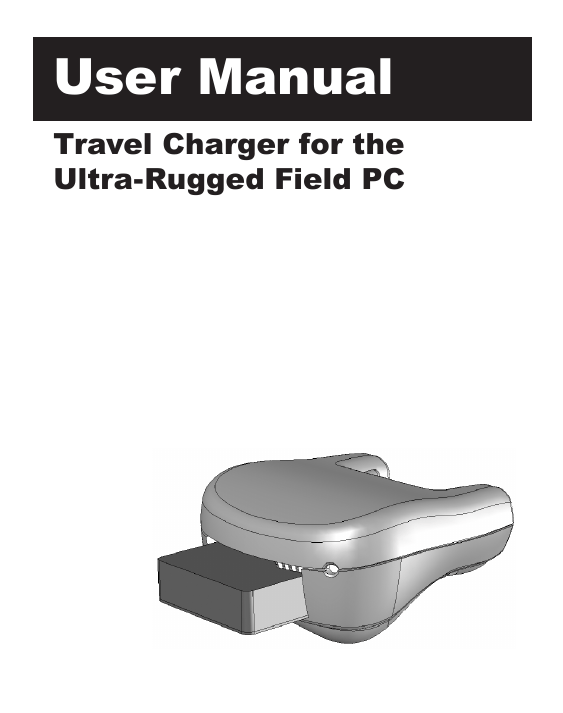 User Manual
Travel Charger for the
Ultra-Rugged Field PC
Table of Contents
Package Contents..........................................................2
Introduction....................................................................3
Device Features......................................................... 3
Charging your Battery Pack..................................... 5
General Information................................................. 6
Product disposal............................................... 6
Repairing the Travel Charger............................ 6
Regulatory information...................................... 6
CE marking....................................................... 8
Mechanical specifications................................. 8
Package Contents
•
•
Travel Charger
Cigarette lighter adapter
Introduction
The Travel Charger lets you charge a spare battery pack
on the go. Use it in your vehicle or in your office so you
always have a charged battery pack.
Device Features
1
3
2
1. Charge status LED. Signals for the LED are explained
below.
LED Signal
Meaning
Red
Battery pack is charging.
Green
Battery pack charge is complete.
Amber
Error in charge on battery pack.
2. Battery charge compartment.
3. Power indicator LED. The green light signals power.
4
4. Rear power connector. Use the wall charger that
came with your Field PC or the cigarette lighter
adapter.
CAUTION: Only use authorized devices with the Travel
Charger. Failure to do so may damage your device and
void your warranty.
Charging your Battery Pack
Charging time
Charge a discharged battery pack from 4 to 6 hours or
until the charge indicator LED turns green to indicate full
charge.
Charging temperatures
Only charge your battery pack in temperatures
between 32°F and 113°F (0°C and 45°C). For best
results, charge the battery pack at room temperature
(68°F or 20°C).
WARNING! Misusing the battery pack may cause it to
overheat, rupture, or ignite and cause serious injury. Be
sure to follow these safety rules:
•
•
•
•
•
Do not heat the battery pack or place it in fire or
direct sunshine.
Do not install the battery pack backwards.
Do not connect the battery terminals with any
metal object (such as wire). Do not solder onto the
battery pack.
Do not disassemble or modify the battery pack.
In the rare event that the battery pack leaks and
fluid gets into the eye, do not rub the eye. Rinse
well with water and immediately seek medical care.
General Information
Product disposal
This product must not be disposed of with
municipal waste. It is your responsibility to
dispose of your waste equipment by handing
it over to a designated collection point for the
recycling of waste electrical and electronic
equipment. If you cannot find a location,
contact the manufacturer for information about disposal.
Repairing the travel charger
If the Travel Charger is in need of repair, call your service
center for a Return Materials Authorization (RMA) number.
IMPORTANT: Do not attempt to service the device yourself.
This action voids the warranty.
Regulatory information
This equipment has been tested and found to comply with
the limits for a Class B digital device, pursuant to Part 15
of the FCC Rules. These limits are designed to provide
reasonable protection against harmful interference when the
equipment is used in a commercial or residential environment. This equipment generates, uses, and can radiate
radio frequency energy and, if not used in accordance with
this User Manual, may cause harmful interference to radio
communication. If this equipment does cause harmful
interference to radio or television reception, which can be
determined by turning the equipment off and on, the user is
encouraged to try to correct the interference by one or more
of the following measures:
•
•
•
•
Reorient or relocate the receiving antenna.
Increase the separation between the equipment and
receiver.
Connect the equipment into an outlet on a circuit
different from that to which the receiver is connected.
Consult the dealer or an experienced radio/TV technician
for help.
This device complies with Part 15 of the FCC rules. Operation is subject to the following two conditions:
. The device may not cause harmful interference.
. This device must accept any interference received, including interference that may cause undesired operation.
CAUTION: Only approved accessories may be used with
this equipment. In general, all cables must be high quality,
shielded, correctly terminated, and normally restricted to two
meters in length. Wall chargers approved for this product employ special provisions to avoid radio interference and should
not be altered or substituted.
CAUTION: Changes or modifications to the Travel Charger
that are not expressly approved by the manufacturer could
void the user's authority to operate the equipment.
CE marking
Products bearing the CE marking comply with the
EMC Directive (89/336/EEC) issued by the Commission
of the European Community.
CE compliance of this device is valid only if powered
with/by a cigarette lighter adapter or CE-marked wall
charger provided by the manufacturer. Compliance
with these directives implies conformity to the following
European Norms (in parentheses are the equivalent
international standards and regulations):
• EN 55022 (CISPR 22)—Electromagnetic Interference)
• EN 55024 (IEC 61000-4-2, 3, 4, 5, 6, 8, 11)—
• Electromagnetic Immunity
• EN 61000-3-2 (IEC 61000-3-2)—Power Line
Harmonics
• EN 61000-3-3 (IEC 61000-3-3)—Power Line Flicker
Mechanical specifications
Dimension
Measurements
Height
1.71" (4.34 cm)
Width
3.89" (9.88 cm)
Depth (front to back)
3.75" (9.52 cm)
© Copyright 06/07. Juniper Systems, Inc. All rights reserved. Information
subject to change without notice. PN 15267-00.

* Your assessment is very important for improving the work of artificial intelligence, which forms the content of this project