An oak drop leaf tea trolley.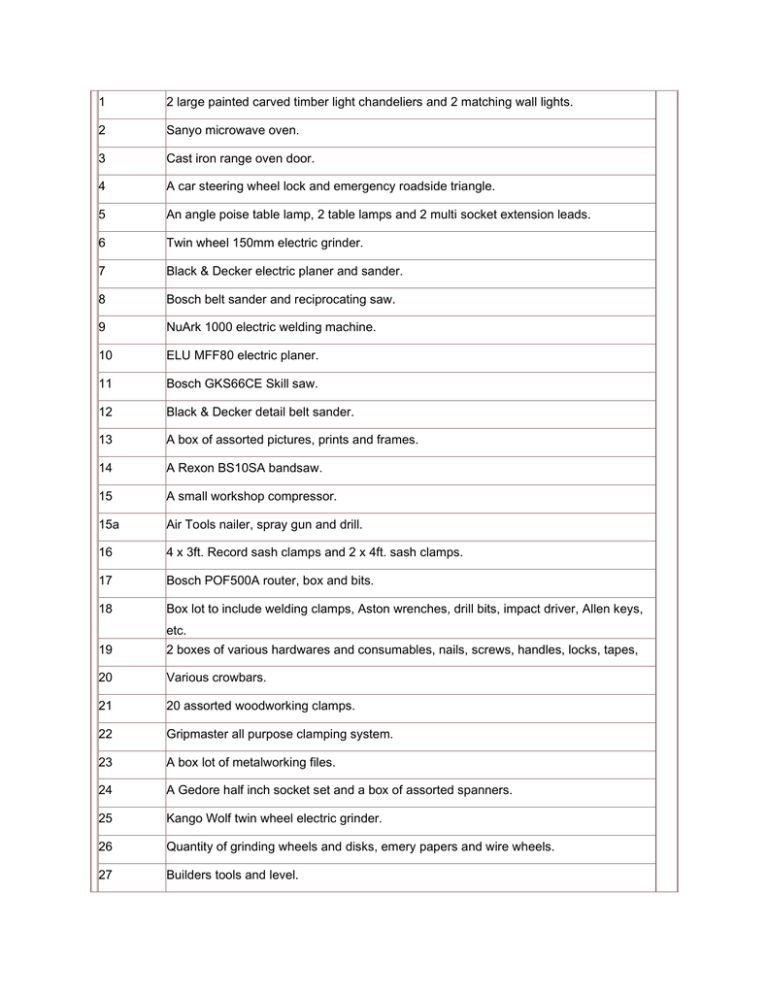 1
2
11
12
13
8
9
10
3
4
5
6
7
16
17
18
14
15
15a
22
23
24
19
20
21
25
26
27
2 large painted carved timber light chandeliers and 2 matching wall lights.
Sanyo microwave oven.
Cast iron range oven door.
A car steering wheel lock and emergency roadside triangle.
An angle poise table lamp, 2 table lamps and 2 multi socket extension leads.
Twin wheel 150mm electric grinder.
Black & Decker electric planer and sander.
Bosch belt sander and reciprocating saw.
NuArk 1000 electric welding machine.
ELU MFF80 electric planer.
Bosch GKS66CE Skill saw.
Black & Decker detail belt sander.
A box of assorted pictures, prints and frames.
A Rexon BS10SA bandsaw.
A small workshop compressor.
Air Tools nailer, spray gun and drill.
4 x 3ft. Record sash clamps and 2 x 4ft. sash clamps.
Bosch POF500A router, box and bits.
Box lot to include welding clamps, Aston wrenches, drill bits, impact driver, Allen keys, etc.
2 boxes of various hardwares and consumables, nails, screws, handles, locks, tapes, etc.
20 assorted woodworking clamps.
Gripmaster all purpose clamping system.
A box lot of metalworking files.
A Gedore half inch socket set and a box of assorted spanners.
Kango Wolf twin wheel electric grinder.
Quantity of grinding wheels and disks, emery papers and wire wheels.
Builders tools and level.
38
39
40
35
36
37
41
42
43
31
32
33
34
28
29
30
50
50a
51
52
52a
53
47
48
49
44
45
46
An Axminster 1050w hammer drill, Firmi detail sander and a Black Spur biscuit jointer.
Tronic 16 battery charger.
Mixed lot to include hand grinder, blow lamps, tool boxes, lamps.
A 35 drawer workshop hardware chest and contents.
Vetrella Jetto steam cleaner.
3 x computer monitors.
2 small electric heaters and a bathroom fan heater/night light.
Vintage Philips Ultraphil health lamp.
3 small axes, bough saw, lamp and pruners.
An Earlex steam wallpaper stripper.
2 x Bosch orbital sanders, sanding sheets and discs and a carry case.
2 metal tool boxes with trays, 2 wooden tool boxes and a pair of Rolykit hardware boxes.
etc.
A box of kitchen pots, pans and glassware.
A box of assorted new boxed items to include cut glass bowl and vase, corkscrew, binoculars, etc.
A box of antique cast iron range and fireplace parts, doors, hood, etc.
A mixed lot of modern crockery to include fruit bowl, bread bin, blue delft, etc.
A mixed box lot of decorative china and crockery.
Large quantity of framed pictures.
Quantity of copper and brassware to include magazine racks, coal box, fire irons, etc.
Modern Edwardian style LP turntable, radio, cassette and CD player.
1950's oak Dutch style dresser.
4 boxes of assorted tools.
1950's figured walnut kneehole ladies desk.
An oak leaded door mirror back display cabinet.
Modern black glass t.v. stand.
3 oak Ercol dining room chairs.
56
57
58
59
60
61
62
54
55
55a
63
64
65
66
75
76
77
72
73
74
78
79
80
67
68
69
70
71
An oak drop leaf tea trolley.
Hotpoint Aquarius WML520 automatic washing machine.
A large Edwardian overmantle mirror.
Electrolux table top freezer.
Darkwood floorstanding corner unit.
An Edwardian single panel door wardrobe.
Stag Minstrel dressing table.
1970's formica drop leaf kitchen table.
Not forward.
1930's oak bureau.
Large pine trunk.
Large pine trunk.
Large pine trunk.
A mixed lot of occasional furniture to include nest of tables, magazine rack, umbrella stand, bookstand, stools, side tables, etc.
Large terracotta planters and other plant pots.
A pair of hardwood panelled planters.
A cast iron ended garden seat and bench.
Wooden garden seat and table.
10 numbered boxes, possibly clay shooter markers.
Wrought iron hay rack.
Handmade wooden cross.
Pair of wooden folding garden chairs.
An electric mini rotavator.
2 garden wheelbarrows.
Quantity of long handled garden tools.
5 x large potato baskets.
2 large galvanised metal planters.
3 galvanised poultry feeders and another feeder.
104
105
106
107
96
97
98
93
94
95
90
91
92
87
88
89
99
100
101
102
103
83
84
85
86
81
81a
82
Lawn Groomer ride on mower feeder and rake trailer.
Large folding garden table.
Cast metal garden twin seat.
4 painted beechwood elbow chairs.
6 Victorian bedroom chairs.
Victorian satinwood washstand.
10 white plastic garden chairs and a pair of tables.
4 stacking metal garden chairs.
Cast metal patio table and 4 chairs.
Logik small chest freezer.
Heavy duty plastic wheeled tool cabinet/work bench.
6 boxes of decorative pottery, porcelain and glassware.
4 pieces of modern darkwood occasional furniture.
Vintage tambour fronted kitchen cabinet.
Modern nest of tables, coffee table, bed table, single headboard, etc.
Modern Regency style floorstanding astragal glazed corner cupboard.
Large cream painted pine t.v., DVD cabinet.
2 shovels, pick axe, digging bar, sledge hammer and mattock.
Gardening tools to include forks, spades, edge cutters and rakes.
Metal 4 drawer tool cabinet.
Black & Decker folding workbench and a pair of trestles.
Bosch electric lawnmower.
A vintage lounge armchair and a wicker blanket box.
2 sets of step ladders.
4 wheeled farm muck barrow.
A modern Stag chest of drawers.
Georgian oak chest of 5 drawers.
Victorian oak carved Black Forrest style floorstanding corner cupboard.
129
130
131
132
133
134
135
136
137
138
139
140
141
142
143
108
120
121
122
123
124
125
126
127
128
Set of wooden vintage farm sack scales.
Large bevel edged gilt framed oblong wall hanging mirror.
Gilt framed wall hanging mirror.
White and gilt framed wall hanging mirror.
Mahogany framed fire screen with William Morris design needlework panel.
Modern mahogany aspidistra planter.
Mahogany and brass bound coal box.
5 various Victorian and later pottery planters.
Mixed lot of kitchenwares to include 3 litre air pot, ice cream maker, ice cream cone maker, slow cooker, salad spinner and sandwich maker.
Various stainless steel kitchenwares to include Cooks Collection steamer, pasta making machine, etc.
7 various Le Creuset and similar cast iron pans and casserole dishes.
Masons Cash tagine, 3 Typhoon mixing bowls, Pyrex casserole dish and a wine cooler.
Ringtons Bridges teapot and similar tea light house.
1950's hanging light globe.
Collection of 15 various Devon Motto ware teapots and jugs.
Collection of large Devon Motto ware tea cups, beakers and tankards.
Collection of 30 Devon Motto ware jugs.
Matsui 32" flat screen HD ready t.v.
Large collection of various framed prints.
A mixed tray lot to include Wedgwood trinket dishes, brass curtain tie backs, vanity mirror, pin dish and decorative china and glassware.
Mixed lot of copper and brassware to include Indian tray and bowls, cream skimmer, tankards, jugs, etc.
Small lot of decorative picture frames and framed prints.
Sony 7" new and unused digital photograph frame.
Fujifilm Finepix S5800 digital camera and camera case.
Mixed lot to include Blaupunk car CD30 player, Panasonic twin set telephones and
Technics and Cora headphones.
144
148
149
150
151
152
153
145
146
146a
147
154
155
156
157
158
159
160
161
162
163
164
165
166
Various books and novels to include Portfolio of Photographs, Famous Cities, Scenes and Paintings. The Descriptive Album of London, The Lake Country by E. Lynn Linton, etc.
A brass framed vanity mirror, Aladdin paraffin lamp and vintage flour sieve.
Vintage Cunard travel bag.
2 Stoneware flagons, S.H. Ward & Co., Sheffield, Hansons Limited, Kimberley Brewery together with a pair of cast flat irons.
An Edwardian embroidered silk Christening gown, cape and bonnet together with a lace shawl.
A heavy duty brass companion set and a hammered copper coal helmet and shovel.
An Edwardian Deed box lettered T. Burgess complete with key.
An unusual 1950's fire screen electric heater.
Vintage elm handled scythe.
A set of cast iron and brass kitchen weighing scales with original weights, Blakey boot iron and a paraffin lamp.
Pair of cast iron kitchen weighing scales with 7 matching brass bell weights sold together with a Metamec carriage clock.
Set of 5 Le Creuset cast iron pans complete with hanging rack.
3 Soul Journeys African figurines and a pair of African teak figurines.
Capodimonte figure of a tramp on a bench, 2 similar signed figurines of girls and a similar figure by B. Merli of a young woman and her dog.
Collection of 7 large pottery and glass vases.
Vintage childs play hoop.
HJC motorcycle crash helmet and a pair of SIDI, size 9.5 UK motorcycle boots
Large pair of Alan Wallis designs figurines of embracing cherubs with urns.
An enamel bread bin.
An Innoteck modern lava lamp.
Mixed lot to include German type steins, Bisque figurines, EPNS condiment set, classical figures, etc.
Britains farm toys to include Ford Tractor, elevator and rear dump trailer.
Vintage 1960's smokers stand, brass jardinière and stand and a shooting stick.
Large lot of Dutch Delft blue and white pottery to include vases, covered bowls, trinket dishes, teapots, tiles, etc.
180
181
182
183
184
185
186
187
188
172
173
174
175
176
178
179
189
190
191
192
193
167
168
169
170
171
Large lot of blue and white flatwares, chargers, cake stands, planters, mugs and other decorative items.
Tray lot of various Woodland Surprises figurines together with similar items.
Tray lot of assorted glassware to include fruit bowls, drinking glasses, jugs, etc., together with a 4 piece Diana pattern dinner service and other items of decorative crockery.
wares.
Miscellaneous copper and brassware to include foot warmer, companion set, large tankards, trivets, poker stands, etc.
Various machine blocks to include T block, miter marker, pair of small V blocks, etc.
Soba 3 way Milling Vice with original box.
3 various milling machine vices.
Draper 4.5kg anvil.
Boxed set of wood hole saws.
7 Edwardian brass door finger plates.
Box of 10 assorted wood turning chisels, various makers including Record Power,
Hamlet, etc.
A cased set of engineers slip gauges.
Tray lot of various woodworking chisels and 3 sharpening gauges.
A part set of Presto imperial size reamers and a set of Presto reamers 3mm to 14mm.
A Slater 200lb spring balance.
3 cased sets of Ex REME tap and die sets.
Wooden cased set of Presto taps and dies Whitworth to 1".
Record Power DML 24X wood turning lathe.
A calibrated engineers surface plate.
Tray lot of miscellaneous brass hardwares too include cabinet locks, military type handles, corner caps, castors, etc.
An electric weighted hacksaw.
New and unused Perform morticer model no. CCM.
New and unused Wickes 150mm bench grinder.
Ral-Craft rotary hammer drill.
New and unused P Pro 1/2" router complete with router bits.
203
204
205
206
207
208
209
210
211
212
213
214
215
216
217
218
194
195
196
197
198
199
200
201
202
Cased tripod laser level.
Box of mixed tools and hardwares to include ratchets, hammers, ring gauges, sharpening irons, etc.
Box of various screws, nuts, bolts and fittings.
A milling machine surface plate.
Record 52.5 joiners vice.
Record 52.5 joiners vice.
Record 84/34 joiners vice.
3 cased digital micrometers and callipers.
Mitutoyo digimatic indicator, a photo tachometer, a Tamaya engineers level and a digital caliper.
Cased horizontal scale 0-400mm.
Cased Maun Industries 2 foot engineers straight edge.
Mixed tray lot of milling machine tools to include drills, reamers, boring bar, boring heads, nibbler, etc.
Mixed tray lot to include drill gauges, plug cutters, router cutters, drill bits, etc.
Collection of woodworking and engineering books.
Box lot of engineering and woodworking squares and rulers to include Moore & Wright,
Marples, Chesterman, etc.
Mixed tray lot to include Record drill chuck, miniature anvil, small bench vice, watchmakers, clamp, drill grinders, etc.
Box set of Carver edge grip clamps.
4 boxed Groz engineering magnetic bases.
Box lot of various hand drills to include breast drill, brace and bits, joist drill, etc.
Tray lot of technical drawing equipment.
Various woodworking handsaws to include George Ibbotson No. 101 and a pair of saw tooth setters.
Mixed box lot of tools to include tap and die set, power punch, craft knives, hole saws and 1/4" socket set.
Portable desk top drawing board in wooden carry case.
2 cased sets of engineers collets.
Tray lot of various engineering drill bits, reamers and cutters.
239
240
241
242
243
244
235
236
237
238
245
226
227
228
229
230
231
232
233
234
219
220
221
222
223
224
225
Tray lot of engineers stamps.
Record No. 71 router plane with spare blades.
Stanley No. 46 combination plane.
Record No. 050C and Stanley combination planes.
2 x Record No. 050 combination planes complete with boxed cutters.
Stanley No. 90 and 91 marking and mortice gauges.
3 woodworking planes, Rolson No. 4, Woden No. W5.5 and a No. 2 plane.
3 x Record woodworking planes, Nos. 04.5, 05.5 and 06.
3 x Stanley planes, No. 6, 5 and 12-205.
3 x Stanley Bailey planes, No. 3, 4 and 5.
3 x Record planes, Nos. 03, 010 and T5.
Record Marples No. 5 plane.
New and unused Stanley Bailey No. 6 plane with corrugated base.
New and unused Stanley Bailey No. 7 plane with corrugated base.
Cased pair of Record No. 7 & 8 jointing planes.
Sanderson Tools miniature tool set in fitted box together with a miniature Crown Tools scraper plane.
Stanley No. 80 scraper plane.
Record A51 and 2 x A151 spoke shaves.
Record No. 0230, Stanley No. 140 and Millers Fall No. 16 block planes.
Lot of 3 assorted planes, Record 043 plough plane, Stanley No. 79 side rabbet plane and Stanley No. 271 small router plane.
Record No. 712 skewed rebate plane.
New and unused Lie-Nielsen No. 62 low angle jack plane.
Techtool grooving plough.
No. 10.5 carriage makers rebate plane.
Record No. 778 improved rabbet plane in fitted box.
Record No. 311 bullnose and shoulder rebate plane in fitted box together with a small
Stanley bullnose plane.
Cased set of Stanley trammel points.
252
253
254
255
256
257
258
259
260
261
262
263
264
265
266
267
268
269
246
247
248
249
250
251
270
271
272
Stanley No. 45 combination plane with original box.
Record No. 077 bullnose plane.
2 x Rabone engineers levels and a smaller similar level.
Rare Stanley No. 55 combination plane with fitted box and 4 lots of cutting irons.
Tray lot of miscellaneous engineering gauges, measures and calipers.
Box lot of Ridgeway auger and adjustable auger bits and a roll of Boker auger and flat bits.
Vintage wooden joiners plane with detachable radius bases.
Vintage cased set of 5 high quality pairing chisels.
Tray lot of Record/Marples/Stanley plane irons and plane spares.
Cased set of brass apothecary scales and a small brass spring balance.
Shardlow inside micrometer, Moore & Wright 405 surface gauge and a surface scribe.
Kunz No. 112 scraper plane.
Perform 5 speed drill press, model no. CCRD.
Chester Champion milling/drilling machine.
Axminster CT1 2 axis compound table.
Axminster metal turning lathe model no. BV20M.
An oak and EPNS biscuit barrel and a pair of novelty wooden ends.
Beswick pheasant and a wooden carved duck,.
Quantity of reproduction Staffordshire pottery to include Spaniels, spill vases and rabbits.
Quantity of Staffordshire pottery flatback figurines.
Pair of reproduction Staffordshire recumbent lions and a greyhound figure.
Cased set of Danbury Mint Royal Crystal cameos.
2 brass chargers, Edwardian copper crumb scoop, copper canister and a copper bar top drip tray
2 trays of assorted Devon Motto ware.
Mixed lot to include Royal Worcester Diamond Jubilee plate, wooden cigarette box,
Empire dominoes, framed picture and a Gourd maraca.
An oak cutlery canteen and miscellaneous contents, 2 cased sets of horn handled cutlery and other similar items.
282
283
284
285
286
273
274
275
276
277
278
279
280
281
287
288
293
294
295
296
289
290
291
292
Miscellaneous lot of Deeds, Titles and Conveyances mainly from the Isle of Axholme.
Tin of assorted pre decimal coinage.
2 British Commonwealth and continental stamp albums.
Framed collage of World War I postcards.
Postcard album of early 20th century cards of various sporting, topographical and nautical scenes.
3 assorted stamp albums and first day covers.
An early 20th Century postcard album of World War I army and comedy postcards.
An interesting early 20th Century postcard album of navel and prisoner of war postcards.
badges and ephemera.
Collection of various topographical postcards.
Leather bound Corn book 1872-1881 pertaining to the Joseph Beard, Worksop Mill together with other Worksop and Mill ephemera.
Mixed tray lot of pottery and porcelain to include Mason ironstone ginger jar, Royal
Crown Derby tea strainer, Limoge, etc.
3 mid century teasets.
A Royal Albert Old Country Roses 12 piece teaset and coffee set comprising 12 coffee cups and saucers, 12 tea cups and saucers, 12 tea plates, large and small milk jugs and sugar bowls, teapot and large cake plate.
Mixed tray of Royal Albert Old Country Roses porcelain to include 8 bowls, cake stand, cake plates and other trinkets.
Comprehensive Royal Albert Old Country Roses 12 place dinner service complete with tureens, side dishes, cake plate, meat plate, etc. Over 70 pieces in total.
Habitat Bianca dinner service comprising 54 pieces.
Sylvac 1959 squirrel jug, similar smaller squirrel jug and a Sylvac 406 bag jug.
2 Edwardian porcelain trinket sets.
Pair of carved wooden wall hanging shelves.
Mintons Haddon Hall 2 tier patterned cake stand, 2 tea trios and 2 small bowls.
Onyx chess set and pieces.
Tray lot of assorted cut glassware to include vase, bowl, jugs, etc.
4 cut glass spirit decanters.
311
312
313
314
315
316
317
318
318a
318b
319
297
298
299
304
305
306
307
300
301
302
303
308
309
310
Tray of assorted metal wares to include EPNS cruet set, tankards, ice bucket, etc.
Set of 6 Crown Devon beech topped herb jars and a Worcester herb jar.
Large Staffordshire blue, white and gilt print pattern meat plate and a Royal Worcester blue gilt meat plate.
Coalport Revelry tete a tete tea service.
Glazed pottery Gerzit pottery coffee pot set, condiments and matching tray.
Set of 10 cabinet plates of Austrian country scenes by Christian Luckal.
Comprehensive blue and white floral decorated dinner and tea set by Seltmann Weiden of Bavaria comprising 77 pieces.
Tray lot of EPNS metalwares to include biscuit barrel, teapot, sweets dish, tankard, etc.
Pair of framed Dutch delph tiles and a small framed portrait.
Victorian gilt blue part dessert set.
Mixed tray lot of ruby glassware to include bowls, goblets, covered dish and various
Caithness paperweights.
1960's Midwinter Spanish Garden pattern dinner and tea set.
Mixed tray lot of assorted pottery, porcelain and glassware to include novelty ship cruet set, Caithness vase, paperweights, Wade Wimseys, Derby posys,etc.
6 place Spode Persia gilt decorated teaset complete with teapot including spare cups and saucers.
Large continental porcelain floral decorated fish serving platter.
Mid century Wedgwood blue and white decorated part dinner service complete with tureens together with a quantity of Willow pattern tablewares.
4 various Victorian floral decorated fireplace tiles.
Large quantity of assorted decorative wall hanging and cabinet plates.
Various items of Victorian and later pottery to include wash jugs, lamps and blue and white vase.
Cut glass decanter and a small crystal cut glass vase.
1950's floral decorated opaque glass light shade and a Gordi Welsh rose bowl.
Set of 3 large graduated copper jugs.
1930's walnut cased Jones treadle sewing machine.
1930's oak deep florally carved occasional table.
Vintage soda syphon in wire lattice basket.
326
327
328
329
330
331
332
333
334
335
336
337
338
339
340
341
342
343
344
345
346
320
321
322
323
324
325
Pair of Victorian brass pans.
2 large brass preserve pans.
Victorian Viennese glass wall mirror with candle sconces.
Large Victorian festoon pattern meat dish with drain and a floral patterned chamber pot.
Large blue glass vase.
1970's hand thrown art pottery handled bowl by John Calver and a similar large charger dish.
Pair of turned brass candlesticks.
Pair of Russ Berrie "The First American" figurines.
Tray lot of decorative scent bottles, ladies compact and trinket dishes.
Vintage Standard fireworks 5 shilling display box.
Tray lot of various Swarovski crystal glass ornaments to include candlesticks, clock, grapes, small animals together with onyx table lighters.
Gilt decorated Egyptian design porcelain coffee set.
Pair of EPNS decanter labels, Whiskey and Brandy.
Continental porcelain tete a tete teaset with matching tray decorated with Japanese design.
Pair of ruby and gilt decorated Victorian lustres.
Floral decorated Grafton china Malvern patterned teaset.
Robert Burns carved Bakelite lidded dish and a small collection of cigarette silks.
Edwardian cased set of cut glass salts and condiments.
Old Tupton ware hand painted honey pot, small vase and trinket dish.
Tray lot of assorted Selkirk, Caithness and other paperweights.
An EPNS 3 light candelabra by Viners of Sheffield.
An Apex EPNS chased decorated oval tea tray on ball and claw feet.
EPNS hors d'oeuvre tray with cut glass dishes.
3 piece glazed hunting teaset.
Continental glazed urn vase with gilt floral and bird decoration.
Beswick Friesian bull "Coddington Hilt Bar".
Collection of Staffordshire flatback figurines
347
348
349
350
351
352
353
354
355
356
357
358
359
360
361
362
363
363a
364
365
366
367
368
369
370
371
American Remminton 1917 bayonet.
Pair of Victorian cut glass lustres.
Victorian cut glass lidded specimen vase.
Victorian amber and etched oil lamp shade.
Cut glass table lamp base.
1970's art glass vase.
Victorian cut and gilt glass lustre.
2 different wooden carved Indonesian Topeng Raksasa masks
Spanish Lladro style figurine of a young woman together with a pair of modern
Staffordshire spaniels.
An Edwardian cut glass light shade.
Victorian American mantle clock.
Victorian cast iron base oil lamp with floral decorated opaline glass vessel.
Mixed tray lot of silver and gold jewellery and costume jewellery and silver and gold metal costume jewellery.
A cased set of 4 Aspray Aventurine quartz pine dishes.
Small cased travel clock.
2 vintage ladies gilt metal wristwatches.
2 Notts & Derby Sherwood Foresters cap badges, Royal Ordnance Corps cap badge,
Special Constabulary medallion, Foundary Workers Union badge and other items.
2 scrap silver dressing table brushes and other white metal brushes.
2 James Dixon silver cream jugs, assay Sheffield 1957 and 61 combined weight approx
225g.
Pair of Georgian style silver fluted salts by William Henry Leather, Birmingham 1900, approx. 60g.
James Dixon & Son silver cream jug and sugar bowl, Sheffield 1947, approx. 285g.
Victorian silver and silver plate cruet basket, assay London 1884 stamped with makers mark WE with 8 cut glass and silver mounted bottles with matching assay marks.
Pair of gilt framed wall hanging mirrors.
Pair of framed copper plaques with floral design.
1960's Tretchiko print and a framed print of an Edwardian lady.
Edwardian walnut fireplace over mantle mirror.
385
391
392
393
394
395
396
397
398
386
387
388
389
390
372
373
374
375
376
377
378
379
380
381
382
383
384
Modern painted pine Home blackboard.
Edwardian mahogany 6 pane wall hanging mirror.
Gilt framed oil on board of a mountain scene.
3 gilt framed Edwardian themed prints of rural country scenes
Large framed print poppy fields.
Modern oil on canvas of a Highland lake scene.
1950's oak serving tray.
4 assorted modern framed coloured prints.
Coloured framed print of a bird seller.
An oak framed collage of religious postcards.
Framed coloured print of a Shepherd signed by the artist Sam Chadwick "The Road from Grassington to Conistone". 65/210.
3 framed embroidered silks of oriental birds.
Gilt framed print of Scarborough Harbour, a small framed beachside print and a signed picture of a reading lady.
Set of 3 original Schweppes table water, orange squash and tonic water advertising posters.
1930's hexagonal oak framed mirror.
An oval gilt framed wall hanging mirror.
Large pair of ornate gilt picture frames containing woodland scenes.
1930's oak framed print of an engaged couple "Beauty Gained is Love Retained".
A large rosewood and gilt framed oil on board of a Governess.
Modern limited edition framed print 301/950 "Snowden and Llyn Llydaw" by Anne Celia.
5 assorted Victorian black and white plates of various themes.
Pair H. Alken coloured tinted prints Pheasant and Woodcock Shooting.
Set of 11 Vanity Fair Spy prints of Victorian and Edwardian celebrities and dignitaries.
7 assorted Vanity Fair prints, by various artists of dignitaries of the day.
Pair of Victorian oil on canvas of waterside scenes in large ornate gilt frames.
Large oil on canvas portrait of a 1950's gentleman signed by W. Craig Hainish.
Gilt framed portrait picture of a 17th Century Spanish man.
415
416
417
418
419
420
410
411
412
413
414
421
422
422a
423
424
425
399
400
401
402
403
404
405
406
407
408
409
Large early Victorian pictorial sampler by Mary Roberts dated March 31st 1855.
Gilt framed oil on canvas of a continental harbour scene.
1930's oak cased chiming Grandmother clock.
Victorian oak and pine cased drop dial wall clock.
Georgian stick barometer by Ron Ketti, 6 Peter Street, Bloomsbury.
Victorian walnut cased Vienna wall clock.
Burr walnut stationary box.
Modern Yesterdays Pine 6 drawer tall chest.
Brass framed and gemstone terrestrial globe.
Oak drop leaf dinner wagon.
Modern pine extending dining room table with 2 spares leafs and 8 matching dining room chairs.
Victorian style gilt frame over mantle mirror.
42" Sony Bravia LCD t.v. with Sony Blu-ray DVD player and matching glass stand.
Nest of 3 oak occasional tables.
Victorian mahogany torchere stand.
Edwardian walnut marble top occasional table with 4 turned pillar base.
Small polished beechwood turned leg bedroom chair.
Modern painted pine dresser base.
Modern 3 drawer painted pine dresser with 2 door 2 drawer upper section.
Edwardian carved oak wall hanging shelf.
An Ercol Windsor style rocking chair.
Polished beechwood and string top dressing table stool.
Bevan & Funnell Georgian style begere bedroom chair.
Large polished pine 9 drawer pedestal desk with dark green tooled leather top.
Burr walnut turned fruit bowl and together with 2 burr walnut trinket boxes.
Modern 3 drawer painted side table with beech block top
Large model yacht.
3 drawer solid oak side table.
439
440
441
442
443
444
433
434
435
436
437
438
445
446
447
448
449
450
451
452
426
427
428
429
430
431
432
Small polished fruitwood corner cupboard
Victorian stripped pine single drawer dressing table.
Italian style inlaid musical sewing box.
A large oak Old Charm 3 section wall unit.
Stag Minstrel 7 drawer bedroom chest.
1930's oak barley twist drop leaf table.
Reclaimed pine bookcase.
1930's walnut shaped top 2 tier occasional table.
Modern electric recliner chair.
Brown leather Chesterfield gentleman's armchair and matching foot stool.
Modern Stressless type swivel armchair and matching foot stool.
Leather electric reclining Lazyboy type armchair.
Pair of Old Charm carved oak corner cupboards.
Bentwood hat stand.
Victorian mahogany 4 drawer 2 door dresser base upon bun feet.
Mahogany framed begere seated foot stool.
American style 6 drawer 2 door dresser base.
Pair of oak Queen Anne legged bedroom chairs.
Pair of Stressless type brown leather foot stools.
Modern painted and polished pine 2 tier coffee table.
Elmwood twin seat school desk with a pair of matching chairs.
Oak wall hanging plate rack.
Modern pine fluted column plant stand.
Victorian rosewood cabriole legged balloon back chair.
Pair of Victorian mahogany bolt back balloon back chairs.
Pair of Queen Anne legged rush seated ebonised bedroom chairs.
Victorian mahogany nursing chair with scrolled and acanthus carved decoration upon short cabriole legs.
471
472
473
474
475
476
477
478
464
465
466
467
468
469
470
458
458a
459
460
461
462
463
453
454
455
456
457
Victorian mahogany barley twist column back turned leg nursing chair with carved crown top.
Victorian turned leg upholstered tub chair.
Pair Victorian rush seated spindle back dining chairs.
Set of 4 x 1950's oak dining room chairs.
Set of 4 Edwardian balloon back dining chairs with applied ribbon and garland decoration upon tapering spade foot legs.
Set of 4 mid Victorian cabriole legged balloon back dining room chairs.
Reproduction Regency circular top drop leaf occasional table.
Edwardian spindle back begere seated armchair.
Modern polished pine glazed door dresser.
Edwardian glass light shade with flame shaped sections.
Continental brass and cut glass chandelier.
1950's continental light fitting with scroll brass arms and decoration with soapstone light bowls.
Modern red leather 2 seater settee.
An Ercol Windsor style suite comprising 2 seater settee and 2 easy chairs.
Large Dutch stripped pine 2 glazed door wall hanging cabinet.
Reclaimed pine open shelf corner cupboard.
Modern polished mahogany tapestry topped foot stool.
An oak Old Charm style twin leaded door bookcase.
Modern mahogany Regency style coffee table.
An oak oval turned gate leg dining room table.
Large Edwardian mahogany Queen Anne gate legged dining room table.
Victorian oak topped kitchen table with turned pine legs with 2 frieze drawers.
Small table top revolving bookcase.
An oak cased Singer sewing machine.
Ercol light elmwood wall hanging shelf.
Old Charm turned column pedestal stand.
1930's oak panelled blanket box upon turned bun feet.
493
494
495
496
497
489
490
491
492
498
499
500
501
502
503
504
505
479
480
481
482
483
484
485
486
487
488
1950's 10 drawer oak pedestal office desk.
An oak book stand and contents, Woodworker magazine 1923-1955.
Edwardian oval bevel edged wall hanging mirror with acanthus leaf frame.
Mahogany cased Singer treadle sewing machine.
Gilt and white metal triple pane vanity mirror.
Modern Yesterdays Pine 5 drawer stripped and painted pine bedroom chest.
Modern polished pine 2 drawer dresser base.
Old Charm carved fronted 2 door side cabinet.
An oak turned leg tea trolley.
Collection of 8 gentlemens top hat sizes 7 and 7¼ complete with original hat boxes and packing case.
Old Charm oak carved 2 drawer turned leg side table.
1930's oak oval topped gate leg dining room table.
Ercol 2 drawer tall hanging shelf.
Reclaimed polished pine 4 shelf bookcase.
Mahogany and inlaid roll top desk.
Modern Regency style leather topped miniature drum table.
Edwardian shaped top walnut occasional table upon carved and shaped legs.
Dunn & Co gentleman's top hat.
Victorian polished pine twin panelled door storage cupboard,
Victorian style tripod legged turned column occasional table.
An oak pedestal legged occasional table.
Tall floorstanding stripped corner cupboard with shaped open upper shelves.
Small vintage leather Gladstone bag and a document case from the Calcutta Trunk Co.
Pair of 1930's 3 section Globe Wernicke bookcases.
Mahogany and satin wood 5 drawer collectors cabinet.
Edwardian mahogany mirror door music cabinet.
Victorian mahogany scroll arm vanity mirror.
506
511
512
513
514
507
508
509
510
515
516
517
Georgian mahogany D ended 2 section dining table, one section with a drop central leaf the upper leg with inlaid motifs.
Edwardian inlaid single door display cabinet.
Large modern blue and white vase with oriental type wooden stand.
1930's mahogany magazine rack.
1930's walnut art deco style begere back bedroom chair.
Large wicker mill basket.
Large wicker mill basket.
Edwardian mahogany fall front coal box.
Mahogany Regency style 1920's sideboard with serpentine shaped doors upon turned and fluted legs.
Victorian Cuban mahogany circular extending dining room table with 2 spare leafs.
Restored Victorian 4 drawer writing desk with herringbone crossbanding on turned and fluted legs.
Pair of Victorian ladies and gents spoon back chairs with deep carved and scrolled frames upon short cabriole legs.
* Your assessment is very important for improving the work of artificial intelligence, which forms the content of this project