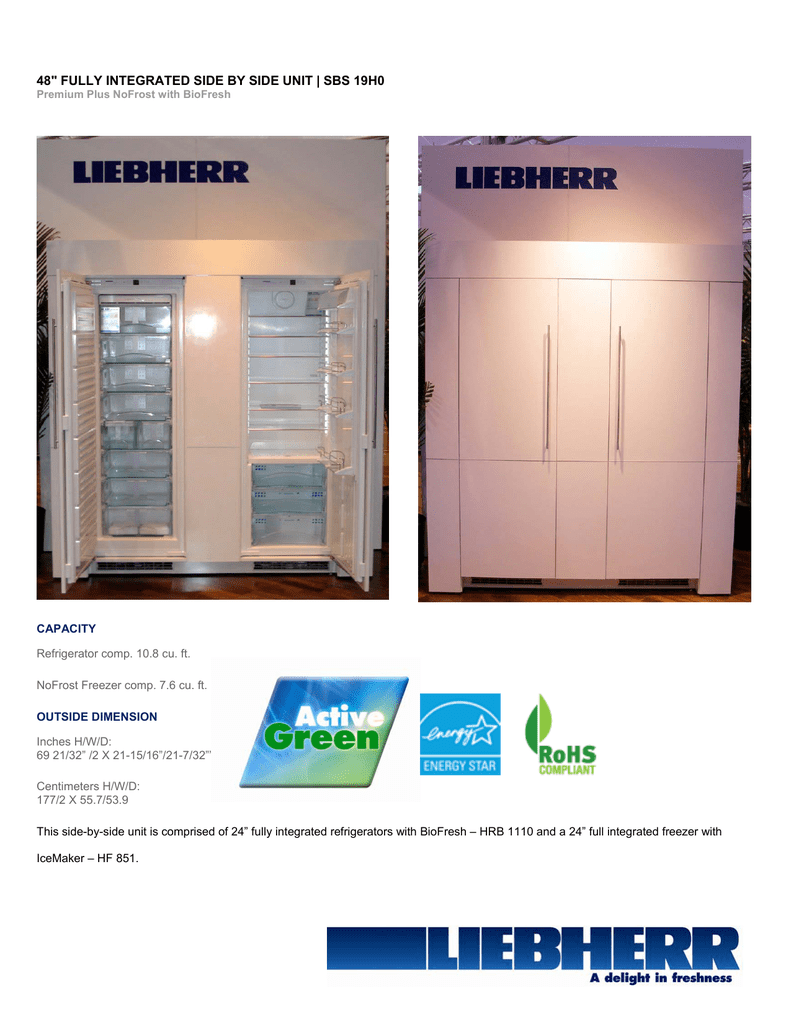 48" FULLY INTEGRATED SIDE BY SIDE UNIT | SBS 19H0
Premium Plus NoFrost with BioFresh
CAPACITY
Refrigerator comp. 10.8 cu. ft.
NoFrost Freezer comp. 7.6 cu. ft.
OUTSIDE DIMENSION
Inches H/W/D:
69 21/32" /2 X 21-15/16"/21-7/32""
Centimeters H/W/D:
177/2 X 55.7/53.9
This side-by-side unit is comprised of 24" fully integrated refrigerators with BioFresh – HRB 1110 and a 24" full integrated freezer with
IceMaker – HF 851.
THIS IS JUST A QUICK REFERENCE GUIDE, FOR COMPLETE INSTRUCTIONS, PLEASE REFER TO THE DESIGN
GUIDE OR VISIT http://www.liebherr-appliances.com/resource_center/index.html
A 21-7/32" (539 mm)
B 69-21/32" (1769,5 mm)
C 21-15/16" (557 mm)
D 69-3/4" - 70-3/8" (1772 - 1788 mm)
E min 22" (560 mm) max 22-3/4" (578 mm)
F 21-21/32" (550 mm)
G 1-1/2" (38 mm)
J 66-1/2" (1689,9 mm)
K max. 3/4" (19 mm)
L 9-21/32" (245 mm)
1. Power cord
2. Level
3. Electrical outlet – the top of the electrical outlet must be located
within 82-5/8in (2100mm) (Figure2) from the top of the base
in the cabinet.
4. Fish line for power cord
Electrical Requirements
A 115 Volt, 60Hz, 15 Amp (20 Amp for side-by-side) fused
electrical supply is required. We recommend using a
dedicated circuit to prevent electrical overload.
The refrigerator features newly designed BioFresh safes with efficient
LED lighting throughout and variable bottle shelving.
In the full freezer tower, transparent drawers on telescopic rails with
safety glass shelf dividers organize the frozen foods kept FrostSafe
with continual circulated air.
Both sides incorporate soft close door technology and streamlined
Liebherr space design.

* Your assessment is very important for improving the work of artificial intelligence, which forms the content of this project