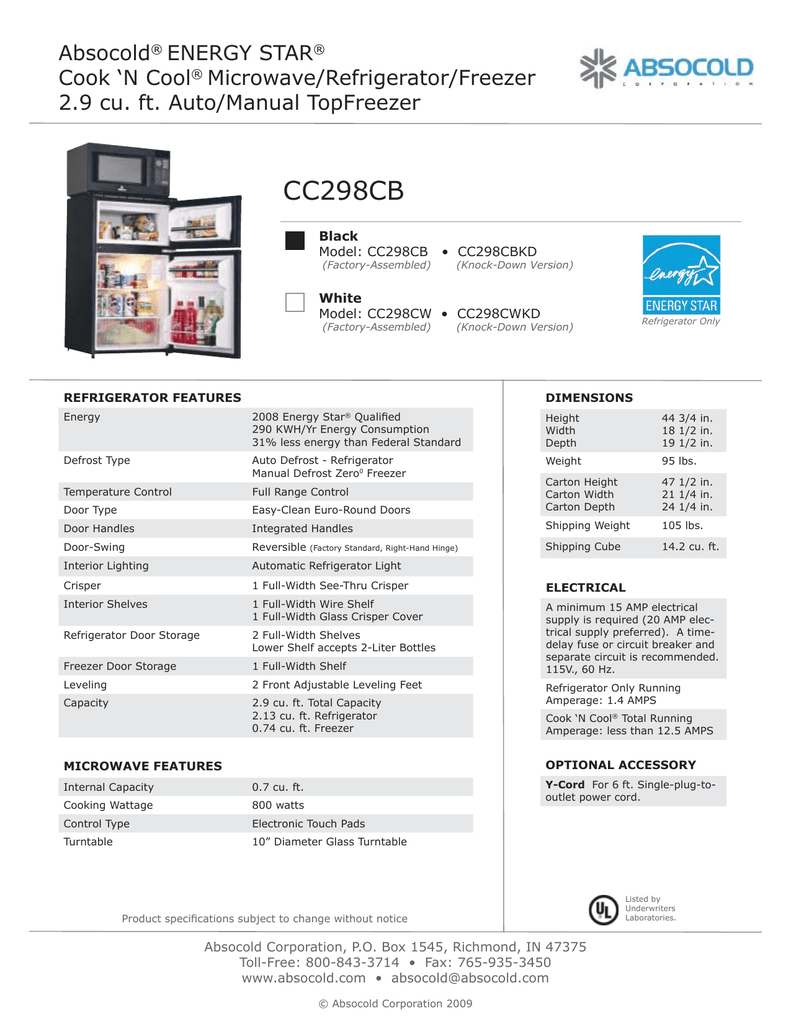 Absocold® ENERGY STAR®
Cook 'N Cool® Microwave/Refrigerator/Freezer
2.9 cu. ft. Auto/Manual TopFreezer
CC298CB
Black
Model: CC298CB
(Factory-Assembled)
• CC298CBKD
(Knock-Down Version)
White
Model: CC298CW • CC298CWKD
(Factory-Assembled)
Refrigerator Only
(Knock-Down Version)
REFRIGERATOR FEATURES
DIMENSIONS
Energy
2008 Energy Star Qualified
290 KWH/Yr Energy Consumption
31% less energy than Federal Standard
Height
Width
Depth
44 3/4 in.
18 1/2 in.
19 1/2 in.
Defrost Type
Auto Defrost - Refrigerator
Manual Defrost Zero0 Freezer
Weight
95 lbs.
Temperature Control
Full Range Control
Door Type
Easy-Clean Euro-Round Doors
Carton Height
Carton Width
Carton Depth
47 1/2 in.
21 1/4 in.
24 1/4 in.
Door Handles
Integrated Handles
Shipping Weight
105 lbs.
Door-Swing
Reversible
Shipping Cube
14.2 cu. ft.
Interior Lighting
Automatic Refrigerator Light
Crisper
1 Full-Width See-Thru Crisper
ELECTRICAL
Interior Shelves
1 Full-Width Wire Shelf
1 Full-Width Glass Crisper Cover
Refrigerator Door Storage
2 Full-Width Shelves
Lower Shelf accepts 2-Liter Bottles
Freezer Door Storage
1 Full-Width Shelf
A minimum 15 AMP electrical
supply is required (20 AMP electrical supply preferred). A timedelay fuse or circuit breaker and
separate circuit is recommended.
115V., 60 Hz.
Leveling
2 Front Adjustable Leveling Feet
Capacity
2.9 cu. ft. Total Capacity
2.13 cu. ft. Refrigerator
0.74 cu. ft. Freezer
®
(Factory Standard, Right-Hand Hinge)
Refrigerator Only Running
Amperage: 1.4 AMPS
Cook 'N Cool® Total Running
Amperage: less than 12.5 AMPS
OPTIONAL ACCESSORY
MICROWAVE FEATURES
Y-Cord For 6 ft. Single-plug-tooutlet power cord.
Internal Capacity
0.7 cu. ft.
Cooking Wattage
800 watts
Control Type
Electronic Touch Pads
Turntable
10" Diameter Glass Turntable
Product specifications subject to change without notice
Absocold Corporation, P.O. Box 1545, Richmond, IN 47375
Toll-Free: 800-843-3714 • Fax: 765-935-3450
www.absocold.com • [email protected]
© Absocold Corporation 2009
Listed by
Underwriters
Laboratories.

* Your assessment is very important for improving the work of artificial intelligence, which forms the content of this project