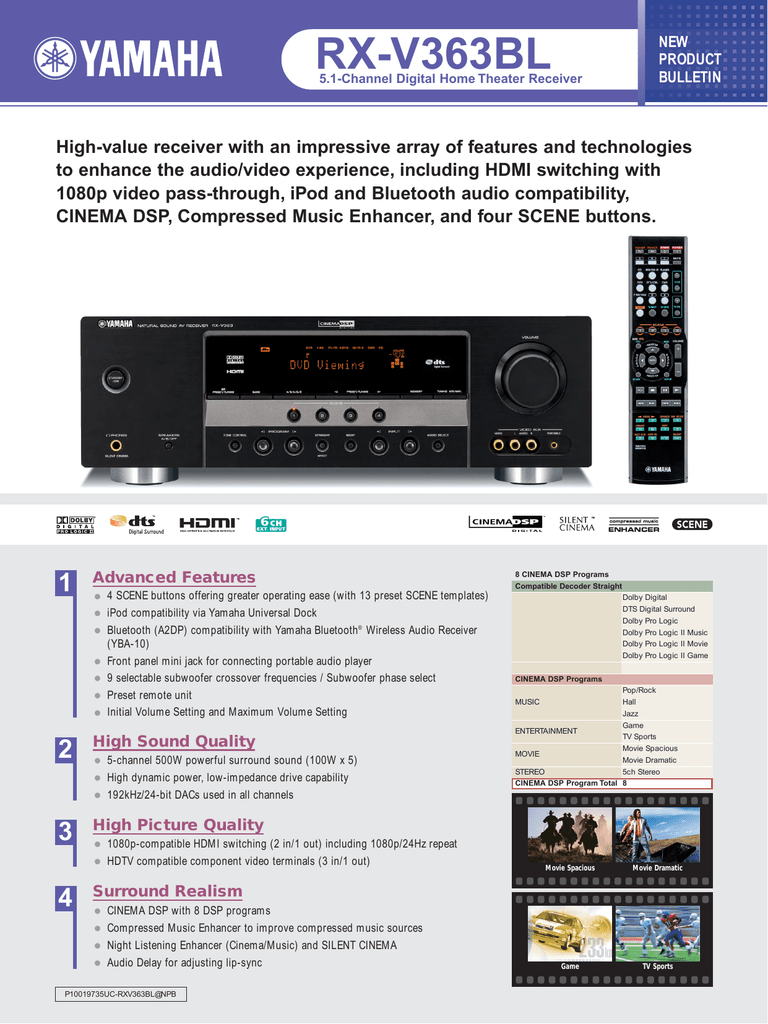 RX-V363BL
5.1-Channel Digital Home Theater Receiver
NEW
PRODUCT
BULLETIN
High-value receiver with an impressive array of features and technologies
to enhance the audio/video experience, including HDMI switching with
1080p video pass-through, iPod and Bluetooth audio compatibility,
CINEMA DSP, Compressed Music Enhancer, and four SCENE buttons.
1
Advanced Features
• 4 SCENE buttons offering greater operating ease (with 13 preset SCENE templates)
• iPod compatibility via Yamaha Universal Dock
• Bluetooth (A2DP) compatibility with Yamaha Bluetooth Wireless Audio Receiver
8 CINEMA DSP Programs
Compatible Decoder Straight
Dolby Digital
DTS Digital Surround
Dolby Pro Logic
Dolby Pro Logic II Music
Dolby Pro Logic II Movie
Dolby Pro Logic II Game
®
•
•
•
•
(YBA-10)
Front panel mini jack for connecting portable audio player
9 selectable subwoofer crossover frequencies / Subwoofer phase select
Preset remote unit
Initial Volume Setting and Maximum Volume Setting
2
High Sound Quality
• 5-channel 500W powerful surround sound (100W x 5)
• High dynamic power, low-impedance drive capability
• 192kHz/24-bit DACs used in all channels
3
High Picture Quality
• 1080p-compatible HDMI switching (2 in/1 out) including 1080p/24Hz repeat
• HDTV compatible component video terminals (3 in/1 out)
4
Surround Realism
• CINEMA DSP with 8 DSP programs
• Compressed Music Enhancer to improve compressed music sources
• Night Listening Enhancer (Cinema/Music) and SILENT CINEMA
• Audio Delay for adjusting lip-sync
[email protected]
CINEMA DSP Programs
Pop/Rock
Hall
Jazz
Game
ENTERTAINMENT
TV Sports
Movie Spacious
MOVIE
Movie Dramatic
STEREO
5ch Stereo
CINEMA DSP Program Total 8
MUSIC
Movie Spacious
Movie Dramatic
Game
TV Sports
NEW PRODUCT BULLETIN
RX-V363BL 5.1-Channel Digital Home Theater Receiver
SCENE — Greater Operating Ease
Four SCENE buttons make operating the
receiver easier than ever. They are initially set
to default settings for DVD Viewing, Disc
Listening, TV Viewing and Radio Listening.
Pressing a SCENE button automatically
launches a number of operations that initiate
play of the source controlled by that button.
Other SCENE settings are also available, such
as Dock Listening, TV Sports Viewing and Game
Playing. Browsing and selecting the settings
from among 13 SCENE templates is quickly
done by rotating the Input knob. The settings
can be selected for one-time use, or to replace
the original default settings. The SCENE names
can be changed also.
1
2
3
4
Subwoofer Phase Select
Another feature for optimum bass sound. If bass
is weak or muddy, switching the phase of the
subwoofer will often improve performance.
10
0
Disc
TV
Radio
Viewing
Listening
Viewing
Listening
Initial Volume and Maximum Volume
Two volume setting functions are included on
this receiver for additional convenience. Initial
Volume Setting allows you to set the volume
level that will be heard each time the power is
turned on. Maximum Volume Setting prevents
unexpected loud sounds, for example if a
young child turns the volume knob.
Front Panel Mini Jack
A mini jack on the front panel makes it
convenient to connect portable audio players.
High Dynamic Power Capability
The RX-V363BL receiver is capable of delivering
large amounts of reserve power for accurate
reproduction of the high energy peaks that are
especially prevalent in digital audio sources.
This prevents clipping and emphasizes the
music's dynamic qualities.
192kHz/24-Bit DACs for All Channels
This receiver uses 192kHz/24-bit DACs for all
channels. The DACs provide accurate sound field
reproduction for high quality multi-channel sources,
and outstanding separation and precise musical
delineation for two-channel sources.
1080p-Compatible HDMI Switching*
(2 In/1 Out)
This receiver features dual HDMI inputs and one
output that can handle all HD formats including
720p, 1080i and 1080p so users can connect two
HDMI sources, such as a DVD player and a high
definition set-top box, and enjoy the highest
possible quality with HD display (does not
support audio signal).
HDTV Compatible Component Video Terminals
(3 In/1 Out)
Component Video inputs offer higher picture
quality for use with units such as DVD players
that have Component Video output. You can
enjoy three different sources without having to
change connections. The frequency response of
the component video signal is 5Hz – 60MHz,
making it compatible with HDTV (1080i/720p).
Surround Realism
CINEMA DSP with 8 DSP Programs
You have a choice of eight unique Yamaha
CINEMA DSP surround programs to bring out the
full audio potential of your entertainment sources.
9 Selectable Subwoofer Crossover
Frequencies
This model provides a choice of nine
subwoofer crossover frequencies to best
match any subwoofer. The steps from 80
to 120 Hz are only 10 Hz apart for more
precise selection.
Compressed Music Enhancer On
Compressed Music Enhancer Off
High Sound Quality
High Picture Quality
DVD
sophisticated digital signal processing with
exclusive algorithms, enabling faithful
reproduction of the original music, for excellent
sound quality.
dB
Advanced Features
-50
-100
0
5
10
Frequency (kHz)
15
Night Listening Enhancer and
SILENT CINEMA
The Night Listening Enhancer offers two modes,
Cinema and Music, with three-level selectability,
which will ensure that you don't miss movie
dialogue or quiet passages, or lose overall
surround spaciousness even during low volume
listening late at night.
The SILENT CINEMA mode allows private
listening enjoyment of multi-channel music or
movies, with an accurate simulation of surround
sound, through ordinary headphones.
Audio Delay for Adjusting Lip-Sync
(0–160ms)
The latest display devices perform complex
internal processing, causing time lag in the
video signal. It is a small time difference, but
because the audio arrives first, the viewer may
feel that something is not natural. The Audio
Delay function for adjusting Lip-Sync matches
the audio to the timing of the output of the video
on the screen.
Other Notable Features
• 40-station preset tuning / Auto preset tuning
• Front panel Video Aux input terminals
• Speaker A or B selection
• Subwoofer out
• Preset remote unit
Yamaha Bluetooth® Wireless Audio Receiver
The YBA-10 Bluetooth Audio Receiver docks
to the receiver and supports A2DP audio
streaming, so users can enjoy music
wirelessly from Bluetoothenabled mobile phones,
Windows PCs and Macs.
Compressed Music Enhancer
When music is encoded in a digital compressed
format such as MP3, frequency response suffers
in the high and low ranges. Yamaha employs
2
1
2
1
4/2
3
6 ch
Outputs
Inputs
Yamaha Universal Dock
for iPod
The optional Yamaha
Universal Dock lets you
connect
your iPod to
the receiver.
HDMI
Dock Terminal (for iPod / Bluetooth)
Optical Digital (Fixed and Assignable)
Coaxial Digital (Fixed and Assignable)
Analog A/V / Audio*
Component Video
Multi-Channel External Input
20
The Compressed Music Enhancer restores the original,
live sound of your music, especially deep, strong
sounds like bass and drums.
HDMI
Analog A/V / Audio
Component Video Monitor
Speaker (without subwoofer)
Subwoofer
1
1/1
1
5 ch / 7 ter.
1
iPod not included
Main Specifications
Minimum RMS Output Power
(8 ohms, 1 kHz, 0.9% THD)
Front L/R Channels
100 W/ch
Center Channel
100 W
Surround L/R Channels
100 W/ch
Dynamic Power (1 kHz)
8/6/4/2 ohms
110/130/160/180 W
Frequency Response
10 Hz–100 kHz +0, -3 dB
Total Harmonic Distortion (CD, Front Sp Out)
(1 kHz, 50 W/8 ohms)
0.06%
Signal-to-Noise Ratio (CD)
100 dB (250 mV)
Monitor Out Frequency Response
Component Video Signal 5 Hz–60 MHz -3 dB
Dimensions (W x H x D)
171/8" x 5 5/16" x 121/2"
435 x 151 x 318 mm
Weight
17.6 lbs.; 8 kg
* Including front panel Video Aux terminals.
• iPod is a trademark of Apple, Inc., registered in the U.S. and other countries. • Dolby and the double-D symbol are registered trademarks of Dolby Laboratories. • "DTS" and "DTS Digital Surround" are registered
trademarks of DTS, Inc. • HDMI, the HDMI logo and High-Definition Multimedia Interface are trademarks or registered trademarks of HDMI Licensing LLC. • The Bluetooth® word mark and logos are registered
trademarks ownerd by Bluetooth SIG. Inc. • CINEMA DSP is a trademark of Yamaha Corporation. • SILENT CINEMA is a trademark of Yamaha Corporation. • Product designs and specifications are subject to
change without notice.