Q-See 4-Channel All-In-One DVR with LCD Sceen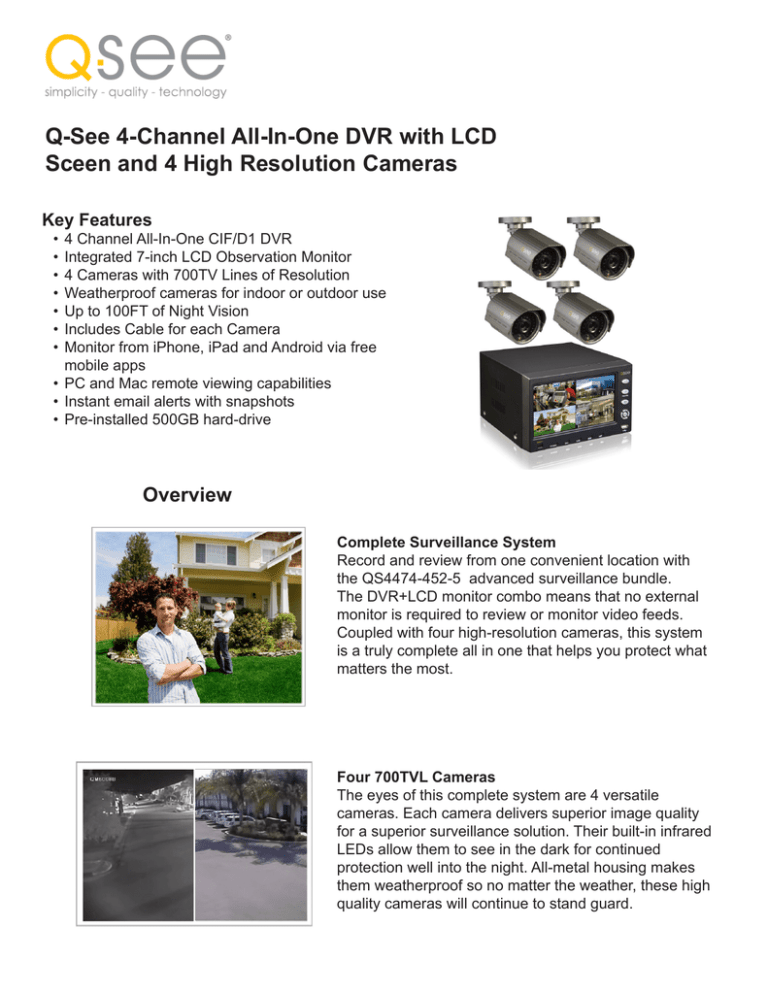 Q-See 4-Channel All-In-One DVR with LCD
Sceen and 4 High Resolution Cameras
Key Features
• 4 Channel All-In-One CIF/D1 DVR
• Integrated 7-inch LCD Observation Monitor
• 4 Cameras with 700TV Lines of Resolution
• Weatherproof cameras for indoor or outdoor use
• Up to 100FT of Night Vision
• Includes Cable for each Camera
• Monitor from iPhone, iPad and Android via free
mobile apps
• PC and Mac remote viewing capabilities
• Instant email alerts with snapshots
• Pre-installed 500GB hard-drive
Overview
Complete Surveillance System
Record and review from one convenient location with
the QS4474-452-5 advanced surveillance bundle.
The DVR+LCD monitor combo means that no external
monitor is required to review or monitor video feeds.
Coupled with four high-resolution cameras, this system
is a truly complete all in one that helps you protect what
matters the most.
Four 700TVL Cameras
The eyes of this complete system are 4 versatile
cameras. Each camera delivers superior image quality
for a superior surveillance solution. Their built-in infrared
LEDs allow them to see in the dark for continued
protection well into the night. All-metal housing makes
them weatherproof so no matter the weather, these high
quality cameras will continue to stand guard.
Real-time CIF/D1 Resolution
View the crystal clear images of the four high resolution
cameras in real-time D1 resolution. D1 resolution offers
a larger, more detailed image that is 4x the size of
conventional CIF resolution!
Remote Monitoring
Remotely Monitor 24/7 worldwide using high-speed
internet from a Macintosh or PC computer
• Compatible Internet browsers: Internet Explorer 7-9
Google Chrome, Safari and Mozilla Firefox
• Free Multi-System Sofware - included on CD –
allows you to monitor your DVR regardless of
browser
• View from mobile phone: (see FREE Q-See Mobile
Apps)
Additional Remote Monitoring Specifications:
• Receive instant email alerts and snapshot images
when motion is detected, an alarm is triggered, video
loss occurs or other event.
• Up to 5 users can simultaneously log into the
DVR with dual-stream technology allowing for
easier Internet access even on reduced-bandwidth
connections
• Q-See's Free MyQ-See.com Dynamic DNS
allows you to access your DVR remotely using a
convenient URL instead of a complicated – and
sometimes changing – IP address
• Compatible operating systems: Mac OS X 10.7/10.8,
Microsoft Windows XP/Vista/7/8
Free Q-See Mobile Apps
Q-See products bring peace of mind right to your
fingertips with our FREE iPhone, iPad, and Android
supported apps. These apps provide you with
convenience and portability by providing you with
complete access and control over your surveillance
system:
• View one or more cameras live
• See recorded video (not availiable on Android)
• Record video or take a snapshot and save to your
mobile device
• Easily control a PTZ camera (not included)
• And more...
• Free "Q-See QS View" app for iPhone andf or iPad
available from Apple's AppStore
• Free "Q-See QS View" for Android phones and for
Android tablets available from Android Market
Additional DVR
Specifications
Customizable Event Response
Configure your DVR to send out e-mail alerts, activate
a PTZ (not included) camera or sound an alarm when
motion is detected or video is lost.
Convenient Backup
Transfer video files from the surveillance system to a PC,
Flash Drive or USB Hard Drive in order to free-up space
for new video while retaining important footage.
H.264 Compression
Minimizes file size in order to maximize the recording
time, which also allows you to efficiently store as well as
transfer video smoothly for viewing over the internet.
User-Friendly Navigation
The easy to use interface, along with the accompanying
mouse and remote, make moving through menus a
breeze
4 Recording Modes
1. Record continuously (manually start and stop)
2. Trigger recording start and end times using a daily timer
3. Trigger recording to start when motion is detected
4. Link system to trigger from an external alarm (not included)
1, 4, Auto-sequence Viewing Options
View all cameras at once on a split-screen, or view 1
camera at a time on full screen mode with the option to
cycle through each of the cameras at a customizable
speed
Easy Search Options
Search recorded video by time, motion detection event,
alarm triggered event
Zoom up to 2x When Viewing Live or Playing Back
Footage
Free Multi-System Software
Thinking of expanding your security system or need to
monitor separate locations? Q-See makes expansion
easy with any group of same series DVRs
• Monitor multiple QS-series DVRs from a single
computer using just one, simple log-in. Control each
DVR just as if you were sitting at it!
• Select which cameras on which DVRs to view in
single screen or split screen mode up to 64 individual
cameras at once!
• Connect to multiple Q-See QS Series DVRs.
Additional Camera
Specifications
1/3" Image Sensor with Enhanced Infrared Cut Filter
See clear images with accurate colors during the day
and bright black and white images in darkness with high
700TVL of high resolution.
Built-in 5mm Lens
The cameras' built-in 5mm lens provides a 50°-55° field of
view.
36 Infrared LEDs
High quality LEDs allow the camera to see up to 100 FT
in dark conditions.
3-Axis Mounting Bracket
Versatile 3-axis brackets allow each bullet camera to be
mounted to just about any surface, such as a wall, ceiling
or flat surface, for optimal visibility. The included brackets
also prevent vandalism by fully protecting sensitive
camera wires behind the brackets where they can be
safely passed through walls.
Camera Cable
All the necessary accessories are included to make setup easy and fast. Each camera comes with 60FT of cable
for versatile setup.
Additional System Specifications
DVR Power Supply: DC 12V / 3A (Adapter Included)
DVR Operating Temperature: 50°F-104°F
Live Display Resolution and Frame Rate: 704x480 30
FPS per channel
oPlayback Resolution: CIF – 352x240 / D1 –
704x480
oRecording Frame Rate: CIF-120FPS (30 FPS Per
Channel)/ D1 – 48FPS (12 FPS Per Channel)
DVR Inputs/Outputs
oVideo: 4 BNC In/ 1 BNC out
oAudio: 1 RCA In/ 1 RCA Out
RJ-45 for Router Connection Enabling Remote Monitoring
RS-485 Connection (PTZ Camera Not included)
Supports 1 SATA HDD up to 2 TB
What's Included
•(1) 4 Channel CIF/D1 DVR with integrated 7"
Observation Monitor
•DVR Power Supply: DC 12V / 3A (Adapter
•(4) Camera kit with 3-Axis Bracket (QM7008B)
•(4) Power/Video Cables for Camera
•(1) Power adapter with 4-way power splitter for cameras
•RJ-45 Ethernet network cable
•BNC to RCA Video cable
•Remote Control
•CD ROM with Manuals and Software.

* Your assessment is very important for improving the work of artificial intelligence, which forms the content of this project