No category
GSM SUITE V23 PROGRAMMING SOFTWARE QUICK START GUIDE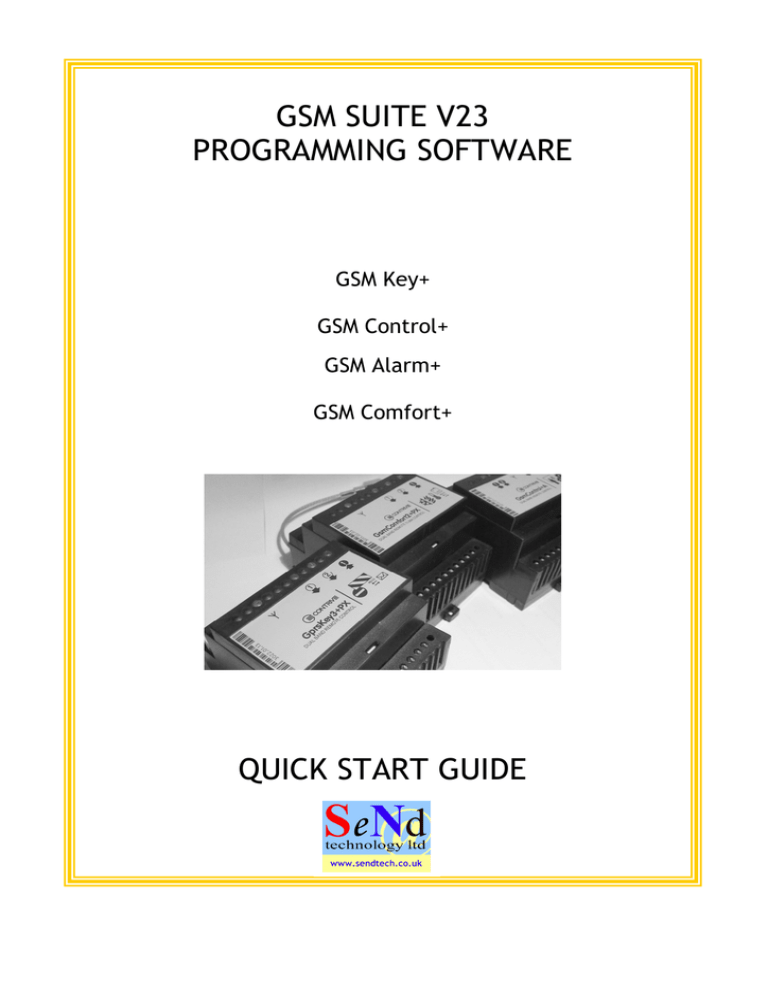 GSM SUITE V23
PROGRAMMING SOFTWARE
GSM Key+
GSM Control+
GSM Alarm+
GSM Comfort+
QUICK START GUIDE
BEFORE YOU START, YOU NEED A REGISTERED SIM CARD WITH CREDIT ON. IF YOU
ARE USING A CONTRACT SIM, INSTRUCTIONS BELOW DON'T APPLY.
Some PAYG SIM cards can be purchased pre-registered with a mobile number ready for use and may also already
contain credit. If so, you can use them straight away with your units. If they are not, please follow the instructions
provided with the SIM card and call the network and ask for the SIM card to be activated. BEFORE YOU DO THIS
HOWEVER…
You will need to have some information ready for the network operator. As the networks are expecting you to be
registering your SIM for use in a mobile, they will want to know the IMEI number of the phone you are using it with.
You can either use the IMEI number from your own mobile phone or discover the IMEI number of the GSM unit itself.
If your unit has been spot checked by SeNd Tech. in the UK, you will find the IMEI number of the unit on paperwork
inside box. If not, you have two options:The simplest is to give the network operator the IMEI number of any mobile phone – sim will then be registered
against this mobile phone – this does not affect operation in anyway. To see what the IMEI number of any mobile
phone is, type *#06# on your phone's keypad.
If you would prefer however, to register the sim against the unit's IMEI number, you can take any registered sim card
(perhaps out of your own mobile) and following instructions 1-4 below, connect to your unit. Once connected, click
on Control folder and then on Device Info. Screen will scroll through lots of information pertaining to the device
including strength of network signal and amongst this information will be Product Serial Number (IMEI): as shown
below:-
Make a note of IMEI Number:- …………………………………………………………………………………………………………………………..
Network operator will also want personal details of the person registering the SIM card ie name, address and maybe
DOB. Once you have provided these details, the SIM card will be activated and a telephone number assigned to this
SIM. Operator will let you know when number becomes active if not immediately. Depending on the sim card you
have, you may need to add some credit to the sim card as setting up/testing will involve revenue being billed to the
sim by way of text messages – we would recommend adding a minimum amount of £5. See back of this manual for
further info on topping up.
Important:- if you are planning to use output 2 of a GSM Control+ product on a free ring basis, you will need to ask
network operator for the data number of the sim card as well. This means that when you call the unit on its normal
sim number, output 1 will operate, when you call the unit on its data number, output 2 will operate. This is how it
differentiates between the two.
Make a note of the tel no. of this Sim:-………………………………………… Data number of Sim: …………………………………..
1
How to prepare for connection
NB: Programming lead
for basic model GSM
Key+ and GSM
Comfort+ differs from
that shown opposite.
See separate sheet
provided with
Key+/Comfort+
programming kit for
details.
WITH POWER OFF, remove side cover and top cover. Both can be
removed by squeezing, lifting or sliding the panels (also see
manufacturer's instructions included in box). If using X versions, connect
external antenna. Insert registered SIM card into the slot near power
connections (sim card contacts should be facing down, cut corner
nearest outside edge). Plug in the RJ11 programming lead (as shown
below) and then connect the 12v DC supply and THEN switch on.
Diagram shows
prog. Lead
connection (top left),
power supply
connection (bottom
left), external
antenna connection
(right) and correct
positioning of Sim
Card. Do not force
sim card into unit
any further than
shown opposite.
Run GSM Suite software and start the program.
2
USB or Serial connection
3
Device selection
If you are using a USB to serial converter then you may need to check
the COM port that has been assigned to the USB device. This can be
found under control panel/system/hardware profile/devices. GSM Suite
will usually auto detect the correct com port that your GSM device is
connected to, however, if it hasn't, you can manually select this by right
clicking on the COM text on the task bar of GSM Suite.
GSM Suite has been designed to program all
the products in our range. Again, it will auto
detect the correct product when you
connect, however, if you are writing your
program in advance and wish to download
the whole program later, you will have to
choose the correct model before writing
program to the device. This is important as
it will give the correct configuration
parameters.
Right click on the name of the device in the
task bar to change this.
4
Connecting
Click on the big green arrow (connect icon).
Before you connect, unit's sim card
will need to have a signal ie be
latched onto the network. A slow
flashing red LED on unit will
indicate this. Wait for this before
you click on connect. System will
then ask you for pin. The default
pin is 0000. This is best kept at
0000 but if you must change it,
you may want to record it now!
……………………………………….
If you lose it, unlocking is complicated.
5
GSM suite will connect to the device and
"bleep" when connected.
Note: Unit will only connect once antenna
LED on device is flashing slowly – this shows
successful connection to network. A
constant LED indicates no signal, weak
signal or invalid sim. A rapid flashing LED
means transmission in progress.
6
Programming
Expand the menu "tree" to choose
the configuration parameters.
In the example set out below, we
will program input one of a GSM
Alarm+ to send a text message
when the input closes.
7
Choose RECIPIENTS
Right click on In1 closing and click ADD
8
Now enter a name for the RECIPENTS plus
their phone number including the country
code in international format (e.g +44 for UK
(take off first 0). Now enter the text
message you wsh to send in the MESSAGE
TEXT box.
9
You will now see an exclamation mark appear
on the left tree.
This identifies a change that has not been
downloaded to the device. Now right click again
on the exclamation mark. Now click "Send" to
download the change.
10
Repeat these stages for the remaining inputs
(both for contacts closing and opening).
Note. You can add multiple recipients for each
input
11
Sending your text messages to Email or Fax
To receive your text message by
email, you need to add the third
party* telephone number shown
here. Add your email address in
message text followed by a space
and then your text message. Be
aware, third party service means
email may not always be
instantaneous via GSM. (Use
GPRS version if instant email is
important).
*M-Mail from Connectotel
is a free service allowing
GSM mobile phone users to
send e-mail to any Internet
e-mail user. Number to use
is +447747782320
For sending to faxes, same as for
normal inputs except you complete
Fax Phone Number instead of SMS
Phone Number (international
format again).
REMEMBER - YOU CAN WRITE YOUR PROGRAM WITHOUT BEING CONNECTED TO UNIT,
SAVE YOUR FILE AND THEN DOWNLOAD IT LATER BY CLICKING ON LOAD, SELECTING
YOUR PROGRAM, AND THEN CLICKING ON WRITE. THIS METHOD SENDS ALL PROG INFO
TO DEVICE IN ONE HIT RATHER THAN INDIVIDUALLY.
Start
new
config.
file.
Load a
previously
saved config
file.
Connect
to device
Save a
config
file.
Write whole
config. file to
unit.
GENERAL GLOSSARY OF CONFIGURATION MENU
Sim and ME Users
Sim Users and ME Users are users you give authority to control
OUTPUTS.
Sim Users are general users who you are giving access to the outputs and
where you are not wanting to put any conditions on their access. The
phone numbers of these users are stored on the Sim Card.
ME Users are users who you want to add conditions to ie you may want
to limit the times/dates they have access. These users are stored on
unit's memory.
Remember to right click to add users.
System Settings
CLIP – Caller Line ID feature for secure output control. Only numbers
stored on the unit will be given access to outputs. Pulse Time - this
enables you to set a default for the length of time you want output to
remain on for (between 3 and 60 seconds). You can also set how long
you want unit to take before answering ie 1-60 seconds – default is 15
seconds. You can change mode to None, Pulse, Toggle or Reverse.
None will disable output, pulse will switch output on for no. of seconds
set in pulse time, toggle will switch on and next time you call, switch off.
Reverse mode is for two output models and allows cascading or sequence
of outputs ie out 1 on then out 2 for times programmed. See bottom of
page 2 for how unit differentiates between output 1 and 2 when ringing.
FEEDBACK – sets the default for feedback to all users on output control
using free ring.
TRACE – sets trace on or off
PIN – to assign a pin to password protect programming of the device.
Default is 0000. Not recommended unless absolutely necessary as if this
gets lost, unlocking of the unit may have to be performed by
manufacturer (in Italy!).
PIN CODE SET ……………………………………………..
Device Info
Commands
Recommended you fill in these details. Sim Card no in the GSM device
should be added under device phone number preceded with +44 as usual
for all phone no. entries in units programming. Completing device info is
recommended for two reasons - when you receive status text messages
or trace any activity on this device from afar, you can easily identify
which unit it is. Secondly, it enables synchronisation of the real time
clock when powered on or off or when setting the autosync feature. This
ensures that your scheduled activities are sent at the correct time.
This enables you to change the default text commands used for output
control to something more meaningful to your users.
Ie Out 1 On (+time) – you can change the default 'text string' you would
send to the unit to switch outputs from its default S1 to 'OpenSesame' for
instance.
Once this is set, users can switch output by texting this string to the unit.
If they want to specify a length of time to keep output open for ie 10
mins, user would need to text the string OpenSesame 000010. Format for
time is DDHHMM. Without a time set, this opens output permanently.
Out1 On & Latch (+date) ensures that if there is a power failure, output
will return to status set before power failure.
In Settings
This enables you to change from Digital to Analog (in GSM
Control+) or to disable inputs completely.
Debounce sets the length of time you want the unit to
recognise as a signal ie if you have equipment prone to
chattering, you may want to set this as a little longer so you
can be sure it really is an alarm.
Trace Description will help you identify whats happening when
tracing activity remotely.
Supervisors
Interactive SMS
Schedule
Adding a supervisor/s gives additional special commands that
are only available to him/them (see advanced manual).
www.sendtech.co.uk Only supervisors can remotely reprogram the unit using a mobile phone or coming soon via PC
and gsm modem connection.
Used with ME Users to set up messages you want sent to
these users when conditions are met/not met. Ie with token
control – you might set up a message telling user how many
more tokens/accesses he has left after each use. See
advanced manual.
You can ask unit to perform scheduled events by setting up a
condition and a frequency, for instance, antiblacklisting. This
helps prevent network operators from putting your sim card
into limbo especially when they recognise that the sim is not
moving location like most sim cards in mobile phones! Sim
cards that have been blacklisted can still generate traffic but
may not be able to receive calls. Antiblacklisting means unit
will ring itself regularly attempting to jump out of this blacklist
– these are free calls. Set up shown opposite is monthly
starting on Friday 27th April at 9.02am and then every 30 days
regardless of what day of the week it is (every day condition).
You can set up other regular activities such as status sms to
supervisors which keeps supervisors informed as well as
ensuring some revenue billed to the sim card and hence
prevent de-registration by network operators. This can
happen if you don't generate any revenue to this sim in a 6
month period ie your alarms don't go off very often!)
Occasionally the unit can become disconnected from the
network due to power fluctuations or poor network signal
which may cause unit to lock. In this case, the unit will need
to be reset to reconnect to the network. It is possible to
enable a periodic reset. Click on Reset in the Schedule menu,
set the time before next reset ie every 24hrs. WARNING!
Outputs will be released during the reset sequence. Only
latched outputs will be restored.
Control
Commands – gives you status of your device ie power supply
and allows you to test outputs on screen.
Trace – allows you to turn trace screen on or off to see what
strings are being sent to the unit as you program.
View last calls – self explanatory
Device Info – gives lots of information including serial
numbers, sim card no, date of manufacture, network signal
strength etc.
Clock Sync – you can sync. or alter time of the clock.
FOR MORE INFO, REFER TO MANUFACTURER'S INSTRUCTIONS INSIDE BOX, DOWNLOAD ADVANCED
MANUAL FROM YOUR software CD OR VISIT WWW.SENDTECH.CO.UK. YOU CAN ALSO CALL US ON
01628 638557 FOR free telephone ASSISTANCE
FURTHER SIM CARD INFORMATION
Topping up/Checking Balance
For topping up, refer to the instruction booklet that comes with your SIM card. You can top up the card in
various ways including assigning a credit card to the SIM card so you can check balance and top-up online.
See network websites. Vodafone have a balance line that you can call which gives you credit balance on a
sim card number without need for passwords etc – number to call is 08700 778899.
Preventing De-registration or Blacklisting by Operators
Most operators will deactivate the payg SIM if no credit has been billed to it over a 6 monthly period. If
this is a likely scenario ie your machinery does not activate many alarms, you should use the status sms
feature and antiblacklist feature as described in 'Schedule' section. This will keep the card active.
Number of authorised users for output control?
Maximum of 500 users can be programmed onto device and sim card. This is partly dependant on the SIM
card you are using with the unit and how you program the unit. Some SIM cards have space for 250
names and numbers, some a few less. It will also be dependant on how you use the memory of the gsm
unit as there is capacity for 250 more users using unit's internal memory as well as the 250 that your SIM
card may provide. However, the internal memory is shared between Users, Recipients, Supervisors and
other programming info and as such, the devices could reach the end of memory space before reaching
the max. available entries of 250. This would be especially so if you fill ALL the records with maximum of
available characters (100 supervisors + 100 recipients + 250 Users, using all available records with max
length for each entry).
REMOTE PROGRAMMING
The strings that the software sends to the device when you are programming locally can be sent to the
device remotely via text message to bring about the same effect. For instance, to save you travelling to
site with your laptop, disconnecting customer's equipment just to change the mobile number of one user,
you can do this from wherever you are in the GSM World using a mobile phone.
To discover what string you need to send to the unit remotely from your mobile, you can open up GSM
Suite on a PC. Click on the settings you want and then right click on Send. When you are offline, ie with
no device connected, a small black screen appears entitled GSM Suite V21 – configuration SMS to be sent.
The string that you see can be texted exactly as it is written to the remote device you are programming.
As long as unit is powered on with a signal and there is credit in remote unit's sim card, you will receive a
text back indicating whether you have been successful or not in sending this code. Only supervisors can
program remotely.
It is always wise to keep a copy of the program (.gs files) you have written to the device locally so that
you know what is already written to the device and where it is stored for programming remotely at a later
date. Save your config file and/or print to save a copy. You may need this information because the
software writes its groups of code to the device in a certain order ie the order in which you send them to
the device. Eg When setting up two recipients for an alarm, the strings are something like this
+9,301,,Helen,+447963648756,01,,,,Alarm 1 triggered
+9,302,,Mike,+448699666336,01,,,,Alarm 1 triggered
If I wanted to change Mike's mobile number remotely and didn't know whether he was at slot 301 or 302,
you could inadvertently overwrite Helen's information by sending +9,301,,……. This is the string GSM
Suite would show you if you opened up a new file and started from scratch.
Refer to Advanced Programming Guide for further info. which can be found on your software CD or online
at www.sendtech.co.uk.

* Your assessment is very important for improving the work of artificial intelligence, which forms the content of this project