Built-In Model 650 Over-and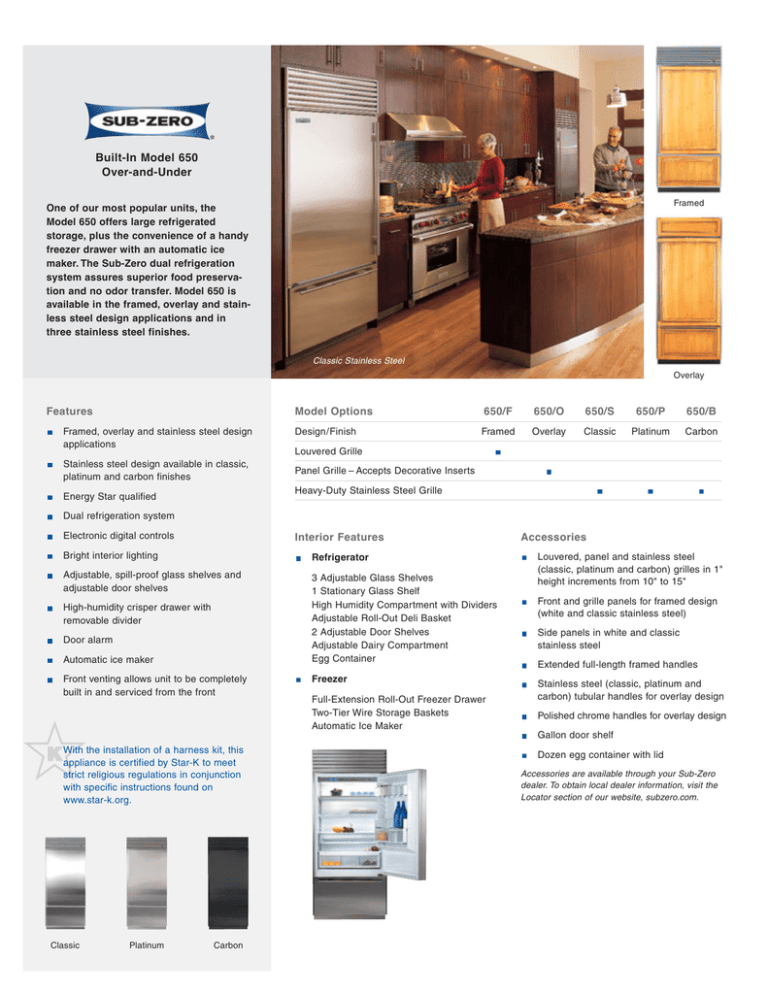 Built-In Model 650
Over-and-Under
Framed
One of our most popular units, the
Model 650 offers large refrigerated
storage, plus the convenience of a handy
freezer drawer with an automatic ice
maker. The Sub-Zero dual refrigeration
system assures superior food preservation and no odor transfer. Model 650 is
available in the framed, overlay and stainless steel design applications and in
three stainless steel finishes.
Classic Stainless Steel
Overlay
Features
Framed, overlay and stainless steel design
applications
Stainless steel design available in classic,
platinum and carbon finishes
Model Options
650/F
650/O
650/S
650/P
650/B
Design/Finish
Framed
Overlay
Classic
Platinum
Carbon
Louvered Grille
Panel Grille – Accepts Decorative Inserts
Heavy-Duty Stainless Steel Grille
Energy Star qualified
Dual refrigeration system
Electronic digital controls
Interior Features
Bright interior lighting
Refrigerator
Adjustable, spill-proof glass shelves and
adjustable door shelves
3 Adjustable Glass Shelves
1 Stationary Glass Shelf
High Humidity Compartment with Dividers
Adjustable Roll-Out Deli Basket
2 Adjustable Door Shelves
Adjustable Dairy Compartment
Egg Container
High-humidity crisper drawer with
removable divider
Door alarm
Automatic ice maker
Front venting allows unit to be completely
built in and serviced from the front
Freezer
Full-Extension Roll-Out Freezer Drawer
Two-Tier Wire Storage Baskets
Automatic Ice Maker
Accessories
Louvered, panel and stainless steel
(classic, platinum and carbon) grilles in 1"
height increments from 10" to 15"
Front and grille panels for framed design
(white and classic stainless steel)
Side panels in white and classic
stainless steel
Extended full-length framed handles
Stainless steel (classic, platinum and
carbon) tubular handles for overlay design
Polished chrome handles for overlay design
Gallon door shelf
With the installation of a harness kit, this
appliance is certified by Star-K to meet
strict religious regulations in conjunction
with specific instructions found on
www.star-k.org.
Classic
Platinum
Carbon
Dozen egg container with lid
Accessories are available through your Sub-Zero
dealer. To obtain local dealer information, visit the
Locator section of our website, subzero.com.
Overall Dimensions
351/4"
(895)
3/8" (10)
FRAME
EXTENSION
237/8"
(606)
BEHIND
FRAME
84"
(2134)
361/16"
Built-In Model 650
Over-and-Under
(916)
36"
(914)
36"
24"
(914)
(610)
Unit dimensions may vary by ± 1/8".
Specifications
Installation Specifications
Overall Width
36"
Overall Height (with standard 11" grille)
84"
Overall Depth
24"
36 1/16"
Door Swing Clearance
Refrigerator Capacity
24"
EXTEND WATER LINE
APPROX. 36" (914)
FROM BACK WALL
(610)
ROUGH
OPENING
DEPTH
15.7 cu ft
Freezer Capacity
SHUT-OFF
VALVE
4.9 cu ft
TOP VIEW
Opening Width
35 1/2"
Opening Height
83 3/4" *
7"
E
(178)
Minimum Height Required
83"
Opening Depth
24"
Electrical Requirements
115 V AC, 60 Hz
15 amp dedicated circuit
Plumbing Requirements
1/ 4"
OD copper line
20–100 psi
Annual Energy Usage
Shipping Weight
6"
(152)
LOCATE ELECTRICAL
WITHIN SHADED AREA
351/2"
(902)
ROUGH OPENING WIDTH
$44**
Framed – 482 lbs
Overlay – 482 lbs
Stainless Steel – 515 lbs
*Height with standard 11" grille.
**Based on 9.06 cents per kilowatt hour.
Installation Notes
For framed and overlay models, you will be
adding door panels for a custom look. Overlay
models also allow you to match surrounding
cabinetry hardware and the panel grille
accepts custom panel inserts.
Complete installation specifications, including
panel sizes, can be found on our website,
subzero.com.
833/4"
(2127)
ROUGH
OPENING
HEIGHT
WITH
STANDARD
11" (279)
GRILLE
751/2"
(1918)
LOCATE WATER SUPPLY
WITHIN SHADED AREA
3"
(76)
18"
6"
(457)
(152)
W
FRONT VIEW
Dimensions in parentheses are in
millimeters unless otherwise specified.

* Your assessment is very important for improving the work of artificial intelligence, which forms the content of this project