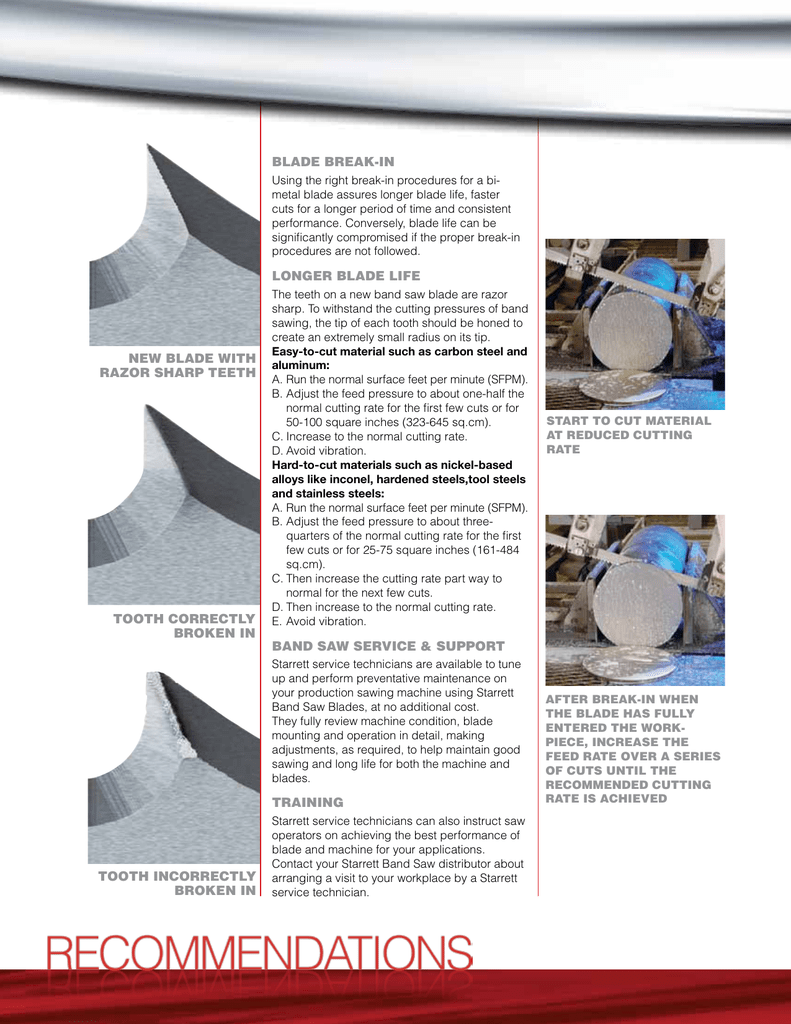 BLADE BREAK-IN
Using the right break-in procedures for a bimetal blade assures longer blade life, faster
cuts for a longer period of time and consistent
performance. Conversely, blade life can be
significantly compromised if the proper break-in
procedures are not followed.
LONGER BLADE LIFE
NEW BLADE WITH
RAZOR SHARP TEETH
TOOTH CORRECTLY
BROKEN IN
The teeth on a new band saw blade are razor
sharp. To withstand the cutting pressures of band
sawing, the tip of each tooth should be honed to
create an extremely small radius on its tip.
Easy-to-cut material such as carbon steel and
aluminum:
A.Run the normal surface feet per minute (SFPM).
B.Adjust the feed pressure to about one-half the
normal cutting rate for the first few cuts or for
50-100 square inches (323-645 sq.cm).
C.Increase to the normal cutting rate.
D.Avoid vibration.
Hard-to-cut materials such as nickel-based
alloys like inconel, hardened steels,tool steels
and stainless steels:
A.Run the normal surface feet per minute (SFPM).
B.Adjust the feed pressure to about threequarters of the normal cutting rate for the first
few cuts or for 25-75 square inches (161-484
sq.cm).
C.Then increase the cutting rate part way to
normal for the next few cuts.
D.Then increase to the normal cutting rate.
E.Avoid vibration.
BAND SAW SERVICE & SUPPORT
Starrett service technicians are available to tune
up and perform preventative maintenance on
your production sawing machine using Starrett
Band Saw Blades, at no additional cost.
They fully review machine condition, blade
mounting and operation in detail, making
adjustments, as required, to help maintain good
sawing and long life for both the machine and
blades.
TRAINING
TOOTH INCORRECTLY
BROKEN IN
START TO CUT MATERIAL
AT REDUCED CUTTING
RATE
Starrett service technicians can also instruct saw
operators on achieving the best performance of
blade and machine for your applications.
Contact your Starrett Band Saw distributor about
arranging a visit to your workplace by a Starrett
service technician.
AFTER BREAK-IN WHEN
THE BLADE HAS FULLY
ENTERED THE WORKPIECE, INCREASE THE
FEED RATE OVER A SERIES
OF CUTS UNTIL THE
RECOMMENDED CUTTING
RATE IS ACHIEVED
BAND SAW BLADE INSTALLATION
GUIDELINES
Always follow the machine manufacturer's instructions
and recommendations for blade changes and the
safe operation for the band saw machine. The
guidelines are not intended to replace the machine
manufacturer's instructions or recommendations. The
general information contained in the guidelines is
intended to assist in the proper installation of band
saw blades. Proper blade installation achieves more
efficient blade performance. Please contact your
machine manufacturer for appropriate procedures
for blade changes for your specific machine and
your saw blade manufacturer for appropriate cutting
recommendations. The L. S. Starrett Co. nor its
employees, shall not be held responsible for the
accuracy or completeness of these guidelines.
cWear
gloves when handling band saw blades.
cWear
eye protection, safety shoes, and hearing
protection.
FOLLOW INSTRUCTIONS CAREFULLY
cFollow
all the safety instructions shown in the
band saw machine operator's manual and on the
machine labels. Recognize and read safety and
warning signs such as Danger, Warning and
Caution.
cFollow
the saw blade installation instructions for the
make and model of the band saw machine.
BASIC BLADE CHANGE GUIDELINES
cPosition
saw head to appropriate location to
facilitate ease of blade change.
cFollow
required lock out tag out procedures.
cPosition
chip brush away from saw blade.
cRelieve
saw blade tension and remove blade.
cRemove
wheels.
any chips from saw guides and band
cSelect
appropriate blade for cutting application.
(Refer to saw blade selection chart)
cUnfold
blade properly. Do Not Throw. Throwing
the blade will result in tooth damage that will
reduce saw blade performance. (Refer to unfolding
procedure)
cInstall
blade with saw teeth pointing in proper
direction.
cApply
appropriate tension to the blade.
cBe
aware of pinch points and keep hands and
clothing clear of rotating blade.
cAdjust
guide arms to appropriate positions to
workpiece.
cAdjust
blade guides for proper blade support.
cAdjust
chip brush to fully engage saw blade teeth
to ensure proper chip removal.
cCheck
hydraulic fluid levels if applicable.
cEnsure
appropriate cutting fluid placement and mix
ratios as applicable per machine, cutting fluid, and
blade manufacturer's recommendations.
cBreak
in blade properly before reaching desired
cutting rates.

* Your assessment is very important for improving the work of artificial intelligence, which forms the content of this project