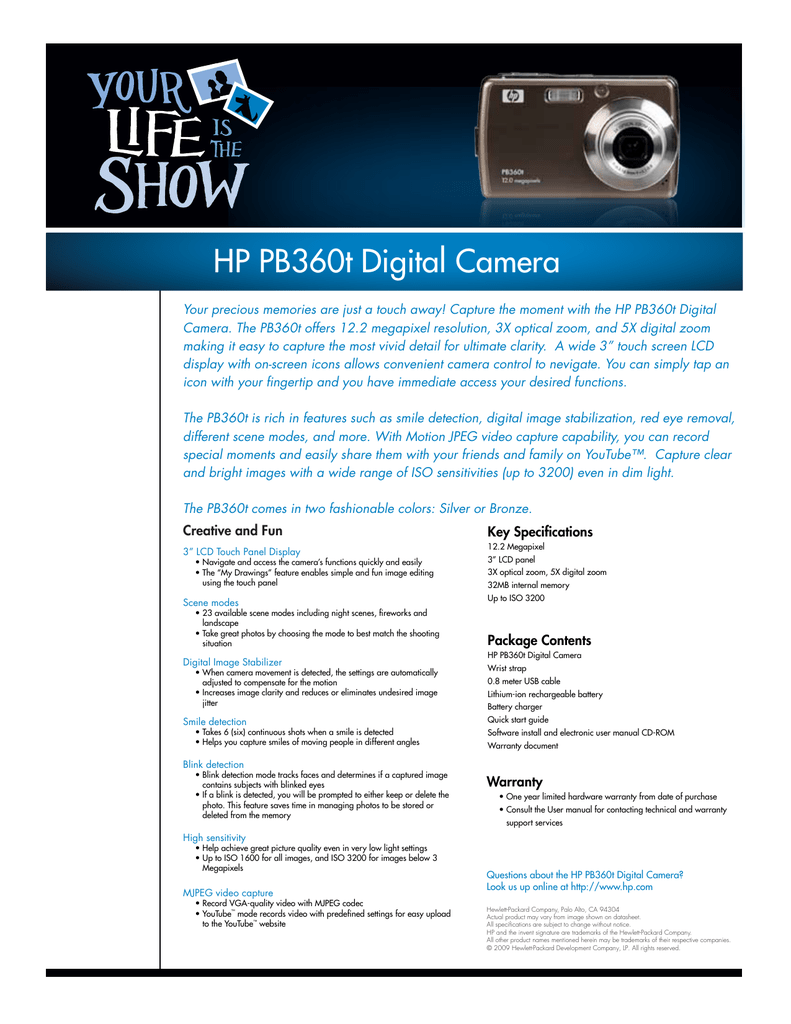 HP PB360t Digital Camera
Your precious memories are just a touch away! Capture the moment with the HP PB360t Digital
Camera. The PB360t offers 12.2 megapixel resolution, 3X optical zoom, and 5X digital zoom
making it easy to capture the most vivid detail for ultimate clarity. A wide 3" touch screen LCD
display with on-screen icons allows convenient camera control to nevigate. You can simply tap an
icon with your fingertip and you have immediate access your desired functions.
The PB360t is rich in features such as smile detection, digital image stabilization, red eye removal,
different scene modes, and more. With Motion JPEG video capture capability, you can record
special moments and easily share them with your friends and family on YouTube™. Capture clear
and bright images with a wide range of ISO sensitivities (up to 3200) even in dim light.
The PB360t comes in two fashionable colors: Silver or Bronze.
Creative and Fun
3" LCD Touch Panel Display
• Navigate and access the camera's functions quickly and easily
• The "My Drawings" feature enables simple and fun image editing
using the touch panel
Scene modes
• 23 available scene modes including night scenes, fireworks and
landscape
• Take great photos by choosing the mode to best match the shooting
situation
Digital Image Stabilizer
• When camera movement is detected, the settings are automatically
adjusted to compensate for the motion
• Increases image clarity and reduces or eliminates undesired image
jitter
Smile detection
• Takes 6 (six) continuous shots when a smile is detected
• Helps you capture smiles of moving people in different angles
Key Specifications
12.2 Megapixel
3" LCD panel
3X optical zoom, 5X digital zoom
32MB internal memory
Up to ISO 3200
Package Contents
HP PB360t Digital Camera
Wrist strap
0.8 meter USB cable
Lithium-ion rechargeable battery
Battery charger
Quick start guide
Software install and electronic user manual CD-ROM
Warranty document
Blink detection
• Blink detection mode tracks faces and determines if a captured image
contains subjects with blinked eyes
• If a blink is detected, you will be prompted to either keep or delete the
photo. This feature saves time in managing photos to be stored or
deleted from the memory
Warranty
• One year limited hardware warranty from date of purchase
• Consult the User manual for contacting technical and warranty
support services
High sensitivity
• Help achieve great picture quality even in very low light settings
• Up to ISO 1600 for all images, and ISO 3200 for images below 3
Megapixels
MJPEG video capture
• Record VGA-quality video with MJPEG codec
• YouTube™ mode records video with predefined settings for easy upload
to the YouTube™ website
Questions about the HP PB360t Digital Camera?
Look us up online at http://www.hp.com
Hewlett-Packard Company, Palo Alto, CA 94304
Actual product may vary from image shown on datasheet.
All specifications are subject to change without notice.
HP and the invent signature are trademarks of the Hewlett-Packard Company.
All other product names mentioned herein may be trademarks of their respective companies.
© 2009 Hewlett-Packard Development Company, LP. All rights reserved.

* Your assessment is very important for improving the work of artificial intelligence, which forms the content of this project