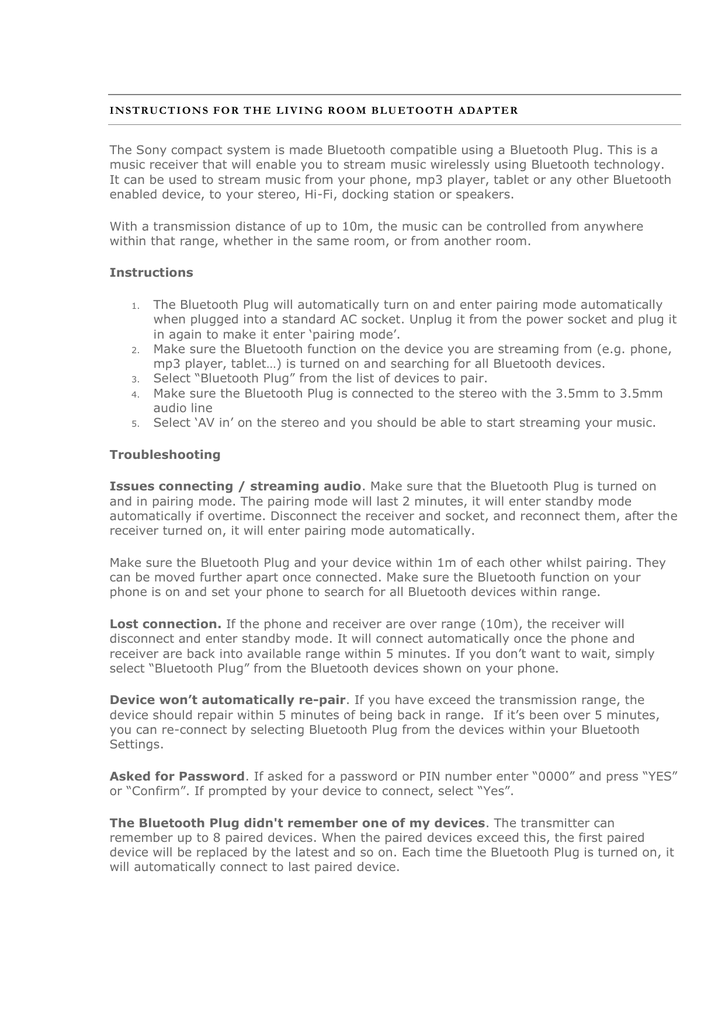 I N S T R U C T I O N S F O R T H E L I V I N G R OO M B L U E TOOT H A DA P T E R
The Sony compact system is made Bluetooth compatible using a Bluetooth Plug. This is a
music receiver that will enable you to stream music wirelessly using Bluetooth technology.
It can be used to stream music from your phone, mp3 player, tablet or any other Bluetooth
enabled device, to your stereo, Hi-Fi, docking station or speakers.
With a transmission distance of up to 10m, the music can be controlled from anywhere
within that range, whether in the same room, or from another room.
Instructions
1.
2.
3.
4.
5.
The Bluetooth Plug will automatically turn on and enter pairing mode automatically
when plugged into a standard AC socket. Unplug it from the power socket and plug it
in again to make it enter 'pairing mode'.
Make sure the Bluetooth function on the device you are streaming from (e.g. phone,
mp3 player, tablet…) is turned on and searching for all Bluetooth devices.
Select "Bluetooth Plug" from the list of devices to pair.
Make sure the Bluetooth Plug is connected to the stereo with the 3.5mm to 3.5mm
audio line
Select 'AV in' on the stereo and you should be able to start streaming your music.
Troubleshooting
Issues connecting / streaming audio. Make sure that the Bluetooth Plug is turned on
and in pairing mode. The pairing mode will last 2 minutes, it will enter standby mode
automatically if overtime. Disconnect the receiver and socket, and reconnect them, after the
receiver turned on, it will enter pairing mode automatically.
Make sure the Bluetooth Plug and your device within 1m of each other whilst pairing. They
can be moved further apart once connected. Make sure the Bluetooth function on your
phone is on and set your phone to search for all Bluetooth devices within range.
Lost connection. If the phone and receiver are over range (10m), the receiver will
disconnect and enter standby mode. It will connect automatically once the phone and
receiver are back into available range within 5 minutes. If you don't want to wait, simply
select "Bluetooth Plug" from the Bluetooth devices shown on your phone.
Device won't automatically re-pair. If you have exceed the transmission range, the
device should repair within 5 minutes of being back in range. If it's been over 5 minutes,
you can re-connect by selecting Bluetooth Plug from the devices within your Bluetooth
Settings.
Asked for Password. If asked for a password or PIN number enter "0000" and press "YES"
or "Confirm". If prompted by your device to connect, select "Yes".
The Bluetooth Plug didn't remember one of my devices. The transmitter can
remember up to 8 paired devices. When the paired devices exceed this, the first paired
device will be replaced by the latest and so on. Each time the Bluetooth Plug is turned on, it
will automatically connect to last paired device.

* Your assessment is very important for improving the work of artificial intelligence, which forms the content of this project