No category
SafeCom G4 - Release Note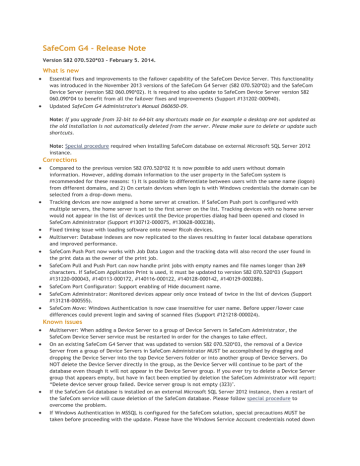 SafeCom G4 - Release Note
Version S82 070.520*03 - February 5. 2014.
What is new

Essential fixes and improvements to the failover capability of the SafeCom Device Server. This functionality
was introduced in the November 2013 versions of the SafeCom G4 Server (S82 070.520*02) and the SafeCom
Device Server (version S82 060.090*02). It is required to also update to SafeCom Device Server version S82
060.090*04 to benefit from all the failover fixes and improvements (Support #131202-000940).

Updated SafeCom G4 Administrator's Manual D60650-09.
Note: If you upgrade from 32-bit to 64-bit any shortcuts made on for example a desktop are not updated as
the old installation is not automatically deleted from the server. Please make sure to delete or update such
shortcuts.
Note: Special procedure required when installing SafeCom database on external Microsoft SQL Server 2012
instance.
Corrections

Compared to the previous version S82 070.520*02 it is now possible to add users without domain
information. However, adding domain information to the user property in the SafeCom system is
recommended for these reasons: 1) It is possible to differentiate between users with the same name (logon)
from different domains, and 2) On certain devices when login is with Windows credentials the domain can be
selected from a drop-down menu.

Tracking devices are now assigned a home server at creation. If SafeCom Push port is configured with
multiple servers, the home server is set to the first server on the list. Tracking devices with no home server
would not appear in the list of devices until the Device properties dialog had been opened and closed in
SafeCom Administrator (Support #130712-000075, #130628-000238).


Fixed timing issue with loading software onto newer Ricoh devices.

SafeCom Push Port now works with Job Data Logon and the tracking data will also record the user found in
the print data as the owner of the print job.

SafeCom Pull and Push Port can now handle print jobs with empty names and file names longer than 269
characters. If SafeCom Application Print is used, it must be updated to version S82 070.520*03 (Support
#131220-000043, #140113-000172, #140116-000122, #140128-000142, #140129-000288).


SafeCom Port Configurator: Support enabling of Hide document name.

SafeCom Move: Windows Authentication is now case insensitive for user name. Before upper/lower case
differences could prevent login and saving of scanned files (Support #121218-000024).
Multiserver: Database indexes are now replicated to the slaves resulting in faster local database operations
and improved performance.
SafeCom Administrator: Monitored devices appear only once instead of twice in the list of devices (Support
#131218-000555).
Known issues

Multiserver: When adding a Device Server to a group of Device Servers in SafeCom Administrator, the
SafeCom Device Server service must be restarted in order for the changes to take effect.

On an existing SafeCom G4 Server that was updated to version S82 070.520*03, the removal of a Device
Server from a group of Device Servers in SafeCom Administrator MUST be accomplished by dragging and
dropping the Device Server into the top Device Servers folder or into another group of Device Servers. Do
NOT delete the Device Server directly in the group, as the Device Server will continue to be part of the
database even though it will not appear in the Device Server group. If you ever try to delete a Device Server
group that appears empty, but have in fact been emptied by deletion the SafeCom Administrator will report:
"Delete device server group failed. Device server group is not empty (323)".

If the SafeCom G4 database is installed on an external Microsoft SQL Server 2012 instance, then a restart of
the SafeCom service will cause deletion of the SafeCom database. Please follow special procedure to
overcome the problem.

If Windows Authentication in MSSQL is configured for the SafeCom solution, special precautions MUST be
taken before proceeding with the update. Please have the Windows Service Account credentials noted down
and verified as this is needed during the update process. After the update and before restarting the
computer, the SafeCom Service must be reconfigured to run under the Windows Service Account. On the Log
On tab in the SafeCom Service Properties dialog select This account, and enter the Windows Service Account
and password. Additional information about Windows Authentication Setup is available in the SafeCom Tech
Note Tool-assisted setup of Windows Authentication in MSSQL with SafeCom D20152 and SafeCom Tech Note
Manual setup of Windows Authentication in MSSQL with SafeCom D20153.

In special print scenarios the data to authenticate the user may lack the user's domain. This means that the
user is either not recognized (if the user's properties in SafeCom include a domain already) or a new
SafeCom user is added (if create user at first print is enabled a new user without domain is added). The
special print scenarios that can cause this are: 1) Printing via LPR/LPD from: Apple Mac, UNIX, Novel or Host
systems (mainframe), or 2) Printing from a computer that is in a Workgroup (outside the domain with the
SafeCom Server). To work around this, a default domain can be added to the authentication data as part of
the print process. Configure the SafeCom Pull Port and/or SafeCom Push Port to add Default domain
information to the authentication data if required. The Configure Port dialog features a drop-down menu
with the domains known by the SafeCom system. The drop-down menu is empty if no domains are defined in
the SafeCom system.

On environments based on Windows Server 2008 R2 Terminal Services (and Citrix on Windows Server 2008
R2) Print Job ownership are being mixed up. Please apply work around.

If the Push Port is configured to Show authentication dialog it may last up to 10 minutes, before SafeCom
PopUp starts to present the Authentication dialog. For additional information refer to the description of
CacheExpireFailure and CacheExpireSuccess inSafeCom G4 Administrator's Manual D60650. If trace has been
enabled as part of troubleshooting the scAppPrint<no>.trc file will contain the text "scStartDocPrinter
Printer is not a SafeCom printer".

SafeCom Move (scMove.exe) must be installed in a folder that also includes these DLL files: scScum.dll,
scIntrfLib.dll, scSecureLib.dll and scUtillib.dll.

* Your assessment is very important for improving the work of artificial intelligence, which forms the content of this project